A consortium consisting of NYK Line, IHI Power Systems, Nihon Shipyard, Japan Engine Corporation and Nippon Kaiji Kyokai (ClassNK) has revealed that a four-stroke ammonia-fueled engine has successfully completed a land-based test for the stable combustion of fuel ammonia with an 80% co-firing ratio.
The test was conducted as part of a demonstration project for the commercialization of vessels equipped with a domestically produced ammonia-fueled engine. The project – which was started as part of the Green Innovation Fund Project of the New Energy and Industrial Technology Development Organization – is focused on the development of vessels fitted with a domestically produced ammonia-fueled engine.
Operational tests of a 280mm bore four-stroke ammonia-fueled engine – developed as the main engine for coastal vessels such as ammonia-fueled tugboats (A-Tug) – were carried out at IHI Power Systems' Ota plant in Gunma Prefecture, Japan, in April 2023.
During one of the tests, engineers increased the mixing ratio of fuel ammonia within the engine to 80%. Subsequent tests were conducted on the exhaust gas aftertreatment devices and fuel supply systems (among others) and the stable integrated operation of these systems was successfully achieved for the first time.
Testing also confirmed that emissions of dinitrogen monoxide (N2O) and unburnt ammonia were almost zero, with no ammonia leakage from any demonstration equipment during operation and after shutdown.
Japan-based Keihin Dock will install the engine on A-Tug and work is scheduled to be completed by June 2024. Prior to this, the consortium will conduct additional land-based testing to maximize greenhouse gas reductions by further enhancing the engine's co-firing rate.
Using the research, the consortium aims to develop a 250mm bore engine which will be installed as the auxiliary engine on board an ammonia-fueled ammonia gas carrier scheduled for delivery in October 2026. The vessel will be jointly developed by NYK, Nihon Shipyard, Japan Engine, IHI Power Systems and ClassNK.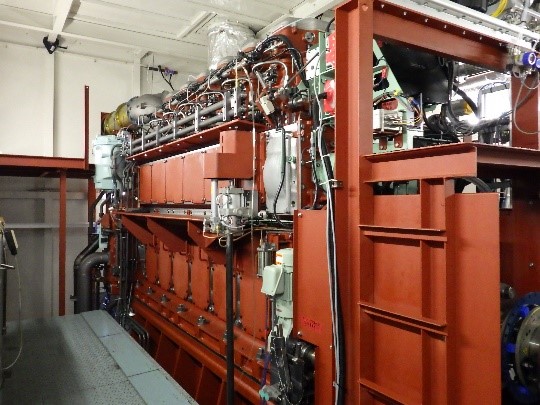 For more power and propulsion news, click here.