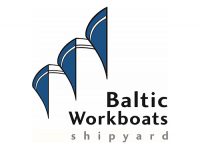 Baltic Workboats is a modern, well-equipped shipyard with a highly skilled workforce of over 200 people. During the two decades we've delivered more than 200 highly versatile steel and aluminum vessels. Designed and built for the demands of governments, research institutions and multinational companies in over 20 countries worldwide. We've been granted the ISO 9001:2015, ISO 14001:2015 and OHSAS 18001:2007 certificates and continue to develop our production quality and efficiency through an enhanced set of standards and management
processes.
BWB shipyard has 6200 m2 of enclosed production area. The total production area is 65 000 m2, including its own port with port facilities. The shipyard has the capability to build aluminum and steel vessels up to 100 m  in length.
For boat launching BWB is equipped with a slipway, a 150-ton boat hoist travel-lift, a boat hoist/travel lift capable of moving 800 tons, and a boat mover with a capacity of 85 tons. There are two launching basins, of 15,5 x 50 m and 9 x 28 m.
BWB is collaborating with the best experts from Scandinavia, Finland, UK, Benelux, Germany and Australia for consulting and upgrading employee technical knowledge and workmanship skills to be the best quality provider in workboat industry.