Electric & Hybrid Marine Expo Europe continues to go from strength to strength, with this year's show the biggest and best yet. Held last week (June 20, 21 & 22, 2023) at the RAI Amsterdam, the world's leading exhibition and conference for marine electrification, decarbonization, hybridization, future fuels and low-carbon shipping solutions hosted more than 200 exhibitors presenting their latest innovations; a dedicated conference featuring more than 100 expert speakers; and an expanded Electric & Hybrid Marine Awards, with new categories honoring the world's finest engineers, innovations and products within the electric and hybrid marine industry.
Thousands of attendees from across Europe and beyond were able to immediately gauge the key trends and technologies that will shape the future of the marine sector as it pushes ahead with ambitious goals to slash greenhouse gas emissions and move closer to net-zero operation by 2050. From the latest advances in LTO chemistry for batteries, through to a sharp increase in interest in the potential of green ammonia as a fuel, the Expo provided the perfect opportunity to take the industry's temperature, while sourcing completely new solutions and partners.
"It's really inspiring to meet and discuss our future challenges to achieve our sustainable goals and see all the technical achievements and development that the marine community is doing," said Christian Andersson, senior chief engineer, ForSea Ferries. "Green shipping has a bright future."
"There's still enormous uncertainty around how we get to net zero," added Louis de Wolff, Director of Health, Quality, Safety and Environment (HQSE) at CalMac Ferries Limited, the UK's largest ferry operator by ships and destinations served. "What I find useful about [the show] is it brings together all the people working on solutions. What the eventual solution will be, we don't know, but just walking around and talking to visitors and exhibitors and listening to some of the presentations has already given me a great deal more insight as to what the direction will be and how we can get there. The right people are here for us to understand more about what is going to be a very difficult challenge for the next 10 years or so."
Thomas Maclean, program director, policy and energy at Port of San Diego, was also in Amsterdam to find answers: "There's a good mix of all the emerging technologies here [at the show] right now. There are so many different options, and the technologies continue to change and move forward. It's just been a great, huge learning experience. I always enjoy talking about what the Port of San Diego is doing to grow our economy – in fact, we have tenants who need a new boat, so I'm also here to talk to boat builders and see if they can build something that would qualify for our needs in San Diego."
Michelle McRae, a project engineer responsible for fleet electrification at the CSL Group Inc, a leading provider of marine dry bulk cargo handling and delivery services and the world's largest owner and operator of self-unloading vessels, also came to find new solutions. "Honestly, it's been really great; there are lots of wonderful technologies and it's great to see the emergence of all this cutting-edge stuff," she said. "I represent CSL, which is based in Canada, and we're looking at electrifying our fleet, so we're really looking at everything from shore power to battery packs on board, through to power management systems – the whole thing. The show is really about getting a full perspective of where the industry stands now; and the biggest thing I would say is that [electrification] is really possible. There's a misconception that on a larger scale, the challenges are just too big, the ships are too heavy. But the big takeaway for me is that it is possible to really scale up, and it's coming – it's coming soon and it's very exciting."
EXHIBITOR NEWS
With over 200 exhibitors, visitors were able to source and sample some fascinating new technologies across the show floor. (Read all the exhibitor news, here.)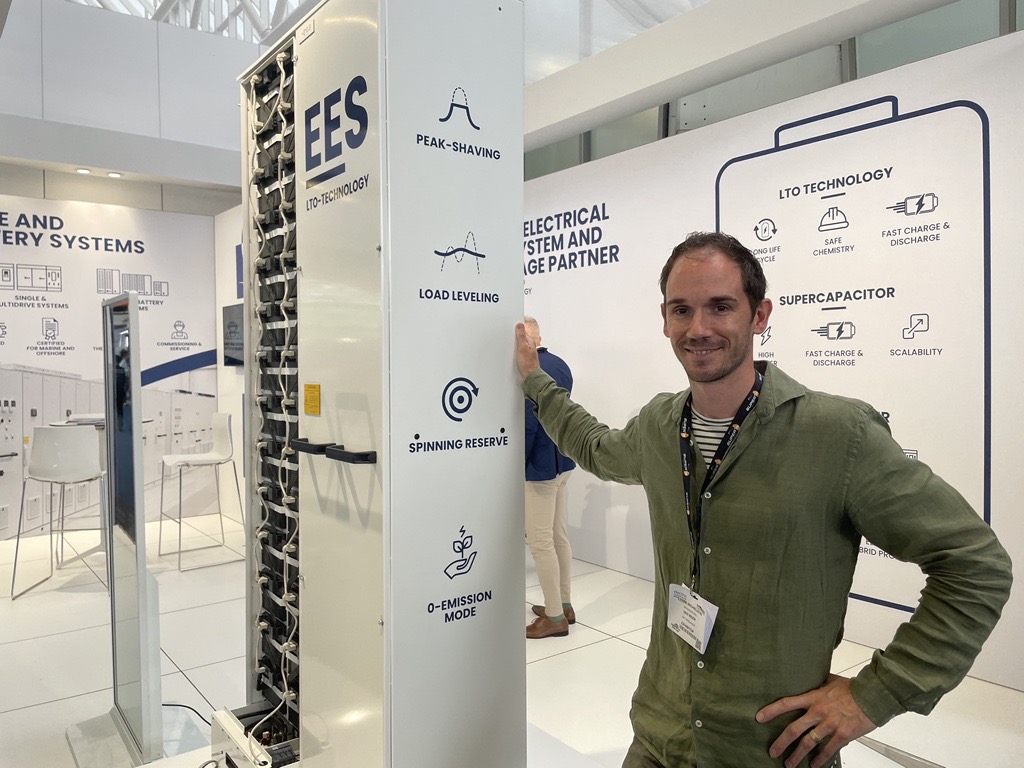 These included a new, modular electrical energy storage (EES) system featuring LTO chemistry, available from Van Meer, which says the system is suitable for a wide range of marine and offshore applications in new and retrofit projects. Fully modular, a higher or lower string of voltage can be realized by simply using more or fewer battery modules or supercapacitors. The EES is available in various cabinet dimensions, allowing the system to be built and customized according to the available space. Should future energy requirements increase, it can be easily scaled up.
"We've taken a modular approach, so the cabinet can be sized for the different needs of our customers," said Louis Michielsens, R&D manager at Van Meer. "You might have a lower battery room with less ceiling space, in which case we can make the cabinet lower but wider. The LTO chemistry has also been tested over its lifetime, running for more than 25,000 cycles, with 90% of the discharge running at 2C, which is very good when you compare it with an NMC or LFP alternative. Overall, there's been a lot of interest – we've seen shipbuilders and system integrators stopping by."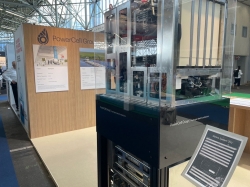 PowerCell Group presented its hydrogen fuel cell solution – a zero-emission technology it says is available for immediate decarbonization impact today. During the show, company representatives were able to share the results from a successful test validating a new 200kW hydrogen fuel cell system, which is set for operation on Maritime Partners' M/V Hydrogen One inland push boat. The result of the test proves the viability of a unique concept that takes methanol fuel and converts it to hydrogen on board ships before using the hydrogen in a fuel cell to generate power cleanly and efficiently. The system is the first of its kind and intended for use in many application segments such as tugboats, push boats and superyachts.
"We are delighted to be exhibiting once again at Electric & Hybrid Marine Expo in Amsterdam," said PowerCell Group's marine business manager, Johan Burgren. "This event powers truly sustainable thinking with an array of solutions to reach shipping's decarbonization targets. At PowerCell Group, we are putting words into action. We have a zero-emissions, fully scalable, high-performance hydrogen fuel cell solution available today for the maritime industry."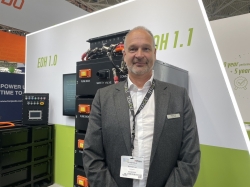 First-time exhibitor Tesvolt was at the show to display its new EOH series battery storage system, which features the latest-generation lithium-ion cells from Lithtech to help reduce costs, increase performance and deliver a higher security standard as requested by DNV.
"This is one of the biggest trade fair shows [for marine decarbonization] here in Europe regarding the maritime market, so we wanted to show the two systems – the EOH1.0 and EOH1.1 – that round out our product portfolio," explained Oliver Hille, Tesvolt's marketing communication representative. "They both offer strong reliability and high energy density – at 222W/h per liter – within a secure, safe package. They are also easy to install, as they can be configured in racks ready for wall, floor or tower installation on board without any major modification required by the shipowner or operator. We already have over 50 major customers in Germany and now the system is fully DNV certified, we're keen to explore new markets," he continued. "We've already met some system integrators from shipyards and we've generated lots of leads in the first hour of the show alone," said Hille, speaking during the show.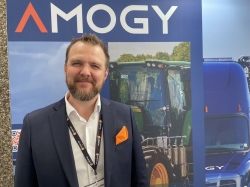 Amogy, a provider of emission-free, energy-dense ammonia power solutions, was at the show to inform visitors about the latest progress in its plans to unveil an ammonia-powered, zero-emission tugboat later this year. The company states that launching the first ammonia-powered vessel on the water will signal a huge milestone in the journey to zero-emissions shipping, with ammonia predicted to become the leading fuel source for the world's giant cargo ships by 2050.
Amogy is currently retrofitting a tugboat built in 1957 that uses diesel generators and electric motors, with its ammonia-to-power system. It will be outfitted with a 1MW version of the system, three times larger than the system field-tested on the company's ammonia-fueled semi-truck earlier this year. Amogy's highly efficient ammonia-to-power technology feeds liquid ammonia through its cracking modules integrated into a hybrid fuel cell system, which powers the electric motors for zero-carbon shipping.
"We've developed a proprietary technology that uses ammonia as a fuel," explained Jeremy Mazzilli, VP of commercial at Amogy. "We 'crack' the ammonia to extract the hydrogen, so in effect we use ammonia as a hydrogen carrier, which we feed to a [hydrogen] fuel cell. Our cracking is unique – nobody can crack ammonia as we do, in terms of efficiency. First of all, we use almost 100% of the ammonia; and because we crack at a low temperature, we have close to zero emissions. I would say overall that our efficiency is now equal to what you will find on a diesel engine," he continued.
"We've scaled up very quickly: within two years, we went from 5kW to 100kW to 300kW and now by the end of the year we'll have a 1MW unit installed on a boat. We are taking pre-orders right now for customers seeking deliveries by the end of 2024, so they can integrate them on ships being delivered in 2025."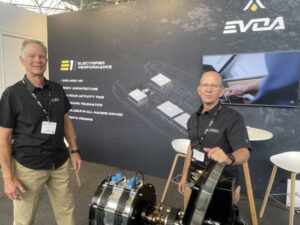 Having partnered with YASA, a wholly owned subsidiary of the Mercedes-Benz Group, EVOA-E1 was in Amsterdam to display its best-in-class pure electric systems adaptable to all marine drives, following the debut of its all-new E1 Electrified Performance System, exclusively featured in the CHRIS CRAFT Launch 25 GTe.
Utilising the YASA Axial Flux Motor, paired with state-of-the-art components, proprietary ECOFLUX software and industry leading 800V architecture, the EVOA-E1 system provides an unprecedented on-water experience, according to the company. With four times (4x) the torque density of radial flux motors, the company has coupled its YASA axial-flux motors with Formula E-based technology high power batteries to achieve quicker time to plane, solid throttle response and high-top speeds, setting the standard for high performance marine electric propulsion. During the Expo, visitors were able to ask questions about the company's patent pending systems, with power ranging from 160-320kw and energy ranging from 30-210kWh using an 800V architecture.
"We've learned from being here [at Electric & Hybrid Marine Expo Europe] that our system is as relevant in a smaller boat as it is in something 40ft and larger," said Mike Anderson, managing partner, EVOA-E1. "I would think with the companies that we've met and been introduced to here [at the Expo], we have found people we wouldn't have met otherwise, unless we were exhibiting. We have enough enquiries to keep us busy for the next 18 months, just with the support and interest that we have had from here."
CONFERENCE INSIGHTS
A (paid for) conference took place alongside the (free-to-attend) exhibition, featuring over 100 expert speakers from organizations including Port of Amsterdam, Damen Shipyards, Polish Register of Shipping, Green City Ferries, DNV, P&O Ferries, Norwegian Maritime Authority, Wartsila and Brittany Ferries.
Presentation highlights included a fascinating update on efforts to establish a zero-emissions shipping corridor between the ports of Dover, Calais and Dunkirk, with input from key stakeholders including the Port of Dover, ABB Marine & Ports, SSE Energy Solutions and Schneider Electric.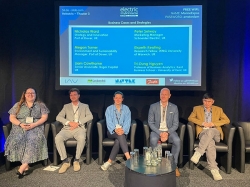 The Green Corridor at Short Straits project is part of the UK's Clean Maritime Demonstration Competition round two (CMDC2), which is part of the UK Shipping Office for Reducing Emissions (UK SHORE) initiative, launched in May 2022. The project aims to determine viable energy pathways for marine vessels and landside operations. It will assess their direct and indirect environmental impact and identify where regulation and new policy initiatives can contribute to a successful outcome. By August 2023, the aim is to have created a green corridor business case together with a three-tier route map to attract private-sector investment, up-scale the number of zero-emission vessels, ramp up landside infrastructure and create a blueprint for green corridors across the world.
"Schneider Electric is delighted to share its experience at the Port of Dover, which is one of the UK's busiest ports and responsible for 33% of the UK's trade with the EU," said Peter Selway, segment marketing manager at Schneider Electric. "The Port of Dover, like many ports around the world, is facing huge challenges as they seek to help decarbonize the sector. Providing power for shore power and hybrid vessels is going to mean an increase in the energy requirements of ports from 1MVA to 160MVA. This is the challenge at the heart of ports' decarbonization journeys and one Schneider Electric is ideally placed to support."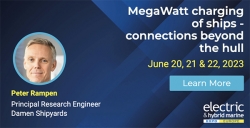 Peter Rampen, a principal research engineer in ship electrification in the Damen Shipyards R&D department, presented a new approach to shoreside power. Recognizing that the next step in the electrification of shipping will require the development of Charging as a Service shoreside power, Rampen explained how a new generation of shoreside microgrids could offer a solution, in a presentation titled, 'Megawatt charging of ships – connections beyond the hull'.
During his speech, Rampen highlighted the need for standardized charging solutions to ensure interoperability, suggesting the (megawatt) charging standards for automotive applications are a promising basis for such a maritime charging standard. Although the local power grid is not always sufficient to supply the required megawatt-scale peak powers, Damen's Charging Energy Hub (CEH) – a shoreside microgrid with local storage, optional local power generation and a reduced power grid connection including communications – may offer a solution.
"A CEH is a shoreside solution for locations where the main grid power is too low for the high charging power demand of an electric vessel," explained Rampen. "For this, a smart microgrid that contains energy storage, power conversion and optionally its own power generation will need a much lower power connection to the main grid. A CEH can even be used to support the main grid. The CEH battery can be used for bi-directional peak shaving of the main grid, and even the battery of the electric vessels can potentially be used for this purpose.
"At Damen we are using this solution for hyper power chargers that will soon be in operation for charging road ferries at Lake Ontario. Furthermore, we are working on modular and standardized solutions where we install the CEH in pontoons. With such a floating CEH, it becomes easier and faster to implement electric vessels."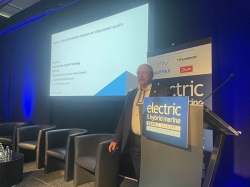 A note of caution was sounded by QinetiQ's electrical power and propulsion subject matter expert for maritime systems, Dave Gorshkov, on the first morning of the conference, who urged the industry to consider the impact of decarbonization measures on ships' power quality. In his presentation, Gorshkov examined the energy efficiency steps ship operators are taking toward a greener future for the shipping industry, including cruise liners and ferries, gray ships, commercial vessels and ports, and how these are now affecting ships' power quality (PQ) and total harmonic distortion (THD) levels. He identified some of the concerns that operators need to be aware of when implementing decarbonization and energy reduction solutions using variable-frequency drives (VFDs), LEDs, etc, and how they may negatively affect class rules for limits of THD and associated damage to the ships' electrical systems.
"Many shipowners and operators are looking at the forthcoming IMO2030 and indeed IMO2050 regulations as a bit of a challenge," said Gorshkov. "Some owners are moving to various solutions to reduce energy usage while not really appreciating that the very solutions they are introducing to reduce energy use, GHG and costs are in fact potentially damaging their ships' systems and introducing additional opex to repair damage done via some of these energy-saving solutions. Owners and operators also need to be mindful of 'class limits' for THD, which they need to maintain at certain levels for the safety of the vessel – THD can cause significant damage if not kept under review."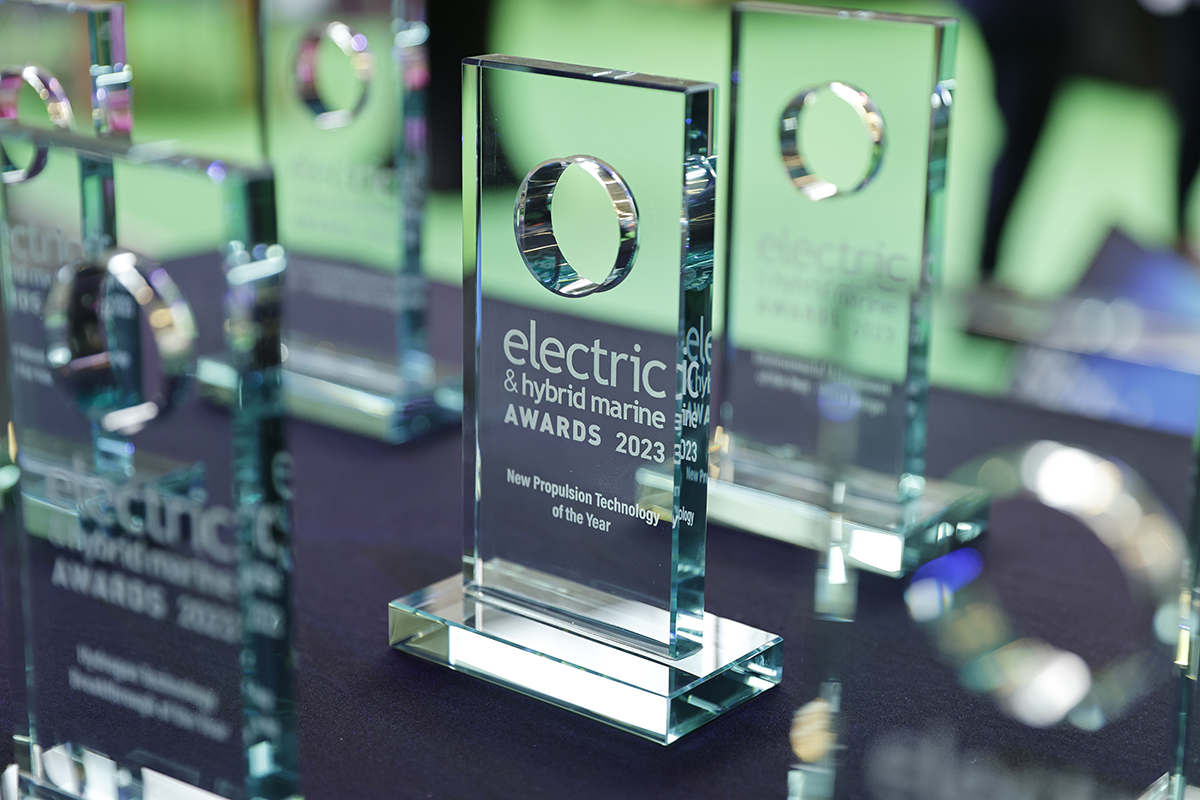 INDUSTRY AWARDS
This year's Electric & Hybrid Marine Awards, held during an evening reception on the first day, featured an expanded array of categories to recognize the scope of innovation and achievement across the maritime sector over the last 12 months. Now comprising nine categories, the Electric & Hybrid Marine Awards were a celebration of recent advances in marine propulsion technology and progress toward a greener and more sustainable industry.
The awards, which were coordinated by Electric & Hybrid Marine Technology International magazine, were officiated by a panel of international journalists and industry experts. To recognize the increasingly prominent role of sustainability in the maritime sector, this year the awards featured three categories completely focused on environmental development. Find out who won, by clicking here.
DATES FOR YOUR DIARY
With the 2023 European show now closed, those interested in the latest developments and innovations in marine electrification and decarbonization are advised to make a note of the dates for the US version of the show, Electric & Hybrid Marine Expo North America Exhibition and Conference, to be held at Long Beach Convention Center, California, March 13 & 14, 2024. Meanwhile, the European event returns to Amsterdam next summer – the dates for your diary are June 18, 19, 20, 2024.