Electric & Hybrid Marine Expo Europe Conference, taking place June 20, 21 & 22 in Amsterdam, Netherlands, is the world's only international conference dedicated exclusively to the electrification and hybridization of marine vessels and the associated supporting infrastructure for ports, charging, fuelling and energy supply.
This year's conference will provide delegates with presentations from 100+ speakers highlighting the latest research, case studies, technologies, real-world challenges, solutions and approaches in a practical and collaborative environment.
One of this year's anticipated highlights is the 'Charging standards for marine vessels' session, which is held in cooperation with Charging Interface Initiative e. V. (CharIN), the organization that represents the ISO 15115 charging communication protocol, the CCS and MCS charging plug. Under the CharIN umbrella, cross-industry stakeholders – in the automotive, marine and aeronautics industries – work together to make the user experience reliable, easy and smooth. Its international community comprises leading global companies representing every link in the e-mobility value chain, and multiple experts have been working together as a team to drive the requirements for charging all kinds of battery-powered transportation systems. A special task force has extended the scope to commercial vehicles, thus setting requirements and standards for the development of the megawatt charging system (MCS up to 5MW) which will be used to charge heavy-duty transportation systems like e-ferries and e-ships.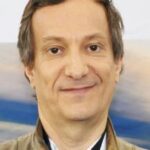 The speakers for this session, which will take place on June 22, 2023, have been coordinated by CharIN's managing director Asia, Jacques Borremans (right), who will moderate the session and give a presentation titled 'ISO 15118-20 as a communication protocol for E-Mobility in harbours/Marine Industry'.
Other industry-leading speakers participating in this session include Peter Rampen, principal research engineer at Damen Shipyards, who will explore 'MegaWatt charging of ships – connections beyond the hull'; Dr Jörn Bullert, product manager charging systems at Cavotec; and Maria Bos, CEO at Plug Port, who will discuss 'Charging infrastructure for electric & hybrid vessels: Building charging and shore power infrastructure – what are the possibilities and challenges'.
Another dynamic feature of the session will be a panel discussion between CharIN's Borremans, Plug Port's Bos, Cavotec's Bullert and Damen Shipyards' Rampen.
To learn more about this session and the wider conference, please view the recently published conference program here.
You can book your conference pass here (early booking rate applies).