Vallianz has joined forces with Ulstein Design & Solutions, Shift Clean Energy and Bureau Veritas to collaborate on the design and construction of a heavy transport vessel (HTV) that will be the first of its kind in the global offshore wind industry.
Designed for worldwide operations, the HTV will be deployed for the transportation of structures such as monopiles, jackets, transition pieces and turbine blades to support offshore wind farm projects, as well as heavy structure modules for LNG and carry out floatover operations of offshore structures. Featuring zero-emission capability, the DP-2 vessel will be the first of its kind, as it will be driven by a hybrid power system consisting of alternative dual-fueled engines and a fully classed battery energy storage system. In addition, the HTV features the proven Ulstein X-Bow, which contributes to reduced energy consumption and provides more comfortable and safer operations when sailing through waves.
With an overall length of 173.6m, the customized Ulstein HX120 design will have a free deck length of 145m. With her large deck area of more than 6,000m2 and deck strength of 25 tons per square meter, the new HTV can carry cargoes of up to 32,000 metric tons. This includes very large structures and modules, such as monopiles, transition pieces and jacket foundations.
The design of the HTV is developed by the Dutch design office of the Ulstein Group, which is headquartered in Norway. The HTV's electric battery system is to be provided by Canada-based Shift, while the vessel will be classed by Bureau Veritas. Construction is expected to take up to 26 months, with planned completion by the end of 2024.
To mark the collaboration, representatives from Vallianz, Ulstein, Shift and Bureau Veritas attended a signing ceremony held at Ulstein's office in Rotterdam, in the Netherlands.
"This collaboration is a key development in the group's strategy to build a stronger presence in the global offshore wind farm industry," said Osman Ibrahim, chairman of Vallianz. "It follows closely on the heels of another strategic project that we embarked on for the construction of a next generation service operation vessel (SOV) to support the operations and maintenance of offshore wind farms.
"We are excited to see the group's efforts gaining traction as we position Vallianz to tap the growth potential of the offshore wind market. According to the Global Wind Report 2022 by the Global Wind Energy Council (GWEC), the offshore wind market had its best ever year in 2021 with 21.1GW commissioned, more than three times in 2020. GWEC expects more than 90GW of offshore capacity to be added worldwide from 2022 to 2026.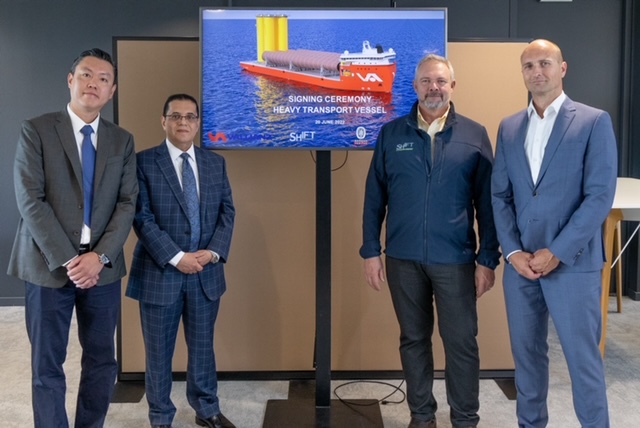 "In view of the anticipated increase in the size of monopiles and other components for offshore wind farms over the coming years, we believe there will be a growing demand for newer generation vessels like our HTV which can help to facilitate faster installation speed, better project economics and reduction of carbon footprint. The addition of this HTV will also complement and expand on the Group's existing Holmen fleet of heavy lift transport vessels."
"Since 2010, offshore wind has been a focus market for Ulstein", said Cathrine Marti, CEO of Ulstein Group. "With our track record in SOVs, heavy lift vessels and rock installation vessels, we have built up a strong position as ship designer supporting offshore wind installation and maintenance. This agreement with Vallianz is an important step for us, as it is in line with our strategy to expand into vessels supporting offshore wind logistics."
Francis Tang, commercial director of Bureau Veritas Marine Singapore, added, "Bureau Veritas is honored to participate in this ground-breaking project and to support our close customer Vallianz and partners to further push the boundaries in maritime and offshore decarbonization by tapping into our deep expertise in alternative fuels and hybrid technologies."
"Energy Storage is mature and ready to take on the challenge of decarbonization today," explained Brent Perry, CEO of Shift Clean Energy. "Collaboration with all parties is the key that will support energy storage system (ESS) in delivering on performance, cost and environmental benefits. On this project, we are working hand-in-hand with committed partners to enable the transition to a zero-carbon maritime industry. We are thrilled to be partnering with Vallianz on this important and exciting venture and we extend our congratulations to Vallianz, Ulstein and Bureau Veritas on this industry-leading design."
As the size of offshore wind turbines increase, the component parts will have to be larger. Together with the considerable global growth of the offshore wind market, this means much larger vessels will become the preferred mode of transportation while the sheer number of forecasted foundations will also require more such vessels. This is one of the main reasons a recent analyst report on the HTV market concluded that the current supply of HTVs worldwide will be insufficient to cater to the expected demand for such vessels in the next few years.