The world's leading event exclusively dedicated to electric and hybrid marine charging and propulsion systems, technologies and components is back – and it's even bigger and better than before!
It's now just four weeks until Electric & Hybrid Marine Expo Europe, which is shaping up nicely, with more international suppliers than ever before set to present their latest innovations at the free-to-attend exhibition, while a full three-day conference program (rates apply) will see 100+ expert speakers share their latest insights – all under one roof for maximum convenience. 
Taking place at Amsterdam RAI in the Netherlands, June 21, 22, 23, the seventh annual Electric & Hybrid Marine Expo is the biggest yet, with 200+ exhibitors from more than 20 countries.
For small regional ferry fleet operators keen to reduce costs, through to international shipowners and operators wanting to learn more about tomorrow's propulsion solutions, as well as boat builders and engine makers concerned about emissions legislation, your search for fuel-saving and charging technologies starts here!
With world-leading R&D experts and engineers from major players such as Fincantieri SI, Kawasaki Heavy Industries, Corvus Energy, Wärtsilä and Rolls-Royce all rubbing shoulders with leading suppliers like ABB, Saft, Torqeedo and Toshiba Electronics, the show is the networking event of the year.
Another feature is an area for autonomous ship technology, which also has its own conference program, where ship designers, classification societies, fleet owners, naval architects, research organizations and equipment suppliers will discuss the developments needed to make autonomous operation a reality, further improving efficiency.
Exhibitor news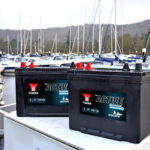 With more than 200 exhibitors, this year's show will provide visitors with a host of product launches and engineering innovations, all under one roof. For example, GS Yuasa, one of the world's largest battery manufacturers, will showcase its YBX Active Marine Dual EFB batteries, developed to meet the demands of starting and auxiliary power requirements, providing greater endurance, more available cycles and faster charging.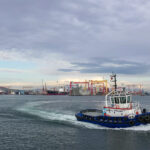 Visitors to Amsterdam will also be able to learn more about Navtek Naval Technologies' Zeetug30 – a zero emission, rechargeable, fully electric battery-powered tugboat that has completed more than a year of proven operation runtime in Tuzla Bay, Istanbul, one of the busiest ports in Europe. The tugboat had successfully accomplished 1,532 operations by the end of 2021 with 1,930 hours of runtime.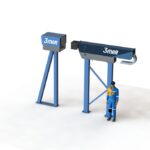 3mar Ltd will display the latest addition to its portfolio of novel shore connection and auto-mooring solutions. The Finnish company's existing products, Nector 4000 and Nector 2000, are particularly suitable for bigger road ferries and can deliver charging power up to 10MW. Following the growing demand to electrify city ferries and smaller road ferries, the company will display Nector 1000 – a more compact unit capable of delivering from a few hundred kilowatts to a megawatt and above, which can be installed either on the vessel (no radio link required) or shoreside.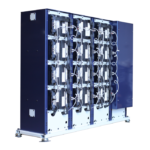 Echandia will launch a new air-cooled LTO module (battery system) during Electric & Hybrid Marine Expo Europe (existing system pictured). The air-cooled e-module is characterized by extreme high-power capability and 10C continuous power throughput, all while maintaining leading safety and lifetime expectancy. The upcoming e-module can be configured with a new 26Ah cell or the 20Ah high-power cell, giving a specific energy density of 13kg/kWh in the 26Ah version.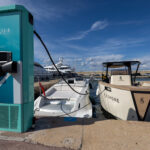 Offering the first fully marinized network of fast chargers for electric boats, Aqua SuperPower will demonstrate its powerful Aqua 150kW IP65-rated rapid charger, enabling leisure and commercial electric boats to rapidly recharge and extend their autonomy. Led by the University of Plymouth with Plymouth City Council, Princess Yachts Limited and Aqua SuperPower as technology partner, Plymouth's Marine e-Charging Living Lab (MeLL) is set to host the UK's first charging network for electric maritime vessels.
Read all the latest exhibitor news here.
Conference program
A full three-day conference program (rates apply) is designed to bring together hundreds of delegates to listen to more than 100 expert maritime engineering and academic speakers from organizations including Kongsberg Maritime, DNV, GE Power Conversion and Siemens Energy. Presentation highlights include: Beluga 24 – the world's fastest emission-free passenger ferry from Green City Ferries AB's founder and chairman, Hans Thornell; ELECTRA – making long range, fast, electric ferries possible with hydrofoils, from Jeremy Osborne, CTO and co-founder, Boundary Layer Technologies; and Going big: electrifying larger vessels, from ABB Marine & Ports' Palemia Field. Click here to see the full conference program.
Don't miss the networking opportunity of the year. Register for your free exhibition entry pass, today, by clicking here.