E&H Marine investigates how global investment in better battery technology is delivering higher performance at a lower cost – and could unlock new design opportunities for electrified vessels.
Battery technology is key to the booming demand for portable electronics and electrified transportation, and is evolving at pace. On a per-kilowatt-hour basis, lithium-ion battery pack prices declined by 80% between 2013 and 2022, according to BloombergNEF, while growing competition, supply chain investment and economies of scale have been catalysts for lighter, smaller and cheaper hardware. This is broadening the business case for electrification and enabling a structural-level rethink of new vessels.
"If people claim marine has been a slow-developing, conservative business, then that has definitely changed now," comments Brian Bender Madsen, head of machinery and systems at Knud E Hansen. "We have worked with ship design for many years, using the same fundamentals but optimizing them and with increased waste energy utilization. Now, it's a revolution, with new fuels where you cannot reuse any old designs or ways of doing things. You have to reinvent them. That takes a lot of resources."
Barely on clients' agendas even a few years ago, decarbonization has become "a natural consideration", according to Madsen. Battery technology is helping: with improved energy density and modularity, batteries can be used for peak shaving, blackout prevention and storing regenerated power, while faster charging rates offer greater potential to use onshore power supplies, which helps with Carbon Intensity Indicator (CII) ratings.
Designing vessels for future refits is vital to reduce conversion costs later.
"We've been pushing battery manufacturers to make the packs flexible, so we could fit them below a ramp or something like that," Madsen continues. "For new-builds, we can fit battery banks in places where, maybe, it's not so valuable for cargo. Because they are put in modules, we can fit them where we have space available. Retrofitting is sometimes different – you might need to take some cargo or tank space – but it's quite a flexible system."
Making other arrangements
Chartwell Marine has multiple electrification conversions underway, including a passenger ferry and battery-electric tri-foiling demonstrator. Company director Andy Page says battery compartments can be more sparsely arranged and easily maintained than engine rooms, adding that this energy storage has to be carefully optimized for range and safety requirements at the engineering stage to avoid compromising the vessel's functionality.
"Principally, fire presents the biggest risk," he says. "Careful consideration must be given to ensure batteries are safely stowed to make fire risk as low as reasonably practicable.
"Structural fire protection arrangements, fire detection, fire suppression and boundary cooling should all be considered in the design approach. Additionally, safe venting arrangements, high-voltage management considerations and shut-off [and/or failure prevention methods] should be considered."
This can be particularly challenging on smaller vessels, which tend not to have dedicated battery compartments. Dan Hanes, president of Sea3 Systems and chair of the M-37 Electrical Propulsion and Systems Committee at the Society of Naval Architects and Marine Engineers (SNAME), says electrification's quieter operation is a draw for customers, adding that batteries offer new opportunities to optimize layouts. Sea3's recent 15m electric hydrofoil concept ferry packages energy storage in the outer hull and submerged propulsor pods, maximizing passenger space and improving safety.
However, there is room for improvement. "Marine lithium batteries are all fairly similar. The default configuration is a 19in [48cm] equipment rack with battery packs that are 4-8in [10-20cm] high," Hanes says.
"My main focus is toward smaller vessels, less than 100-150ft [30-46m]. I'm interested in smaller battery geometries, where elements can be 'tucked' in corners and they're interconnected and in irregular volumes. A few companies have attempted this, where they have an intriguing modular structure that you can stack together or tuck away in lockers and connect them with cables."
Zen Yachts is also maximizing new packaging opportunities. Its electric yachts run entirely on solar power, and with a decentralized layout and lower noise and vibration, components can be located closer to occupants. The company uses low-voltage, sealed IP66-rated batteries and operates them well within their maximum C-rate, which reduces ventilation and cooling requirements and offers more packaging flexibility.
"When I design a new boat, I always think out of the box," says Zen Yachts' CEO, Julien Mélot. "We put the batteries where we would want to have the weight – very low. We have a double bottom, like on commercial ships, the tank being the first layer and then the battery sitting on top. There are no racks like in bigger vessels; they are positioned where they serve the boat's stability and the trim.
"Form factor is very important. A lot of small brands are marketing batteries that have a similar shape to truck batteries. Others design the batteries from the ground up, with different types of cells inside and different shapes. That's one of the factors that influences battery selection. If you have very tall batteries, that would impair the ceiling height in the cabin. We have very flat batteries; they have a bigger footprint, but it's very convenient."
Safe and sound

Battery chemistry joins pack design and layout in playing a key role in the marine industry's ability to move beyond the existing restrictions of technical norms as the sector transitions to electrification.

"We have to move to inherently safer battery chemistries such as LFP," explains Chris Kruger, president of AYK Energy. "Another factor that hampers the uptake of batteries is cost. Here, LFP is also the correct chemistry, as the raw materials to make the cells are cheaper."

Reducing price and increasing safety is an obvious draw for ship designers and system integrators, as is ease of installation. All these, Kruger explains, can be enjoyed by opting for LFP batteries.

"Our designs go beyond the class rules by using our decade worth of marine battery experience. We include elements such as a breaker on each string, IP67 rating for all components and more. Ship designers have a modular battery rack to fit into any space available with the knowledge that the battery is safe. System integrators benefit from our simple installation features as well as our advanced remote installation support system."

With safety such an important issue, AYK systems feature a low-cost, sophisticated BMS with self-health-check capabilities, high accuracy, three (or more) levels of safety responses and a user-friendly HMI accessed via a large touch panel. In addition to the chemistry's safety performance, "We moved the detection of a thermal runaway event into each battery module to enable a much earlier response," says Kruger. "We also incorporated easy-to-inspect cabling and breakers on each string, as well as IP67 ingress protection."

AYK currently has seven battery types that are approved by class, with another seven expected within the next year. The company's aim is to provide a safe battery solution for the requirements of any application – high power, high energy, or any combination of the two.

"Each battery installation is unique," adds Kruger. "We are there to address that together with the customer to find the optimum solution. Furthermore, it is always important to work with the customers and end users to discover what works and what does not."
New requirements
Niels de Vries, lead naval architect at C-Job Naval Architects, believes battery development opens up new applications for electrification. The company is working on hybrid and battery-electric systems, utilizing accelerated concept design and operational profile analysis to develop bespoke hull shapes and propulsion options to suit clients' needs. Alongside improved performance, passive fire safety – such as isolating modules and designing compliant spaces on board – is integral.
"Batteries are different from commonly used kinds of energy storage on board, because of their inherent weight and space requirements. Ventilation and the temperatures in the battery rooms play an important role in their lifecycle," de Vries explains. "All these aspects must be taken into consideration when designing a battery-powered vessel, and sometimes may pose an important challenge in the design itself. We design batteries into a vessel in a way that they can be removed and replaced with a different type of propulsion system at a later date if necessary."
Those considerations can trade off against some of the inherent flexibility. Jami Buckley, a naval architect at BYD Naval Architects, points out that batteries can account for a large share of lightship weight and affect the center of gravity. Ideally, their location would be planned early on, which is challenging in a retrofit.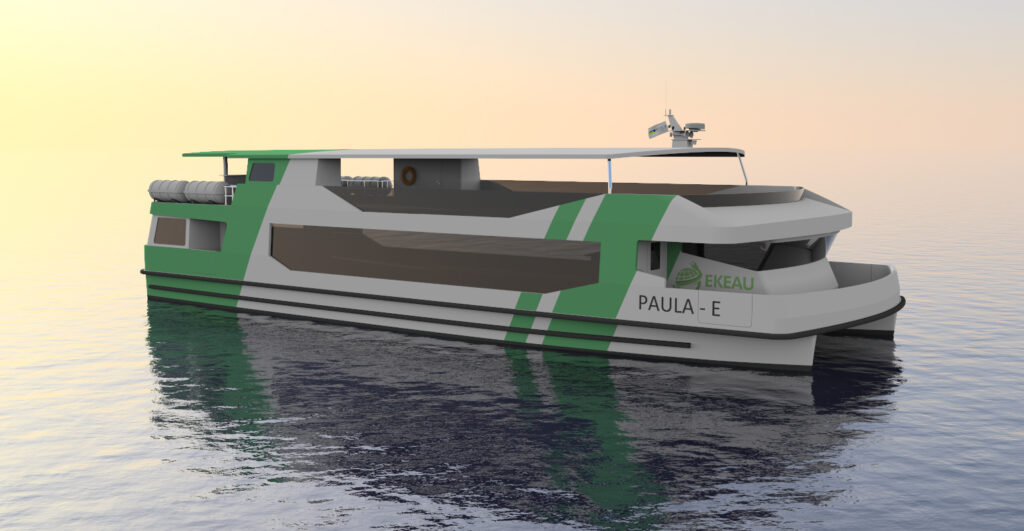 "Making sure the battery space is properly ventilated and has adequate structural fire protection as well as a suppression system that will work with a Li-ion fire is a great starting point," he says. "Location of the batteries can be a factor, as it is usually best to keep them relatively in the middle of the vessel for weight and center of gravity. However, this is not the best in the event of a fire. Other safety concerns would be appropriate circuit protection and cathodic protection for the vessel itself."
New opportunities
Longitude Engineering is also integrating battery packs into new vessel designs, though principal marine engineer James Sugden says there is scope to extend the key benefits of peak shaving, zero-emission operation in ports and silent running in protected coastal areas to retrofits too. Although it's hard to match the physical dimensions of a diesel powertrain, batteries are currently easier to integrate at the design stage than alternative fuels and can be situated in smaller spaces.
"Electrified propulsion, and batteries specifically, can be split and located apart from the propulsion units themselves. This provides the option of fitting battery compartments into convenient locations that may not be large enough to fit a generator set," he explains. "We have placed two battery rooms on a number of designs, which allows for redundancy in the powertrain. For example, we have a battery-electric ferry design, with two Voith Schneider propulsion units at diagonally opposed ends of the hull. Its two battery compartments mean that if one develops a fault or is damaged, the ship can still return to port at its service speed."
Importantly, Sugden adds, batteries complement other technologies, such as hydrogen fuel cells, where they can provide peak shaving and enough power for vessels to return to port if there is a fault with the hydrogen system. He notes a gap in the market for self-sufficient, zero-emission supply vessels for offshore wind farms, where turbines could either supply power to an electrolyzer or directly charge the ship.
At BAR Technologies, batteries are supporting the deployment of 45m-high, 20m-span WindWings three-element solid sails, which are debuting on the Pyxis Ocean bulk carrier. Chief technical officer Simon Schofield says these can reduce the challenges of an inconsistent propulsion source, enabling vessels to store excess energy from a shaft alternator for later use, with potential to downsize the genset or remove it completely in later iterations.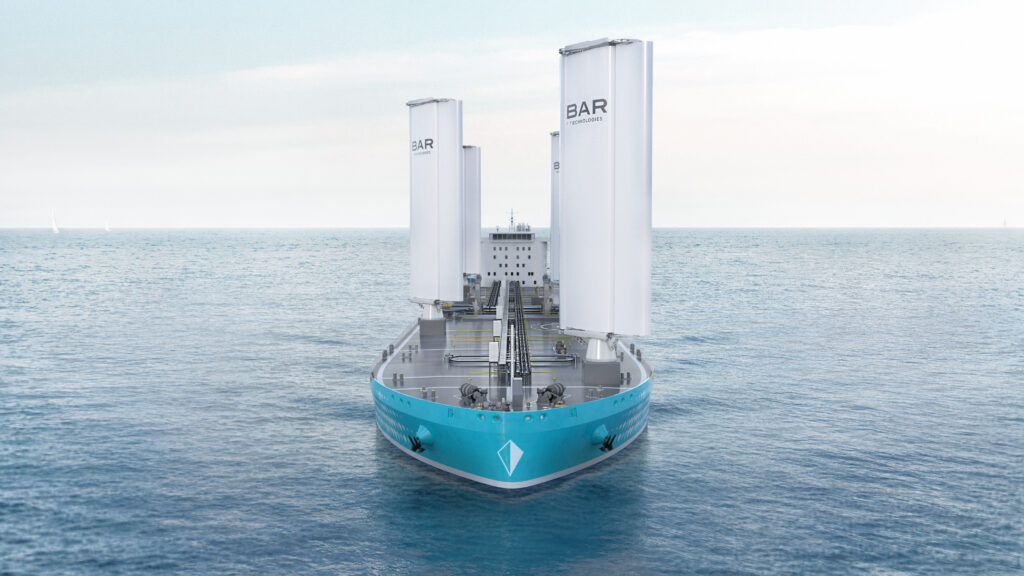 "One viable way to reduce emissions is a free-sailing, or near-free-sailing, design, likely accepting a lower transit speed," says Schofield. "I think shipping fleets are going to slow down anyway, for reduction of emissions and future fuels that are going to be incredibly expensive. To make it economically viable, ships are going to burn less of those fuels, even if they're green."
New designs offer further optimization opportunities, rather than deviating beyond the original limitations of the vessel. This removes the need to have an engine room at the back and for the bridge and accommodation to be moved in front of the wing for better visibility. Schofield also sees opportunities to rethink the hydrodynamic shape of vessels, reducing the requirement for increased rudder angle to overcome side forces and yaw imbalance. The company is partnering with Deltamarin on next-generation designs.
"Batteries are a complementary technology for nearly everything else," he adds. "There isn't going to be a silver bullet; it's going to be about combining lots of technologies as efficiently as possible. The more we do that collaboratively from the outset, rather than trying to pile technologies on top of each other, the quicker we're going to get to our goals."
Building a business case

Electrification is one element in a rapidly shifting technological landscape that also involves new fuel types. Knud E Hansen's Brian Bender Madsen says additional costs are a challenge for forward-thinking shipowners. Although the price gap between traditional propulsion and electrification is narrowing, he believes early adopters could be better incentivized to make those investments.

"Shipowners are not operating vessels because they want to destroy the planet. They want to do something, but it should also be fair that the guys who are doing something do not take the full cost of it," he says. "If you really want to speed up this transition, then return some of the [CO2] tax money to the shipowners [to fund clean technologies]."

James Sugden of Longitude Engineering has a similar view, noting that the business case is shifting as shipowners factor in the on-cost of aftertreatment technologies to comply with NOX, particulate matter and sulfur limits due to the growing number of emission control areas and stricter requirements of MARPOL Annex 6.

"That pushes up fuel costs and requires a number of emission abatement technologies that you have to install on ships now," he says. "The fact that conventional fuels are becoming more expensive is really helping people to consider electrification and alternative fuels as a way forward."