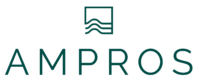 Ampros is a Polish company that designs high power electric and hybrid propulsions systems for marine industry. Electric motors power ranges from 110-6000kW and the HV battery is able to be fast charged with up to 350kW. The company offers pure electric solutions as well as hybrid systems that include diesel or H2 range extender also in combination with PV systems.
The Poland based team with passion for sailing uses the best cross-industry practices to ensure that all the customer requirements regarding most satisfying sailing experience are being met on board of their vessel.
Modular by design, the architecture of the propulsion system is flexible and scalable, which results in a wide range of electric and hybrid drive solutions comes to satisfying specific customer requirements and future system customization.
System architecture is composed of all core components such as batteries, cooling systems, motors and user interfaces that are coordinated with one another by an advanced software.
Ampros has not only a vision of the future of hybrid-electric propulsion systems, but also means, competences and passion to build that future into reality.
57ft luxury yacht with Ampros hybrid propulsion system
continuous power of 800kW (2x400kW)
1MW in peak during acceleration
weight optimized design of the battery system
high performance levels for of the yacht:
max speed 32 knots
thanks to the range extender:
travel distance of 320nmi at an average speed of 12kn