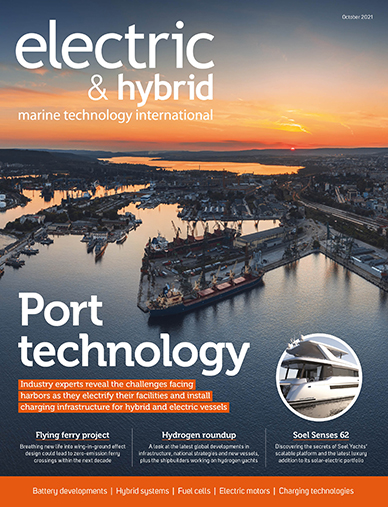 The October 2021 issue is now available online! Packed full of news, interviews and features, including:
Special Report: Port Electrification and Charging
As pressure increases on the maritime industry to reduce emissions, E&H Marine speaks to experts from harbors around the world, discovering how increasing electrification and investing in charging infrastructure is key to a sustainable future.
Soel Yachts 
David Czap, managing partner of Soel Yachts, reveals the company's ambitious plans for its platform-based portfolio of solar-electric vessels, and unveils the latest addition to the luxury portfolio – the Soel Senses 62.
Candela Hydrofoils
The Swedish boat builder is growing its portfolio of zero-emission hydrofoil vessels, and aims to offer thousands of hours of service-free operation.
Flying Ferries
Brittany Ferries is working with a startup based in Boston, Massachusetts, to breathe new life into a tried-and-tested transportation concept.
Fuel Cell Development
As methanol becomes the carrier of choice for many shipyards, Lürssen Yachts continues to push forward with the prototype stage of its fuel cell development project.
Hydrogen Roundup
As hydrogen continues to play an increasingly large role in the maritime sector, E&H Marine looks at a selection of recent investments, strategies and vessel announcements.