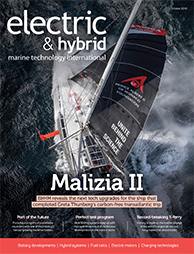 The October 2019 issue is now available online! Packed full of news, interviews and features, including:
Cover Story: Less Than Zero
Team Malizia, which last month joined up with climate activist Greta Thunberg to highlight the need to cut global CO2 levels, is working with BMW to create a completely emission-free vessel by using the German manufacturer's i-battery technology
OEM Interview: Wärtsilä Complete Control
The installation of a new hybrid power system from Wärtsilä has the potential to revolutionize the maritime transportation industry.
Cruise Ship Power Demands: Route Masters
Rapid advances in battery technology are changing the marine industry, but can electric propulsion systems be commercially viable for large vessel types and transoceanic routes?
Future Port: Growing Places
The Port of Oslo is aiming to prove that ambitious plans for expansion don't have to come at the expense of sustainable goals.