The HPM-400 has been debuted at the Future Propulsion Conference 2023 in the UK by manufacturer Equipmake. The advanced high-power and short-duration motor features an array of technological innovations enabling it to withstand extreme acceleration and differentiations in pressure.
Originally specified as a high-performance rocket fuel pump for Australia-based Gilmour Space Technologies for use in its Eris rocket program, the motor is suitable for use within high-performance space, aerospace and marine applications.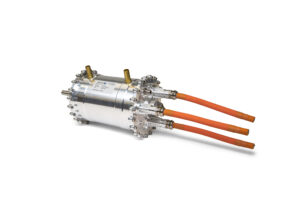 Equipmake's HPM-400 is capable of achieving 20,000rpm, a peak power of 400kW and a maximum torque value of 250Nm. With a mass of under 30kg, the motor is believed to be the most power-dense of its kind in the world. When combined with the component's integrated silicon carbide inverter, the entire system weighs 40kg.
"Because of its original intention for use as a rocket fuel pump, the HPM-400 features several novel innovations over conventional motor/inverters, making it ideal for use in high-performance space, aerospace and marine applications," explained Ian Foley, CEO at Equipmake. "Firstly, the complete package is ultra-lightweight and capable of withstanding incredible acceleration. Secondly, when an inverter must operate in a vacuum, it needs to be high voltage, because lots of power is required.
"HPM-400 keeps air pressure inside and has been completely redesigned mechanically to withstand the pressure from within when it goes from atmosphere into a vacuum," he continues. "That has resulted in a super-compact cylindrical package – conventional inverters being square – with a carbon-fiber shell to keep pressure in and weight down. It all adds up to an advanced, high-power, low-weight motor/inverter that's at home in space, air or water."
For more on this subject, please click here: Power and Propulsion News | Electric Hybrid Marine Technology