Helsinki-headquartered power electronics specialist The Switch will deliver its DC power distribution solution (DC-Hub), and ultra-fast Electronic Current Limiter (ECL) and Battery Short-Circuit Limiter (BSCL) protection devices as part of the battery-electric system for the fully electric ro-pax catamaran on order for Argentine ferry operator Buquebus.
Wärtsilä will provide the battery-powered vessel with e-motor-driven waterjets as the main propulsors. The battery modules and energy storage package is four times larger than on any electric/hybrid ship currently operating.
Corvus Energy will supply its Dolphin NextGen lightweight ESS, which, with more than 40MWh of energy storage, will be the largest battery system installed on a ship.
"We're very proud to be contributing to this milestone project at a time when marine battery systems are getting bigger and bigger," said Paul Atherton, general manager of operation unit Norway at The Switch. "The project represents a big leap for the industry, which our proprietary DC-Hub power distribution drives and protection technology are helping to enable. Without our game-changing protection devices, it simply wouldn't be possible to make battery systems safe on this scale."
DC power distribution in ships is widely recognized as being more energy-efficient than AC systems in many cases. However, DC power distribution needs a different protection philosophy. Today's larger batteries require ultra-fast and fail-safe protection to withstand larger battery short-circuit currents. In addition, ultra-fast protection devices reduce the size of the total system by reducing the short-circuit current levels in the system.
"Our suite of ultra-fast disconnect devices are specifically designed to guarantee safe DC distribution under all sailing conditions. Our protection devices also help to find optimal and compact solution especially with large batteries. This makes DC increasingly attractive for future flexibility," said Teemu Heikkilä, head of product line, converters at The Switch.
The Switch DC-Hub optimizes multimegawatt DC distribution systems for marine vessels. The four devices protect inside The Switch DC-Hubs, between DC-Hubs, and to and from batteries.
The ECL handles faults toward the batteries from the DC-Hub, protecting them from external failure and ensuring ride-through.
The BSCL restricts any short-term current from batteries, immediately blocking the short-circuit system. This enables more batteries to be connected to the electrical system and fewer DC-Hubs, making the entire system more compact. It is optimized for the much higher inductance of battery banks that a bus link cannot handle.
The Switch Electronic DC Breaker (EDCB) protects against short-circuit faults inside a DC-Hub and ensures ride-through. This semiconductor-based device disconnects any failing drive module within 10 microseconds from the common DC link.
The Switch Electronic Bus Link (EBL) connects the vessel's DC-Hubs and protects against faults between DC-Hubs. The DP3-rated and DNV-approved EBL provides protection outside the DC-Hub by spitting onboard grids in microseconds to isolate any faulty DC-Hub.
The catamaran will be built by Incat shipyard of Tasmania, which specializes in lightweight aluminum ship solutions for ferry operators, special service providers and military applications. With an overall length of 130m and a width of 32m, the vessel will be able to carry 2,100 passengers and 226 cars on services between Argentina and Uruguay. Delivery is scheduled for 2025.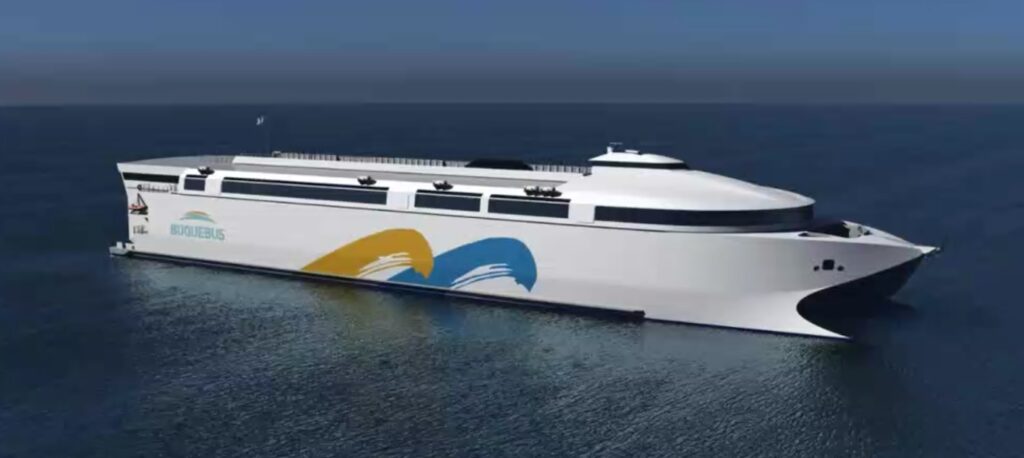 For more on battery technology, click here