Exhibitors at Electric & Hybrid Marine Expo Europe are continuing to impress visitors on Day 2 of the show with the very latest pure charging technologies, electric propulsion systems, hybrid systems and components. Highlights today include product showcases from The Switch, Volvo Penta, Torqeedo, Voith, Marine AI and many other leading marine technology manufacturers.
One exhibitor described the show, which is being held at Amsterdam RAI in the Netherlands, as "the perfect place" for meeting customers and customers' customers.
The show runs until tomorrow, and it's not too late to register to attend! Click here for your free entry pass.

New DC-Hub offers secure power distribution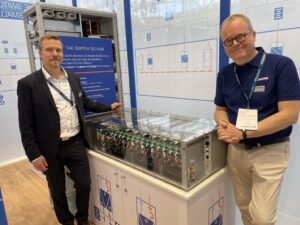 Yaskawa Environmental Energy/The Switch is at Electric & Hybrid Marine Expo Europe to introduce a unique, ultra-fast protection method to make low-voltage DC distribution on vessels safe, efficient and redundant. "We want to make it easier for the marine industry to change from AC because there are big benefits with DC distribution," explained The Switch's Teemu Heikkilä, head of product line, converters, during the show. "DC is more efficient, but on top of that, it's more flexible for integration with batteries, fuel cells and other likely future alternative energy sources."
The Switch DC-Hub ensures vessels can continue operating at full power, unaffected by the detection and isolation of any electrical fault, with power secure for ride-through operations. The DC-Hub consists of two breakthrough components – an electronic DC breaker (EDCB) and an electronic bus link (EBL). Both guarantee selectivity and safety through ultra-rapid fault detection and disconnection. This ensures complete redundancy in DC power distribution for fully electric and hybrid vessels.
The EBL connects multiple DC-Hubs in a vessel's DC distribution system to isolate faults, ensure redundancy and protect interconnections between multiple DC-Hubs. The EBL splits onboard grids in microseconds. It isolates any faulty DC-Hubs so other DC-Hubs are not affected. If a fault occurs, the EBL rapidly disconnects them to isolate the fault. Furthermore, the EBL enables a ring network to be formed from multiple DC-Hubs, ensuring redundancy no matter how large the system.
The Switch EDCB is an ultra-rapid semiconductor-based electronic breaker integrated inside inverter modules to protect against short-circuit faults. It increases redundancy within a DC-Hub by detecting, cutting and isolating any critical fault in 10 microseconds – much faster than the milliseconds needed to cut a conventional fuse.
"Fuses work for AC systems, but as the fault current in DC distribution does not have zero crossing, protection devices need much higher performance," explained  Heikkilä. The Switch concept is based on rapid current measurements and predictable protection.
The EDCB's selectivity reduces fault duration and isolates any damage to just the affected module. This ensures the least-possible energy disruption. The EDCB can also be used, for example, to connect large batteries by blocking their high short-circuit current, which existing marine DC systems cannot handle.
Asbjørn Halsebakke, marine technical solutions manager, reported strong interest in the new power distribution solution: "We had our first visitor at 10am as soon as the show opened! This event is very compact, with a strong focus – it's all about what we are doing and our solution is perfect for those people visiting, who can get a lot of information in one place. We meet our customers here, and our customers' customers. We can show them how to take the steps from AC to DC, even in megawatt cases. Even before 11am on the first day we were discussing cases that are going to happen. This is the perfect place to be."

Volvo Penta highlights Danfoss collaboration on new hybrid crew transfer vessels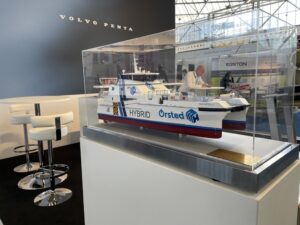 Volvo Penta is highlighting its partnership with Danfoss's Editron division at this year's show in Amsterdam. By working together from the design phase right through to installation, commissioning and aftermarket support, the two companies can offer a totally seamless experience when it comes to the delivery of vessels. Both have already worked together to power two of the UK's first fully integrated hybrid electric crew transfer vessels (CTVs). The vessels have been in operation at an offshore wind farm for nearly 18 months, during which they have made a very positive environmental impact.
Wind farm transfer company MHO-Co took delivery of two new hybrid vessels to service the Hornsea Project 2 offshore wind farm in the North Sea for offshore customer Orsted , in November 2021. The two vessels, MHO Asgard and MHO Apollo, are powered by combined technology from Volvo Penta and Danfoss Editron.
The vessels – both equipped with the Volvo Penta Inboard Performance System (IPS) – have already made an impressive environmental contribution. Volvo Penta IPS has proved itself in delivering up to 30% reduced emissions with combustion engines, compared with traditional inboard shaft installations. By adding the hybrid factor, the system delivers additional fuel savings of 20.89% and reduces CO2 emissions by 20.96% compared with the already efficient conventional Volvo Penta IPS vessels in MHO-Co's fleet.
Another major advantage of the hybrid vessels is the multiple power systems on board, which Danfoss Editron and Volvo Penta have dubbed 'the Power of Plenty'.

Torqeedo provides all-electric propulsion unit for Berlin water taxi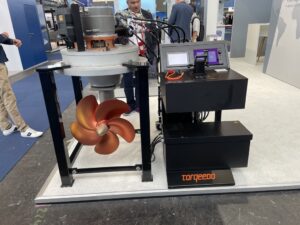 Oranje Nassau, a 20m, 55-passenger sightseeing boat and water taxi operating on Berlin's urban waterways, was recently retrofitted with a fully integrated all-electric propulsion system from Electric & Hybrid Marine Expo Europe exhibitor Torqeedo.
The Torqeedo Deep Blue 50i electric drive is powered by three Deep Blue batteries offering 120kWh capacity, which is enough for a full eight-hour day at operating speeds, with the vessel able to recharge from dockside shore power connections, overnight.
The new drive system benefits the environment and the shipping company's bottom line, while improving life for the crew, the passengers and the city's residents with its silent, clean energy.
The German capital has 11 navigable waterways totalling 200km, but when the Senate of Berlin measured the pollution caused by fossil-fuel-powered urban water transportation in the city a few years ago, the concentration of fine particles on some inner-city banks was up to 15 times higher than the legal limit. According to the Senate of Berlin, boat traffic causes around 10% of soot particle emissions – as much as 120,000 cars.
Torqeedo's Oliver Glück, VP of marketing, hopes other cities and governments will follow suit and provide similar funding as provided in Berlin: "This project was funded by the German government and this model is very interesting for boat builders and providers of city transportation services, as electrification is essential in making inland waterways cleaner and greener."
As for the expo itself, Glück is happy with how it continues to increase year on year. "We see the show growing and growing, and this reflects the incoming traffic from people interested in electric and hybrid for marine. We are looking forward to what kind of people are coming and the business talks we will have."

Electric Voith Schneider Propeller ideal for offshore applications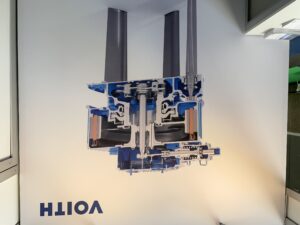 Voith is presenting its electric Voith Schneider Propeller (eVSP) at this year's Electric & Hybrid Marine Expo Europe. The propulsion unit offers high efficiency and greater simplicity, as the permanent-magnet synchronous motor is already integrated in the propeller. The complete omission of gears reduces noise to a minimum and frees up critical space on the ship.
Voith has a contract to deliver eight eVSPs to the Norwegian shipping company Østensjø, to provide propulsion for four offshore wind supply vessels. The four ships are being built in Spain and are already equipped for the application of CO2 -neutral hydrogen technology.
The eVSPs also offer the same improved maneuvering performance as traditional VSPs – a decisive factor for use in the offshore wind industry. Comparative calculations have shown that a VSP-driven ship can maneuver safely at significantly higher wave heights, offering the operator an economic advantage. Due to the very fast and accurate thrust adjustment, the VSP can reduce the rolling motions of the ship by up to 70%, both when the ship is moving and when it is stationary at the wind turbine.
In model tests with ducted screw propellers, an average advantage of 15% for the eVSP was measured with regard to power requirements in transit. The electric version of the VSP is also characterized by lower fuel consumption in dynamic positioning because it acts very quickly against disturbing wind, wave and flow forces.
"The eVSP offers far greater flexibility in how you arrange it into the vessel because you don't have a shaft line," explained Oliver Lenz, sales application manager at Voith. "For the 1,850kW unit, the motor has 230,000Nm of torque, so we're turning quite slow, which is a benefit for operators as you have a very robust unit, with reduced noise and less vibration.
"Beyond operators, we're also keen to meet system integrators here at the show, to make sure we are on the right path with voltage levels, and how to best offer a complete package to shipyards."

Marine AI proves its technology on Mayflower Autonomous Ship expedition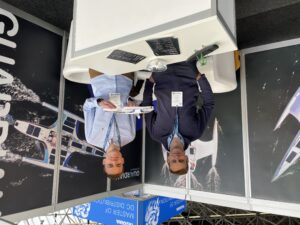 Electric & Hybrid Marine Expo includes a strong focus on the latest autonomous shipping technologies, with a dedicated Autonomous Ship Expo zone. Marine AI is using the show to make visitors aware of its Guardian system, which uses robust AI and decision-making modeling to augment manned-vessel operations and enable fully autonomous voyages, maximizing efficiency and safety while ensuring regulatory compliance.
The company's Guardian Autonomy product is being proved on the Mayflower Autonomous Ship (MAS), which recently made its maiden voyage – a 4,400km trip from Plymouth in the UK to Halifax in Nova Scotia, Canada. The system combines real-time weather and current and AIS data with local sensors (radar, sonar, lidar), computer vision and complex modeling to make course, speed and direction decisions that maximize safe navigation and fuel efficiency and ensure full regulatory compliance.
"We've been working for a number of years on autonomous software for navigation and for controlling boats at sea," explained Matthew Ratsey, Marine AI's managing director. "Our tech demonstrator, Mayflower, has just made its first voyage. It is the first unmanned vessel to go across the Atlantic using our Guardian AI software, so we're keen to inform people here about the possibilities."
Speaking about the lessons learned during the Mayflower voyage, Ratsey suggested that the reason why the ship never arrived at its original destination (Plymouth, Massachusetts) had little to do with the autonomous tech on board: "It's the engineering of components that needs to catch up with the software and the AI," he said. "The quality and redundancy of components are not at the same level as the software. How many commercial vessels go to sea without a mechanical or electrical engineer? They don't. But with MAS, there's no one on board and there's nothing you can do to any of the mechanical systems apart from maybe turning some on and off remotely. So it's very, very challenging. The issues we had on the ship during the trip were almost entirely down to mechanical and electrical failures with raw water pumps and alternators, rather than the sensors or the AI."

Genevos Hydrogen Power Module range on show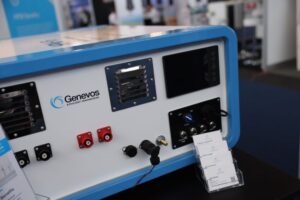 Genevos is exhibiting its offshore-certified, fully integrated plug-and-play marine fuel cell called the HPM-15kW at Electric & Hybrid Marine Expo 2022.
The Hydrogen Power Module range was designed to specifically decarbonize vessels by using a compact, modular solution that enables high scalability and redundancy. The module sits alongside the company's HPM-40kW and is stackable, offering scalable power solutions from 15kW to multi-MW scale. The maritime solution can operate with no vibration and low air pressure, resulting in a high kilowatt-hour power density per cubic meter.
"We are delighted to [have shared] in this important event for marine by showcasing Genevos's first commercially certified Hydrogen Power Module (HPM-15)," commented Rebecca Sharp, president and marketing director at Genevos. "We welcome discussions on why hydrogen is an important solution to decarbonize the maritime sector in the urgent Race to Zero."

Praxis Automation Technology showcases its technologies on board demonstrator yacht
Praxis Automation Technology, a manufacturer and system integrator of electric propulsion systems, is exhibiting a yacht that features company technology in a marina near Electric & Hybrid Marine Expo.
The company develops and manufactures a wide range of batteries, motors, inverters and automation systems in-house. Visitors who have booked a tour will be able to see these systems installed on board the vessel.
By designing and developing a host of products together, the company aims to create electric propulsion as a product rather than a project that consists of various parts brought together through custom engineering. With a standardized system, the complexity of building an electric or hybrid vessel is considerably reduced and the process becomes more cost-efficient.
"Electric & Hybrid Marine Expo is the world's leading expo in the field of electric and hybrid propulsion. The visitors are very focused and genuinely interested because they are all on a mission," commented Benjamin van Dam, sales director at Praxis. "We didn't want to miss it."

WaterWorld exhibits complete electrical propulsion system package
Dutch marine technology manufacturer WaterWorld is displaying its portfolio of electric inboard drive systems and batteries at Electric & Hybrid Marine Expo.
The company's inboard drive systems range in power from 4-20kW and offer a silent, emission-free alternative to conventional polluting diesel engines. The systems are considerably lighter and smaller
than their diesel equivalent, so boats can benefit from extra room and ease of installation. To complete the sustainable drive package, WaterWorld also provides a throttle and a color display to keep users up to date with the remaining sailing time and drivetrain status.
The company's range of lithium maritime batteries is also on show. Produced without cobalt, the batteries benefit from a robust aluminum enclosure to ensure they are durable for use within the maritime environment. The 48-6500 battery features a 6,500Wh capacity with a maximum discharge rate of 100A.
"All of the electronics are our own," commented Abele De Jong, a senior sales representative at WaterWorld. "We are one of the few companies in the world that have a complete system. It is quite plug and play. You can connect everything and then it will function. We have distributors in the Netherlands, Germany, France, England, Spain and also in Scandinavian countries. We hope there are more visitors from all of Europe that can see our products and the complete system. We aim to build our name."

Rolls-Royce Solutions displays mtu Hybrid PropulsionPack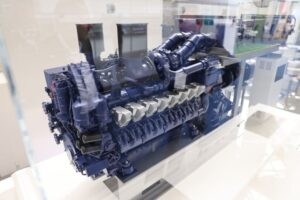 Rolls-Royce Solutions is speaking with visitors to Electric & Hybrid Marine Expo about its mtu Hybrid PropulsionPack for yachts.
The mtu Hybrid PropulsionPack provides users with hybrid power to reduce emissions and onboard noise and vibration levels. Each system is modular and scalable, enabling each hybrid solution to be tailored to specific customer requirements. The highly efficient systems provide vessels with the ability to conduct emissions-free maneuvering and emission-free anchoring in port or harbor areas.
Customers have the choice of three packages: Comfort, Premium or Sport Hybrid. Each solution differs in terms of the size of the battery, electric motor and diesel genset. Batteries range from 84-1,008kWh, electric motors from 165-473kW and gensets from 110-500kW.
"We offer a fully integrated system consisting of all necessary engine room components, gensets, batteries, switchboards and power management systems," commented Tobias Kohl, director of application engineering marine at Rolls-Royce Solutions. "We have here a future-ready system. Today we have mainly diesel gensets to create electricity in combination with batteries, but in the future it could also be methanol combustion-driven engines, which burn very clean. It would also be possible in the future to replace the gensets with a fuel cell or something like that."
Discussing Electric & Hybrid Marine Expo, Kohl added, "You feel there is a big change going on in the marine segment. Meeting customers and shipyards here is good because we can align and get a clear picture of what is to come in the future. We need to discuss the path to net zero and learn what the market is asking for and what the suppliers can deliver.

Modular and scalable DC/DC converter from Sprint Power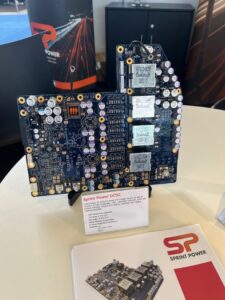 Sprint Power, an electrical systems integration and electrical propulsion system specialist, is exhibiting its DC/DC converter at Electric & Hybrid Marine Expo Europe 2022.
The company's DC/DC converter has been developed specifically for use within customer programs in a range of sectors, including the maritime industry.
Designed as a scalable system, the DC/DC converter can handle different power and voltage ranges and is upgradeable to enable the inclusion of CAN, bootloader, UDS and calibration protocols. Furthermore, the converter can be produced with custom form factors, interfaces and various cooling methods.
"A lot of people have been asking specifically about integrated DC/DC converters and onboard chargers, which mirrors what we are seeing in the automotive world," explained Hannah Ansell, chief engineer for hardware electronics at Sprint Power. "We have had some interesting requests, such as a 20kW 48V charger, which is obviously a huge amount of current down at 48V. This is still something that falls well within our capabilities, though.
"All the components can be scaled up as power starts to increase," Ansell continued. "The typology of the product enables you to connect them in parallel and you can share the power across them."

Propel showcases alternative forms of electric propulsion for leisure boats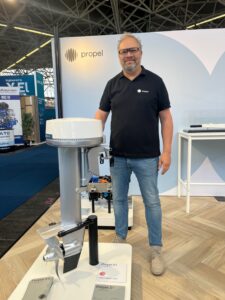 Propel, a manufacturer of electric propulsion systems for maritime applications is showcasing its D1 inboard motor and its S1 outboard motor.
Featuring a sleek, modern design, the S1 outboard motor benefits from a 10kW output – equivalent to a conventional 25hp petrol motor. Capable of delivering a high torque at low rpm, the S1 enables emissions free, almost silent boating for pleasure craft.
The company's solution provides an optimal balance between propeller size and motor performance, and has a maximum screw speed of 1,440rpm and a maximum efficiency of 62.1%.
Alongside the outboard motor, Propel is also exhibiting its D1 inboard crate motor, a plug and play propulsion system designed for easy installation when transitioning from more polluting traditional forms of propulsion.
Designed for vessel applications up to 10m-long, the compact inboard motor features a motor controller, various cooling options and a 12V DC-out all housed within the stainless-steel chassis. The entire system is temperature controlled with a closed loop glycol-cooling circuit for continuous, optimal performance. External cooling is carried out through raw water and a heat exchanger.
With a peak torque output of 105Nm and 10kW of continuous power, Propel's system offers an efficient and environmentally friendly alternative to conventionally used and inefficient maritime engines.
We have developed the motor as a crate solution. You can take a diesel [engine] out, put the motor in and reconnect everything, like the water, raw water cooling, driveline, battery and you're up and running; we've made it simple," commented Sander Van Dijk, general manager, Propel. "We've put everything in the chassis to simplify the installation procedure."