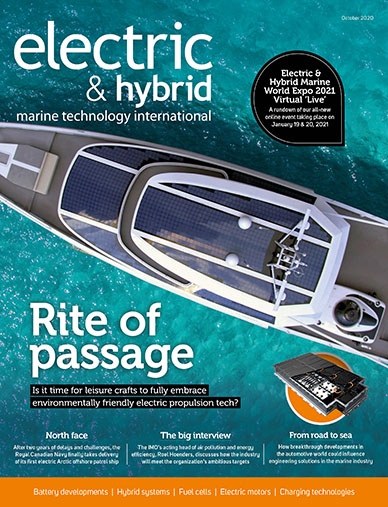 The October 2020 issue is now available online! Packed full of news, interviews and features, including:
Cover Story Hybrid Superyacht
Commercial pull, rather than regulatory push, is driving demand for powertrain electrification in the marine leisure sector. Is the technology, and the industry, ready to meet that demand?
Cleaner Cargo 
Newly formed joint venture Zero Emission Services is aiming to enable the electrification of the Netherlands' inland shipping network by focusing on more affordable energy storage.
Interview: IMO
The International Maritime Organization is at the forefront of decarbonizing the shipping industry. E&H Marine asks whether sufficient progress is being made, and fast enough, to meet the IMO's ambitious targets
Ship To Shore
E&H Marine talks to the team working on a pair of Wärtsilä all-electric ferries, due to enter service in Norway in 2021