This year's Electric & Hybrid Marine Expo Europe, Amsterdam, June 21-23, 2022, includes a boat display area and will feature the first-ever public display of the world's first hydrogen fuel-cell-powered water taxi, due to enter service in Rotterdam soon. "I can confirm that the water taxi will be displayed at the expo and that it is the first hydrogen-electric ship in Rotterdam," said Joost Wendling, marketing and communication manager at Zepp Solutions, which is part of the SWIM consortium responsible for the vessel's development.
Other hydrogen-powered vessels are still in the building phase (MS Antonie by Lenten Scheepvaart and Maas by FPS, for example) but these will not be in the water before the end of this year, according to Zepp Solutions, which, along with Flying Fish and Enviu, makes up the consortium building the world's first hydrogen-powered water taxi to help demonstrate that a zero-emission maritime future isn't just ambitious, but possible.
"It's a unique vessel, being the first and so far only hydrogen-powered ship to be operational in the Port of Rotterdam," continued Wendling. "The Rotterdam Watertaxi is a true city icon, and the launch of a hydrogen-powered version is a symbol of hydrogen being a realistic option today, rather than a prototype-like technology in a tale of a greener tomorrow."
The water taxi's drivetrain is based around a Zepp Solutions fuel cell system and a Flying Fish electric drivetrain. Passengers will soon be able to board a Rotterdam water taxi running on hydrogen, when the service is officially launched later this summer (June or early July), marking the first-ever commercial operation of a boat of this scale running entirely on zero-emission fuel. SWIM's ambition is to sell fully integrated hydrogen-electric drivetrains suitable for inland vessels up to 20m, such as the one used in the water taxi.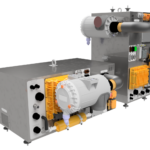 Visitors to Electric & Hybrid Marine Expo Europe 2022 will be able to check out Zepp Solutions' latest maritime fuel cell systems. The company's 50kW (pictured, left) and 150kW modules offer a fully integrated hydrogen fuel cell solution for emission-free power generation in any maritime application. The systems can be used for propulsive power generation as well as auxiliary systems. Visitors will be able to see how the 50kW version powers the SWIM hydrogen water taxi featured at the exhibition.
The fuel cell modules are controlled by Zepp's unique hydrogen fuel cell control system, enabling highly efficient and robust operation. The control features data-driven operational optimization algorithms and abnormal behavior detection for preventive maintenance and reduced downtime. This control system, paired with the module's state-of-the-art hardware and mechanical design, reduces overall operating expenses and increases system lifetime.
Two different system sizes enable a wide range of applications, from smaller vessels such as small ferries, pleasure craft and port workboats to larger shipping applications such as inland shipping barges and high-power CTVs. The smaller 50kW modules feature integrated hydrogen storage management and are available in horizontally and vertically mounted layouts for maximum integration flexibility. The larger 150kW modules are designed with a modular power system in mind. Multiple modules can be connected to the vessel's electric AC or DC power bus to supply higher power capacities up to megawatt applications.
The 50kW and 150kW modules are extremely compact and feature a fully integrated system design to reduce integration complexity and cost. Critical interfaces are minimized and the modules include all required fuel cell subsystems, such as full hydrogen fuel and oxidizer management, thermal control systems for heating and cooling, power conditioning systems and operational control, making them ideal drop-in solutions.
Water taxi specs

Dimensions: length: 8.8m; width: 2.7m; draft: 60cmCapacity: max 12 passengers Drive type: hydrogen electric Battery specs: capacity: 33kWh; output: 50kWFuel cell specs: capacity: 45kW; H2 storage: 14kg; life: 9 hours (cruising speed) Cruising speed: 16km/h (8.8kts) Max speed: 25km/h (13kts) Motor power: 95kw