Norwegian boat builder Frydenbø Marine and startup Pascal Technologies have joined forces to launch Ripple Boats, a new long-range electric boat brand. The company's first craft will be a new electric day boat.
Frydenbø Marine is one of the largest boat producers in the Nordics, with its own factory in Poland, and includes brands such as Nordkapp, Sting and Airborne boats, as well as acting as a distributor for Zodiac. The boat builder's role in Ripple Boats guarantees access to high-quality manufacturing capacity.
Oslo-based Pascal is a marine tech startup developing an energy-efficient solution for leisure boats based on an air cushion principle. Air is pumped between the hull and water, which significantly reduces the water resistance and extends range without the need for complex technology. Pascal Technologies recently raised €4.6m (US$5.1m) in a funding round led by Ocean Zero.
Ripple Boats aims to design and build the next-generation of long-range electric boats for the recreational market, incorporating the air cushion technology to extend range without compromising safety or usability. The first model will be a 10m electric day cruiser, designed by award-winning Thorup Design. The boats have been designed to cater to a wide range of water-based activities, and feature spacious and configurable seating arrangements, user-friendly technology (automatic anchor handling, remote monitoring, over-the-air updates), and advanced safety features.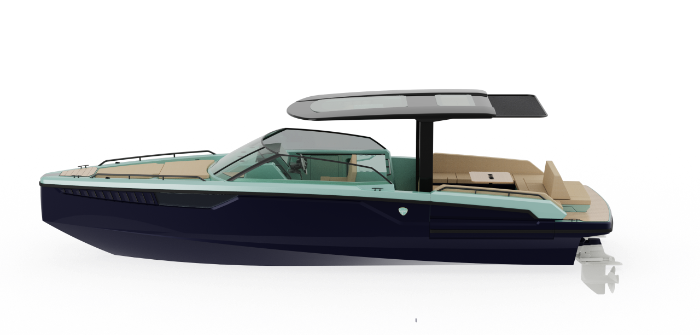 "I'm very excited to announce the launch of Ripple," said CEO Stian Gulla. "What's truly unique about us in the startup scene is our ability to combine innovative, range-enhancing technology from Pascal with the extensive industry experience and manufacturing assets of Frydenbø, enabling us to quickly bring a unique and high-quality electric boat to market. Over the coming years we aim to build a series of models in the 6m-11m range, with a focus on international sales and not just in our home market of Scandinavia.
"The leisure boat industry and electrification is at an inflection point. Consumer sentiment is changing, battery costs are coming down and investment in the space is growing rapidly, both from established players and startups. Ripple brings the combination of an innovative and fast-paced startup with the reliability and quality of an experienced boat builder, and I'm thrilled to show what we can build."