California-based Arc Boat Company has recently revealed plans to construct a range of electric speedboats, starting with a high-performance, 350kW model. The vessels are being developed by a team comprising former SpaceX engineers, with CTO and company co-founder Ryan Cook having worked as lead engineer on the Falcon 9 rocket project.
Cook's fellow co-founder, Mitch Lee, said, "Why electric boats? I've been a lifelong waterskiing enthusiast, so I know first-hand how awful gas boats are to own and operate. Electric boats are superior in almost every way. They require almost no maintenance and are much cheaper to operate. But they're also quieter, quicker and — most of all — better for our environment, allowing people to enjoy our waters without the emissions, fumes, pollutants, or noise of gas boats.
"However, in order to compete on range and price with gas boats, electric boats need to combine a massive battery with a lightweight, low-cost hull. And that's where Arc comes in."
The company has raised over US$4m in funding to date, including an investment from venture capital firm Andreessen Horowitz. Its first offering, the Arc One, will be a 24ft long electric powerboat, housing a 200kWh battery pack within an aluminum hull. The hull design clearly draws upon the design team's aerospace experience, closely resembling the construction of a wing spar in its form.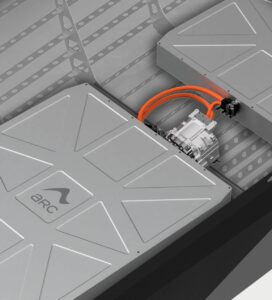 The choice of aluminum for the hull, in a market where most players are moving to composites, was, the company says, due to the construction method being less labor intensive and lower cost, while still meeting its required weight goals. The Arc One will also use bespoke battery packs intended to optimize the craft's center of gravity, with the individual packs integrated into the hull itself.
Lee stated that the company is well advanced with development and already has a working prototype complete with 800V electrical system. The Arc One will be something of a halo project, with the long-term plan being development of lower cost versions for the wider leisure boat market.