A consortium of green technology pioneers within the UK has been awarded a portion of the Department for Transport and Innovate UK's £60 million Clean Maritime Demonstration Competition (CMDC) grant funding.
Led by Oasis Marine Power (OMP) and supported by partners Turbo Power Systems (TPS), Verlume and the Offshore Renewable Energy (ORE) Catapult, a technology innovation and research center for offshore renewable energy, the team will develop what is claimed to be the world's first offshore charging station in a UK wind farm. The energy storage and charging solution will enable fully electric marine operations within the UK-based offshore wind farm.
The project, which is scheduled to last for two years, will see the team developing an offshore charging infrastructure to enable the charging of both hybrid and electric crew transfer vessels (CTVs). The subsequent solution will then be demonstrated over two phases.
The first phase will prove the transfer of power utilizing Verlume's battery and intelligent energy management technology to charge a vessel via the Oasis Power Buoy while at sea. For the second phase, the consortium will work collaboratively with Vattenfall on technical and regulatory developments, with the aim of leading an on-turbine demonstration at the company's European Offshore Wind Deployment Centre (EOWDC) in Aberdeen Bay, Scotland.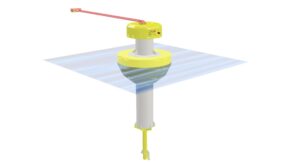 AC power generated by the wind farm's existing wind turbines will be supplied to the Oasis Power Buoy through a Turbo Power Systems high-power charging solution. A hybrid CTV will be used for the demonstration, with the vessel operating between Aberdeen Harbour and the wind farm. The CTV will connect and recharge from the Oasis Power Buoy in the field as technicians conduct maintenance on the wind turbines.
At present, the range and duration in which vessels can operate is hindering decarbonization of the sector, as vessels need to be charged within ports and the majority of wind farms are too far from shore to enable journeys to be completed on battery power alone. By providing offshore charging from a zero-emission energy source, CTVs will be able to operate mostly using electric power to extend operational range while reducing emissions. The team believes the technology will enable fully electric operation in the future.
"The ability to recharge vessels offshore is crucial for decarbonizing maritime," said George Smith, managing director at Oasis Marine Power. "Initial sea trials of the Oasis Power Buoy were conducted in early 2022 and this CMDC funding allows for progression to full infrastructure testing. We are grateful to be working with valued project partners to ensure that comprehensive developments will be made. This technology promises to enable major carbon reductions and is a very encouraging development for the overall maritime industry to accelerate opportunities and confidence in electric and hybrid vessels."
The charging infrastructure will build on the previous development of OMP's Power Buoy (Wilkie Engineering invests in Oasis Marine Power to develop offshore charging buoy). TPS will be responsible for the design, build and testing of a high-power DC power supply for the conversion of power from the wind turbine to the charging unit. Additionally, Verlume – using its knowledge of energy storage – will supply a modular battery energy storage system with integrated intelligent energy management to enable early testing. ORE Catapult will oversee the requirements of the CTV in addition to supporting a regulatory review and project management activities. Vattenfall, the operator of Aberdeen Bay Wind Farm, will support the project.
"This is a truly novel application for electric transport and a great opportunity for TPS to work with new industry partners and transfer our know-how in smart electric networks and robust electric vehicle charging offshore," said Carlos Neves, chief executive officer, Turbo Power Systems.
"We are pleased to be part of this third phase of the Clean Maritime Demonstration Competition; it is a huge opportunity for Verlume and our project partners to demonstrate an innovative clean maritime solution which is capable of scaling across wind farms globally," explained Paul Slorach, chief technology officer at Verlume. "The impact of the infrastructure is expected to be impressive, with a predicted minimum reduction of one ton of carbon dioxide per CTV per day of operation over the life of the wind farm. We hope that this is the first step towards the vessel charging concept being a common sight in the offshore environment across the world."
"Recharging in field is a critical enabler for the deployment of more electric support vessels," explained Lauren Hadnum, clean maritime manager at ORE Catapult. "This project is an exciting step in demonstrating not only recharge at sea, but also integration with a working wind farm. We are pleased to be able to support this SME-led project to deliver an industry-ready solution for CTVs by 2025."
To begin with, the project will focus on CTVs but could be scaled to enable charging for oil and gas vessels and larger service operation vessel daughter craft which are estimated to increase in popularity as wind farms move further away from coastlines.