A partnership between hospitality company Accor and shipbuilder Chantiers de l'Atlantique has revealed the Orient Express Silenseas, a passenger vessel which upon scheduled completion in 2026 will, it is claimed, become the largest sailing ship in the world.
Drawing on the knowledge of ocean racing experts, the 22,300 UMS, 220m yacht will sail the seas using a Solid Sail system. The solution, which consists of three rigid sails with a surface area of 1,500m each, will be
hoisted on a balestron rig and features three tilting masts which are over 100m high. During suitable weather scenarios, the luxury yacht will be capable of using the Solid Sail system to provide 100% of the vessel's propulsion.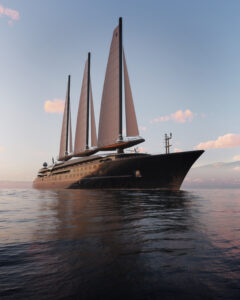 In addition to the wind propulsion solution, the Orient Express Silenseas will be fitted with an advanced engine which runs on liquefied natural gas (LNG). In the future, the duo plan to use green hydrogen technology to provide propulsion once it is approved for use on board ocean-going passenger ships.
"With a signed letter of intent to order two ships, Chantiers de l'Atlantique is proud to herald a new era in the shipbuilding industry with Silenseas," commented Laurent Castaing, managing director, Chantiers de l'Atlantique. "This concept, born in our design offices in 2018, is the quintessence of our savoir-faire in the fields of naval architecture, the construction of sophisticated hulls, as well as the design of luxurious spaces."
Castaing continued, "In addition to the installation of three Solid Sail rigs, a revolutionary 1,500m2  wind propulsion system, for which we have developed and tested a first prototype, will contribute significantly to the propulsion of the ship. Combined with a hybrid propulsion system running on LNG, Silenseas will thus become the ship of reference in terms of environmentally friendly operation and design."
"Innovation is at the heart of this ultra-modern ship that will revolutionize the maritime world with new technology to meet today's sustainability challenges," added Sébastien Bazin, chairman and CEO, Accor.