Electric & Hybrid Marine Expo North America took place in Houston, Texas, on November 2 & 3, 2022, bringing together the very latest and next-generation electric and hybrid marine propulsion technologies and port infrastructure solutions all under one roof, for the convenience of shipowners, shipyards, operators, fleet managers and port authorities seeking to decarbonize their operations as they move toward zero-emission shipping. Here are just some of the highlights from the show, which also featured a dedicated conference:
Spear Power Systems debuts Trident Energy product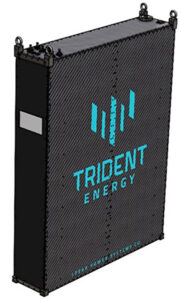 Spear Power Systems, a Sensata Technologies Inc company, received strong interest in its exciting new Trident Energy product, launched during Electric & Hybrid Marine Expo North America. "Spear is really excited that Electric & Hybrid Marine Expo has returned to the US – marine electrification in the Americas is happening and it's great for the leaders of that movement to have a place to get together," said Jon Diller, Spear Power Systems' commercial director.
"Spear's radical new Trident Energy product is all we're talking about – large installations on windfarm workboats, big and fast ferries, and cruise vessels really need the shocking energy density and ease of installation that this battery provides, and we've had a lot of exciting conversations."
Spear says Trident Energy achieves its energy density using advanced lithium-ion cells, innovative mechanical design and next-generation thermal management. As a result of its thermal management system and the use of carefully selected cells, Trident Energy is capable of continuous discharge rates as high as 1.6C. Trident Energy retains Spear's dedicated approach to safety, featuring single cell group propagation control (DNV Type 1) and the company's proprietary scalable battery management system.
Spear excels at large installations on ferries, tugs and cruise vessels, offering systems approaching 200Wh/kg in an easy-to-install package that maximizes volumetric energy density without sacrificing power capability.
The Shearer Group tells the story behind the design of the first US battery-powered inland towboat
In addition to its free-to-attend exhibition, Electric & Hybrid Marine Expo North America featured a dedicated conference where over 70 expert speakers shared their thoughts and insights from high-profile case studies and real-world examples showcasing the latest decarbonization and electrification projects.
The first morning saw a fascinating presentation from Joshua Sebastian, VP of operations and senior naval architect at The Shearer Group, who analyzed the design of the first inland towboat designed to operate on 100% battery power in support of cargo operations in the Port of Charleston in South Carolina.
"A key benefit is a drastic reduction in the carbon footprint of transporting TEU containers from the marine terminal to the rail terminal, which is currently served by trucks on a land route," explained Sebastian. "In addition, the vessel can provide this reduction while also providing substantial cost savings on the price of transporting the containers, while the estimated reduction of carbon emissions is around 80,000T/yr at this location."
He also showed how the design was driven by the length of the route, the desired transit time and the recharge time available at the terminals. "Since the goal was to be able to transport 7,500TEU/day, meeting that throughput was the key metric that drove the design, with the design being adapted to meet and/or exceed that goal," he added.
Battery size was determined by running several scenarios involving the size of the barge versus overall cycle speed, charge times and transit speed, to come up with an optimal design for the operations. "The vessel as designed can accommodate more than 5MWh of battery capacity with no modifications, but 2.6MWh was selected for this route."
Overall, Sebastian summed up his key message thus: "Basically, electrification and batteries have to make sense. Electrified powerplants and batteries are not a one-size-fits-all solution, and there are instances where they make no economic sense. Then, there are opportunities like this one where it makes perfect sense and is a win-win situation."
Cavotec launches ultra-fast megawatt charging system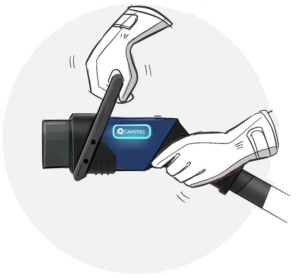 Heralding a major breakthrough in e-vessel charging, global engineering group Cavotec chose Electric & Hybrid Marine Expo North America as the place to launch its brand-new, ultra-fast megawatt charging system (MCS).
Providing up to 3MW of power from a single connector, the MCS is a turnkey DC charging solution with grid-to-inlet functionality that supports the decarbonization of ships. "Electric is the future," said Memed Üzel, chief commercial officer at Cavotec Group, speaking on the first day of the event. "With electric and electrified vessels, high-speed charging will be the enabler that will also drive adoption of e-vessels in North America as elsewhere in the world."
MCS is a reliable, ergonomic unit that enables the safe and quick connection of heavy-duty vehicles and ships to electrical power, significantly reducing typical charging times and thus minimizing downtime. "Cavotec is an industry-leading provider of shore power and e-ferry charging systems," continued Üzel. "Especially, Cavotec's APS automated connection of vessels to electrical power ensures maximized recharging time, quick and reliable connection and zero-emission operations. We hope to meet decision makers from port authorities and e-ferry operators that are actively looking to electrify and thereby decarbonize their operations."
Glosten and ABB present a low-carbon methanol-fueled tug designed for the US market
Captain Peter Soles, marine operations and business development lead at Glosten, and Dave Lee, VP of sales and global workboat responsible marine systems at ABB, took to the conference stage on the first day of the show to introduce a first-of-its-kind, dual-fuel hybrid electric tug design with more than 90-tons bollard pull.
They claimed that the tug provides operators with a viable path to carbon-neutral operation that minimizes business risk and enhances competitiveness. "The uniqueness of the boat really boils down to two things," said Soles. "This is the first methanol-powered harbor-assist tug offering for the US market. It makes use of two Caterpillar 3500E series engines, which is a high-speed diesel engine platform most US tugboat operators are already quite familiar with and comfortable using. In addition to offering diesel-like performance and diesel-like handling and storage requirements, the use of methanol as a diesel replacement will result in substantive reductions in local PM, NOX, and SOX emissions. This makes the SA-100 a particularly strong contender for service in California ports where forthcoming CARB harbor craft rules will apply," he continued.
"Second, the tug was very deliberately designed such that the tonnage admeasurement falls under 100 gross registered tons. This is because as tug owners/operators are forced to construct ever more expensive vessels, it becomes a real challenge to balance rate competitiveness and profitability over the life of the vessel. Minimizing the US regulatory tonnage provides a means for operators to control opex costs such that the total cost of ownership isn't markedly higher than that of traditional mechanical-diesel tugs widely in use today. In this way, operators are able to introduce a modern low-emission and future-resilient tugboat into service without having to make significant rate increases that shipping companies may not be willing to bear."
"The system is a methanol electric system with battery," added Lee. "This enables even further operational savings by utilizing the batteries for peak shaving and zero-emission operations. The methanol-electric and battery-on-board system optimizes the powerplant and you only use the power you need, thus reducing the maintenance requirements compared with a traditional diesel mechanical system."
Both men suggested that for harbor tug applications where environmental performance is an important driver but all-electric propulsion may not be a viable option, the SA-100 merits close consideration. "The design seeks to balance future resiliency and reduced emissions with the commercial realities of harbor-assist work in the US," concluded Soles.
NetPower shows off its onboard power conversion expertise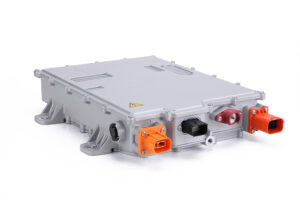 NetPower was in Houston to share its expertise in reliable, efficient, compact OBCs (onboard chargers) and DC-DC converters for onboard battery charging and voltage conversion to facilitate the electrification of the marine sector.
"Decarbonization promises to have a huge impact on our climate and planet," said Gilbert Ramirez, director of global business development at NetPower. "With our onboard power conversion products, NetPower is proud to provide solutions to assist in the push for cleaner, safer and more efficient sustainable energy."
The OBCs take 85-264V AC input and convert it to high voltages to charge 400V or 800V batteries at 6.6kW and 11kW (the 6.6kW OBC can also operate as an inverter to power 110V AC loads).
The company's DC-DC converters take various input voltages (65-120, 250-430 and 400-800V DC) and convert them into lower voltages (14, 28 and 55V DC) to charge the onboard low-voltage batteries and power low-voltage systems. These DC-DC converters, which are rated from sub 1kW up to 6kW, can operate in parallel for higher power loads.
NetPower also offers combo units that integrate a 2.5kW DC-DC converter into the 6.6kW OBCs, which provides the most cost-effective and space-saving solution.
All NetPower OBCs and DC-DCs offer CAN interface, a full set of protections, and customizable bootloader and diagnostic features. These converters are housed in IP67 enclosures with liquid or conduction cooling.
Integrated full electric propulsion system behind Britain's biggest warship revealed
The first morning of the conference at Electric & Hybrid Marine Expo North America saw a presentation on HMS Queen Elizabeth (QNLZ) – the first aircraft carrier in the world to utilize an integrated full electric power and propulsion system (IFEP).
The vessel was procured by the UK Ministry of Defence for the Royal Navy. During the conference, Dr Makhlouf Benatmane, marine navy solutions leader at GE Power Conversion, explained how the aircraft carrier project presented a step change in size and complexity. He emphasized the importance of capturing the requirements and concept of operation and getting buy-in from the operators throughout the design process while keeping the concept of operations front and center.
"It's essential to ensure the project has all stakeholder engagement in the production/agreement of the operational and functional requirements at the very start of the project – i.e. prior to contract – and to continually review these throughout the life of the project," explained Benatmane.
He advised building in enough electrical power margins to provide through-life flexibility for all ship demands and ship services, and the ability to fit EMCAT/EMALS, DEW power, etc. He also recommended that the platform and power and propulsion commissioning be conducted as a single team, with a single overall leader responsible for everything, and all teams and departments reporting into a single reporting and planning route, so that all facets of the commissioning can be planned and coordinated in an integrated manner.