The very latest pure charging technologies, electric propulsion systems, hybrid systems and components are on display this week at Electric & Hybrid Marine Expo in Amsterdam. Highlights from Day 1 include product showcases from EPTechnologies, AKA, Echandia and many other leading marine technology manufacturers.
Complete drop-in propulsion unit for shipyards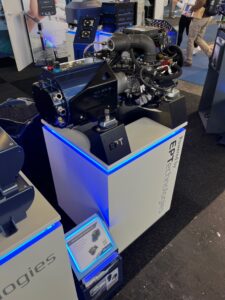 EPTechnologies is showcasing its complete drop-in propulsion units for shipyards at Electric & Hybrid Marine Expo. To increase yard efficiency and simplify installation, the company's solution features all the necessary propulsion system components pre-wired in 1-3 frames. This includes the batteries, a charger, DC-DC, a junction box, the controller and the cooling system. Additionally, the frames can be custom made to fit a wide range of different vessels. The system varies in power output from 40-400kW and can be mounted on shaft, Z or jet drives and surface piercing installations. It also includes electric gear shift mounting on Z or jet drive.
The company is also showing its battery technology, which weighs 5.2kg per kWh, and a plug-and-play, ultra-compact, lightweight, variable-speed DC genset, which weighs 80kg. With an output of 48V to 700V DC, it can create a continuous power of 8kW with a peak of 10kW.
"We believe in open architecture. You won't buy over-complicated systems or black boxes that no one except the manufacturer understands," explained Anne Sorflakne, responsible for marketing at EPTechnologies. "At EPTechnologies we want the customer to see what's inside and to be able to understand how the system works."
Split permanent magnet motor for hybridization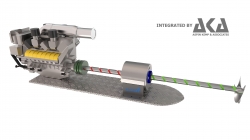 Aspin Kemp & Associates (AKA) is displaying its latest innovation, the DuXion/AKA split permanent magnet motor, which the company hopes will revolutionize the hybridization of in-service vessels.
The hybrid retrofitting of existing vessels is known to be an extremely expensive process that requires the difficult and often time-consuming task of moving a vessel's shaft when adding an electric motor on board.
To improve the efficiency of retrofits, the split permanent magnet motor from AKA comes in several parts, meaning it can be attached on the shaft of a vessel. The advantage is that AKA's hybrid-electric propulsion system integrates directly with the vessel's existing hardware, negating the need for propulsion or power system overhauls while enabling the hybridization of in-service ships with a higher ROI. Furthermore, the gearless motor features a small axial length to reduce weight, inertia and the system's overall footprint to facilitate easier installation.
"AKA has been working on hybrid propulsion retrofits since 2007, but a problem we encounter often is the time and cost to incorporate the electric motor into the shaft line," explained Tobia Isa, responsible for marketing and communications at AKA. "The new DuXion/AKA split permanent magnet motor hybrid system solves this issue by easily fitting around the existing equipment. It can be split into smaller parts and attached around the existing shaft. It was originally developed for the aerospace industry but we are excited to be bringing it into the marine space and believe it will revolutionize how hybrid retrofits can be done."
Cost-effective battery systems with supercharging capability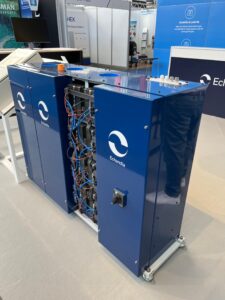 An array of Echandia Marine products is on show at Electric & Hybrid Marine Expo 2022 in Amsterdam, including the company's LTO system and the Echandia Rack System.
Echandia LTO is a lithium-ion-based heavy-duty battery system that has been built and certified for maritime use. The company's solution is highly flexible and modular by design, making it suitable for use in a range of vessel sizes and applications. Furthermore, the battery system can be utilized to enable fully electric propulsion and hybridization, or to support onboard systems including peak shaving and spinning reserve.
The cell technology used within the LTO batteries also enables a greater portion of installed capacity to be utilized. This results in a more compact, lighter and cost-effective system for a given duty cycle. With supercharging capability, the batteries can be fully charged in approximately 10 minutes and have a life expectancy of more than 30,000 cycles.
Having undertaken a multitude of collaborative projects with Echandia Marine, Martin Verstraaten, sales manager at Damen Shipyards, said, "With Echandia, Damen Shipyards has developed award-winning and groundbreaking projects. We are completely confident to put their energy storage solutions on our vessels."
Flexible new electric inboard motor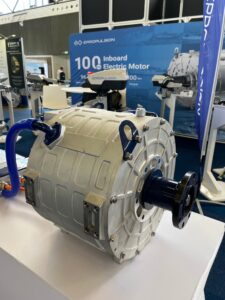 Electric propulsion kit manufacturer ePropulsion is using Electric & Hybrid Marine Expo 2022 as the location for the world debut of its H-100 electric inboard motor.
Designed as a flexible solution for international OEMs, the H-100 electric inboard is highly adaptable, with the option to extend or shorten the length and design of component hardware to suit different vessel applications.
Additional energy sources can be added to the system, including sustainable options such as converting the H-100 to a hybrid solution by adding solar, wind, diesel gensets and fuel cells as power sources. Furthermore, ePropulsion will work with OEMs to ensure the H-100 motor can be controlled using the boat manufacturer's integrated software and IT.
"We're very pleased to be showcasing our brand-new H-100 electric inboard for its global debut at the Electric & Hybrid Marine Expo," said Danny Tao, CEO and co-founder of ePropulsion. "The H-100 widens the choice for sustainable boaters and provides a compact but mighty engine for larger vessels with a full displacement up to 200 tons. It delivers high performance with less noise, fewer vibrations and zero exhaust fumes. We have carefully listened to our customers and the needs of the industry to develop our first electric inboard solution and we're extremely excited to see this product going to market."
DNV type-approved fuel cell module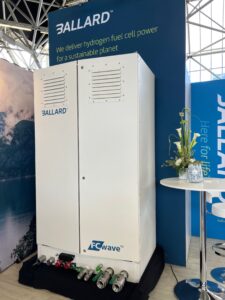 A team from Ballard Power Systems' Marine Center of Excellence in Denmark is exhibiting the company's recently classified FCwave fuel cell module at Electric & Hybrid Marine Expo 2022.
The type-approved module is claimed to be the first implementation-ready, commercially available fuel cell solution for marine applications. The scalable 200kW fuel cell module can be utilized as a plug-and-play replacement for conventional diesel engines and has been designed in collaboration with several industry partners to ensure it is durable enough for use within the maritime sector.
Ballard Power Systems' zero-emission hydrogen fuel cell solution can deliver several benefits for vessels, including extended range when using either gaseous or liquid hydrogen fuels, in addition to safe and reliable operation. Furthermore, the solution is flexible and can be adapted to suit a range of different vessel power requirements and installation constraints.
"Electric & Hybrid Marine Expo is an excellent opportunity for the team to demonstrate the importance of fuel cells and hydrogen power as the marine sector takes the next important steps to decarbonize operations," said Søren Østergaard Hansen, general manager of marine at Ballard Power Systems Europe. "As the first DNV type-approved module, FCwave provides shipowners and operators with confidence in fuel cells as a viable, zero-emission solution, and can help accelerate adoption of the technology."
Centralized remote operation of automated ship control systems and deck machinery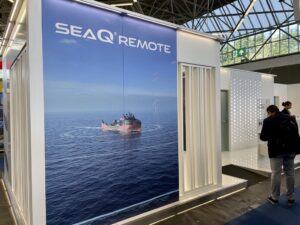 Vard Electro has launched SeaQ Remote at Electric & Hybrid Marine Expo Europe, which also includes a dedicated autonomous shipping technology zone (Autonomous Ship Expo). SeaQ Remote provides centralized remote operation of automated ship control systems and deck machinery in support of lean crewing, lower costs, safety and sustainability, helping to facilitate a new generation of larger robotic vessels.
The new product, which will debut on 14 new-build marine robotic vessels contracted with shipbuilder Vard, is designed to unify the SeaQ suite of automation systems into a single user interface with the full range of remote functionality from shore.
"This represents a technological leap that is also the natural next step in our evolution based on long-established expertise in supply and integration of advanced SeaQ automated control systems for such areas as energy management, propulsion, bridge and navigation on more than 300 vessels," said Vard Electro's CEO, Andrea Qualizza.
"We are now investing heavily in autonomous technology and digitalization, supported by synergies in the wider Fincantieri group, in line with market demands for cost-efficient and green operations, capitalizing on our long and proven experience in the shipbuilding industry."
Going beyond automated navigation and other IT systems on the bridge, SeaQ Remote extends smart data-driven functionality to operational technology (OT) in the vessel hull, as it enables remote operation of existing machinery systems such as engines, propellers and thrusters.
Such machinery is connected by sensors that can stream real-time data via the cloud to an onshore control center. Merged data from these sensors on a unified user interface provides a smarter way to gain an enhanced awareness of the status of onboard systems.
Constant surveillance of OT systems using sensors also enables data-driven management of vessel operations with a fleet-wide overview from a centralized location to optimize overall operations, while cybersecurity safeguards are maintained to prevent system intrusion.
Benefits include fuel consumption monitoring to cut costs and emissions; condition monitoring for preventive maintenance on vital systems, thereby reducing vessel downtime and improving safety; and automation of key tasks such as reporting to reduce the crew workload.
In a further advance on existing remote technology, SeaQ Remote also supports a remote deck machinery interface to facilitate some deck operations in support of reduced manning and enhanced safety on board.
"The key benefits of this technology are lean manning, safety and having an expert in the loop 24/7 to ensure automated systems on the vessel are running smoothly. This will enhance the cost-efficiency and sustainability of operations," added Vard Electro's SeaQ Remote product manager, Ronny Tomren.
This is being demonstrated on the new-builds being constructed by Vard, which will have battery technology installed and will also be prepared for hybrid fuel cells. These marine robotic vessels will be operated from shore, making them among the first DP2 vessels capable of remote operation worldwide.
They will feature the full range of SeaQ solutions and equipment required for remote operations, with an advanced software and extended hardware platform that unifies control of all onboard equipment to efficiently manage remote operations.
Vard Electro's vice president of products, Øystein Longva, concluded, "This new-build contract is the first commercial application of SeaQ Remote. We are now targeting further deliveries for both retrofits and new-builds, also as part of a turnkey solution with automated control systems."
IP65-rated rapid charger for commercial and leisure vessels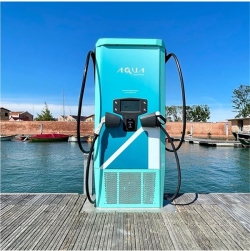 Aqua SuperPower is displaying its Aqua 150kW IP65-rated rapid charger at Electric & Hybrid Marine Expo 2022.
The company's charger uses the international CCS charging standard and enables a wide range of electric vessels from the leisure and commercial sectors to rapidly recharge using 25-150kW DC charging. Furthermore, all the hardware and componentry have been specifically selected to ensure the system can withstand the harsh maritime environment.
The Aqua network is connected to the cloud and can be securely accessed via the company's app or by RFID card. The app enables users to view the locations of chargers and offers navigational aids.
In addition to having the charger on display, Aqua SuperPower is explaining to visitors how marinas and other waterside locations can benefit by making the transition to electric boating by providing high-speed charging infrastructure as part of their decarbonization plans.
"Since last year, we have successfully expanded the Aqua SuperPower global marine fast-charge network in France, Italy, Spain, Canada, the US, Scandinavia and the UK," commented Sabine Raabe, the company's PR and external communications manager. "We won government grant match funding and deployed the first marine charging hub in the UK.  Attending Electric & Hybrid Marine Expo has enabled us to showcase our smart networked marine charging solutions to help create the necessary infrastructure for the transition away from carbon fuel to clean electric boating."
Hybridization for retrofits and new-builds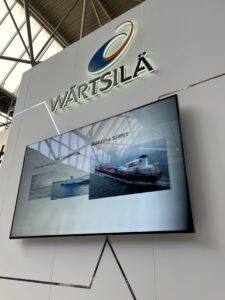 Maritime technology company Wärtsilä is showcasing several real-life examples of its hybrid installations for retrofits and new-builds.
In addition, some of the company's leading experts are on hand to explain Wärtsilä's full range of products including shore power, containerized solutions and fully electric and hybrid solutions for different vessel types.
Wärtsilä aims to reduce emissions and increase the efficiency of vessels through the use of hybrid technology, and has positioned itself as one of the leaders in this realm.
"All vessels will be hybrid in the future, and many existing vessels are already retrofitting to reduce emissions and increase efficiency," explained Torsten Büssow, director of electrical and power Systems at Wärtsilä. "Wärtsilä is currently number one within the field of hybrid-electric vessel systems, and we are seeing substantial interest in hybrid technology at the moment."
Power backup and range extension combined in smart DC system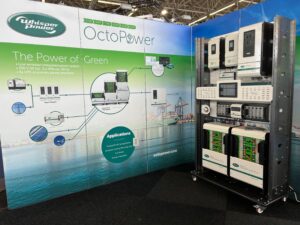 WhisperPower is exhibiting its unique OctoPower DC power backup systems for low-DC (24/48V DC) and high-DC-based e-propulsion systems at Electric & Hybrid Marine Expo 2022.
The company is focusing on the combination of fast charging/diesel power generation as an important backup and range extender facility for e-propulsion. The OctoPower systems are one-brand solutions that combine backup and range extension in a smart way – in capacities from 4-50kW.
Depending on customer preference, the company's systems can be supplied with integrated DC storage and the advanced WhisperCare 2.0 monitoring and control system, which enables remote control of all system functions, with extensive historical and location information.
"Online video calling will never replace face-to-face meetings, which are important to understand what our clients need and to explain what we can offer," said Sacha Loenen, responsible for marketing at WhisperPower. "We are enjoying meeting all our partners and new potential clients at this year's Electric & Hybrid Marine Expo."
Beluga 24 – the world's fastest emission-free passenger ferry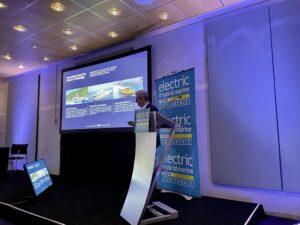 Electric & Hybrid Marine Expo also features an exclusive conference (rates apply), where more than 120 speakers will share their expertise and insights across 13 dedicated sessions across three full days. The first morning included an update on Beluga 24 – said to be the world's fastest emission-free passenger ferry – with the latest from Hans Thornell, founder and chairman of Green City Ferries AB.
The Swedish company began life by purchasing the former ship Movitz, then rebuilding it into the world's first supercharged electric ferry in 2014. Its next breakthrough was the launch of the air-supported BB Green prototype in 2016. Next year, the foil-assisted emission-free Beluga 24 is set to enter operation.
During his presentation, Thornell, previously a lieutenant commander in the Swedish Navy, explained how, working with some of the world's best experts, Green City Ferries now has a 150-passenger ferry capable of producing 30kts of energy from either batteries or hydrogen.
"In the high-speed segment, it is all about energy efficiency, because batteries, as well as fuel cell installations, weigh a lot more than diesel drivelines," said Thornell. He went on to outline the challenges and choices made, while also covering the technical, economic and political challenges; the impact of efficiency; the performance of Beluga 24; and the choices made during the initial design phase.
e1 Marine to present details of ultra-low-emission methanol-fueled towboat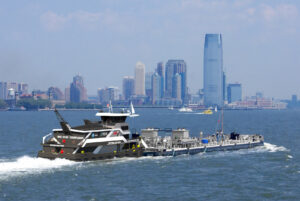 Maite Klarup, the global commercial director at e1 Marine, will lead a presentation on the MV Hydrogen One – an ultra-low-emission methanol-fueled towboat – at 2:00pm on Day 1 of the Electric & Hybrid Marine Expo Europe Conference.
With the International Maritime Organization having introduced a carbon reduction target for 2050, e1 Marine believes hydrogen fuel cell technology can help to reduce levels and address the maritime sector's requirements for power, range and duration.
During the presentation, Klarup will share the design and specification details of the methanol-hydrogen fuel cell towboat, which is scheduled to be operational by Q4 of 2023. She will also explain how different applications of the technology could enable the maritime industry to transition from low carbon to carbon neutrality.
"As commercial and regulatory pressures to decarbonize shipping intensify, alternative fuels are a critical part of the solution," commented Klarup. "While there is a basket of fuels being considered by operators, cost, availability and infrastructure are key factors that will determine which fuels are most sustainable – environmentally, operationally and financially."
Klarup continued, "MV Hydrogen One is the world's first methanol-­fueled towboat which will be IMO 2030 compliant and in operation in 2023. It is a milestone for the towboat industry but also the shipping industry as a whole. Many low-carbon fuels just aren't easily accessible today; however, methanol is available in 88 of the world's top 100 ports and the current infrastructure and availability enable a vessel to refuel safely almost anywhere without the need for costly diversions. Methanol, which is already an approved fuel type currently in use in the marine industry, has cost advantages that apply today, even in comparison with current diesel generators and before considering any new regulation or carbon tax.
"At e1 Marine, with methanol being a safe and cost-effective carrying medium for hydrogen, we see hydrogen as the solution to achieve the target of net zero in the maritime sector. MV Hydrogen One is the model for what short sea shipping could look like in the very near term," concluded Klarup.