The use of containerized battery ESS to simplify retrofitting to vessels is proving increasingly popular. For example, both Wärtsilä and ABB have produced installations suitable for a range of shipping applications.
Wärtsilä's solution has recently been fitted to a ZES 104 TEU inland waterway container vessel that had been modified to allow for the mounting of two container units on board. The Wärtsilä-designed system enables the vessel to operate on purely electric power without emitting any carbon emissions.
When fully discharged, the containers can be exchanged and charged onshore using renewable energy sources. Wärtsilä claims that the battery systems have an energy capacity equivalent to around 36 electric passenger cars. Safety systems include an onboard fire protection skid feature and the system is connected to enable remote monitoring.
"Within the Dutch transport sector, inland navigation accounts for 5% of the CO2 emissions," commented Willem Dedden, CEO of ZES. "By switching from diesel-fueled to electric propulsion, an important step can be taken toward realizing the Paris Climate Agreement targets. Ships participating in the ZES service will eliminate around 1,000 tons of CO2 and seven tons of NOX per year."
The first vessel fitted with the battery containers is the Alphenaar, which undertakes transport operations for Heineken along the Zoeterwoude-Alpherium-Moerdijk corridor.
Meanwhile, ABB is offering plug-in battery power for an array of different vessel types, ranging from container ships to ferries.
Its 20ft high ISO container ESS integrates sustainable battery power with a vessel's existing main power distribution system, in a pre-assembled unit that consists of all the batteries, converters, transformer, controls, cooling and auxiliary equipment for plug-and-play use.
"Fuel savings, lower emissions and increased safety during operation and maintenance are the demand drivers for energy storage systems in the new-build ship market, where ABB has extensive experience. With Containerized ESS, we are delighted to be able to offer these benefits to owners of existing ships with a one-stop retrofit solution," explained Jyri Jusslin, head of service at ABB Marine and Ports.
ABB's containerized ESS is claimed to offer one of the highest energy densities in the market within a 20ft container, offering a standardized installation and resulting in lower costs for companies and a faster delivery time.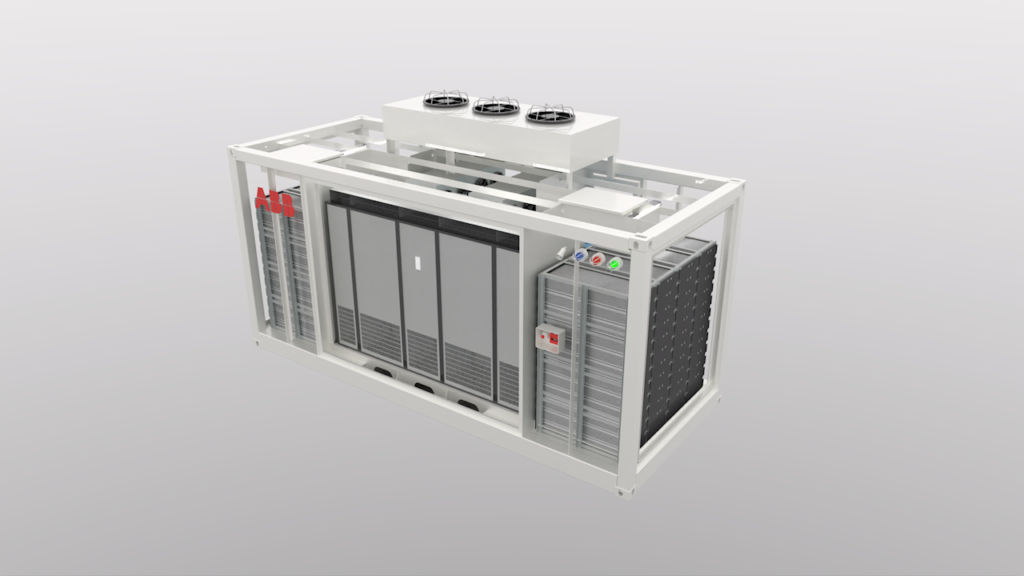 "The containerized ESS expands integration options across multiple types of ships and delivers a solution that can be fully serviced from outside the unit for enhanced safety. Knowing that there is a simple way to integrate an energy storage system could be the extra encouragement needed for owners to consider incorporating batteries for vessel efficiency and, especially, for sustainable power," said Jusslin.
More details of ABB's system can be seen here: https://youtu.be/0lZNdDexiXE