Marine fast charge network operator Aqua Superpower has joined the ZENOW technical partnership (Zero Emissions Network of Workboats). The project received £4.1m in grant funding from the UK Shipping Office for Reducing Emissions (UK SHORE) and Innovate UK as part of the Zero Emissions Vessels and Infrastructure (ZEVI) competition. ZENOW is a partnership of 15 UK marine businesses and organizations, led by RS Electric Boats.
The project will deploy the world's largest network of electric workboats (20 vessels, powered by five new Aqua Superpower chargers), code them ready for service and then, during and after a three-year period, analyze the data to provide evidence, advice and support for any of the approximately 10,000 small harbors and marinas across the world getting ready to switch to electric.
"Our participation in the ZENOW project will demonstrate our technology readiness and our ability to deploy the critical and reliable infrastructure required for harbors to service electric boats in a commercial setting," said Alex Bamberg, CEO of Aqua Superpower. "Most importantly, with the data that is collected and the collaboration of the various partners, this project will provide real-use cases and open the market for electric work vessels."
The electric workboats, which include 13 Pulse 63s, five 7.9m and two 8.9m Cheetah Marine electric workboats, powered by RAD Propulsion's RAD 40 and RAD 120 drives, will be delivered to 10 UK locations by March 1, 2025.
The project includes a three-year demonstration phase with various partners operating the vessels in representative environments. Sea trial data will form part of the partners' detailed work to understand and develop how electric boats are used in practice, for example, by providing data on exact duty cycles and usage patterns. This data will enable ZENOW to advise on adopting electric technology in a maritime environment and help shape other geographical electric networks.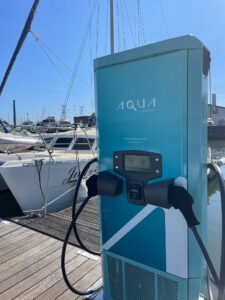 "This data will give us, and RAD Propulsion, the know-how to understand how people operate the vessels," said Jon Partridge, CEO of RS Electric Boats. "Electric boats are wanted all round the world, and ZENOW will be able to offer a series of like for like cases, giving people the confidence that electric can work in their environments.
"The network covers a broad sector of commercial work and activities. It's a who's who of leading businesses and operators with four harbors, the RYA (coaching), the Environment Agency and many more. The project has very good representation across the commercial marine sector, which means that not only will we be protecting the marine environment, we'll also be creating blueprints for others in the sector. All harbors, marinas and ports globally will need to transition. They'll be able to use our know-how."
The 20 boats will be connected virtually, with the project's technology partners, RAD Propulsion and Aqua Superpower, delivering fleet-wide monitoring systems to collect operational and performance data. Data analytics will also be published by the University of Plymouth and used to enable partners to enhance their environmental performance, optimize operations, reduce costs and grow their businesses.
"This project will empower multiple UK workboat users to start their transition to zero-emission operations," said Partridge. "It will enhance and support the market position of UK companies that provide electric boats and their supporting technologies while further strengthening Aqua Superpower as the leading charging network in the maritime industry. ZENOW will aid the deployment of RAD Propulsion's scalable family of electric drives and connected digital fleet technology. Put bluntly, it's a game-changer for workboat users."
"RAD Propulsion is delighted to be working with RS Electric Boats as one of the winning ZEVI funding projects," said Dan Hook, CEO, RAD Propulsion. "This kind of funding is vital in helping us to accelerate the adoption of zero emission vessels across the UK. It means we can bring together 20 commercial workboats with partners ranging from harbormasters, universities and government agencies."
Falmouth Harbour already has four vessels tasked with patrols, supporting novel technologies and scientific work and mooring checks. It'll receive an RS Electric Pulse as part of the project and says that participating will help to demonstrate and build confidence in new clean technology while reducing other environmental impacts such as noise and pollution. Aqua Superpower's charging solution can be used by a wide range of harbor users such as water taxis, yacht tenders and others.
"We are incredibly excited in Falmouth Harbour by this announcement," said Miles Carden, CEO Falmouth Harbour. "We are working really hard to decarbonize our harbor operations. Reducing our scope one emissions is key to this. We feel that electric propulsion will have a really important role to play in decarbonizing smaller harbor vessels utilizing lessons learned from the growing EV market. However, there are lots of questions that need to be answered relating to how the vessels will perform in use day to day. The funding from Innovate UK is crucial to accelerate the deployment of these new, clean and green technologies into daily use. The 20 vessels designed and built as a result of this project will start to answer some important operational questions."