E&H Marine rounds up the latest developments in the world of marine hydrogen fuel cells, from dockside infrastructure and powertrain testing technology to propulsion systems and complete vessels
Vessel: Fincantieri and MSC Explora hydrogen-powered cruise ships
Italian shipbuilding group Fincantieri and Explora Journeys, the luxury travel brand of the cruise division of MSC Group, have signed a memorandum of agreement for the construction of two hydrogen-powered cruise ships. Taking the total number of on-fleet ships to six, the new pair will also be capable of running on liquefied natural gas (LNG), joining two other vessels that share the same LNG propulsion system.
The new-generation LNG engines will feature equipment to deal with methane slip, in addition to a containment system for liquid hydrogen. A 6MW fuel cell will be powered by hydrogen and produce emission-free power for hotel operation. It will also enable the vessels to operate with zero emissions when in port with the engines turned off. Currently the cleanest marine fuel available, LNG is available at scale. Sulfur oxide levels are reduced by as much as 99%, nitrogen oxides by 85% and particles by 98%. CO2 emission levels can also be reduced by as much as 25% compared with 'standard' marine fuels. Even more promisingly, future bio and synthetic forms of LNG will help to progress decarbonization plans.
The two new Explora Journeys vessels will also feature the latest selective catalytic reduction technology, which will enable an up to 90% reduction in nitrogen oxide emissions. They will also be equipped with shore power plug-in connectivity technology to reduce in-port emissions. Underwater noise management systems will also help to protect marine life. The two hydrogen-capable cruise ships will come into service in 2027 and 2028.
Technology: Torqeedo hydrogen fuel cell charging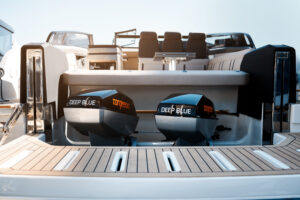 Based in Bavaria, Germany, electric marine mobility specialist Torqeedo is partnering with Proton Motor Fuel Cell to integrate hydrogen fuel cell charging into its latest electric boat propulsion systems. Work will begin on a marine hydrogen hybrid building kit that combines Torqeedo's existing Deep Blue battery-electric drive systems with Proton Motor's advanced fuel cell technology.
Designed with flexible options for hydrogen storage, the completed system will provide propulsion power ranges from 50-200kW, with fuel cell power from 30-120kW. With a working title of 'Ma-Hy-Hy' (Marine-Hydrogen-Hybrid), the project has secured funding from the Bavarian federal government from 2021-2024.
The first prototype system will be tested and validated at Torqeedo's engineering center near Munich. Collaborative industrialization and marketing of the system will follow on completion of the development units.
"The hydrogen-electric Deep Blue Hybrid system will provide a practical and cost-effective solution that will allow for fast fueling, overcome speed and range limitations, and meet most of the emission requirements on environmentally sensitive waterways or in urban areas," reports Jochen Czabke, senior vice president of product development and global service at Torqeedo.
"Integrating alternative fuels such as hydrogen gives us another tool in the Deep Blue toolkit," Czabke continues. "We look forward to delivering a zero-emission hybrid electric propulsion system that will enhance the range and performance of our battery-powered drives without the use of fossil fuels."
Vessel: SeaShuttle short sea freighter
The remote-controlled and autonomous-ready SeaShuttle short sea freighter aims to realize zero-emission sea travel, employing fuel cells that use hydrogen produced by electrolysis from renewable energy sources. An additional goal of the concept is to move cargo transportation from the road to the sea. The automation of crucial shipboard and port activities is also key to the project, to drive improved efficiencies and save costs.
The SeaShuttle project is led by Europe's largest multimodal operator and logistics company, Samskip, and marine robotics specialist Ocean Infinity. Norwegian hydrogen energy partnership Hyon was involved with the SeaShuttle project in 2018, when it was awarded grants for the development and realization of two maritime projects. However, at the Nor-Shipping 2022 event, the Samskip-Ocean Infinity partnership was announced, which will now cover the construction and operation of the vessels. The revitalized project plans to operate a pair of the hydrogen container ships between Oslo Fjord and Rotterdam, creating Europe's first zero-emission shipping 'green corridor'.
Cost-effectiveness is a big part of the SeaShuttle venture, and the coastal container freighter vessel will feature automated cargo handling. A pair of all-electric ships will be powered by 3.2MW hydrogen fuel cells but will also run in hybrid mode with diesel-electric and battery operation. A zero-emission running period of 20% is planned, which should be sufficient for all operations in the waters around Norway.
An initial award of €6m (US$6m) by the Norwegian government in 2019 has been boosted by €15m (US$15m) of funding from Norwegian climate and environment state enterprise Enova, with a plan for the pair of vessels to be in service by 2025.
Powertrain: Genevos and Transfluid propulsion system
Genevos, a specialist in marine fuel cell integration, has partnered with electric motor and transmission unit expert Transfluid to develop a scalable, zero-emission hydrogen-electric propulsion pack. Using maritime-certified technologies, the new turnkey system includes Genevos' Hydrogen Power Module (HPM) and Transfluid's batteries, electric motors and transmissions.
Genevos has chosen to mate Transfluid's DNV type-approved batteries with its own HPM as part of the £2.2m (US$2.5m) HIMET (Hydrogen in an Integrated Maritime Energy Transition) project, highlighting the urgent need for zero-emission auxiliary power solutions to decarbonize ferries and other shoreside activities in and around Orkney in Scotland. The Genevos and Transfluid propulsion pack will be trialled on a ro-ro ferry, using a 15kW HPM, 10kWh battery and 25kg hydrogen storage system. Genevos says that one benefit is the plug-and-play simplicity of the propulsion pack. The company is currently integrating 80kW HPMs to be connected in parallel (for example, five HPM-80s for 400kW of continuous output power) to meet much higher power needs.
Due to the combination of the two companies' expansive product portfolios, full customization to individual vessel requirements is offered, with potential solutions ranging from 15kW to multimegawatt scale. Hydrogen is stored at 250-300 bar in composite tanks. The HPMs convert the hydrogen to electricity using fuel cells that power the propulsion system and battery. The power generated by the HPMs is used to propel the vessel, supply power to the auxiliary systems and charge the batteries. The battery acts as a buffer to the fuel cell and provides additional power for peak loads. The partnership has resulted in hydrogen-electric and hybrid options, and the project won the Electric & Hybrid Propulsion System of the Year award at Electric & Hybrid Marine Expo Europe 2022.
Infrastructure: Advanté solar and hydrogen cruise terminal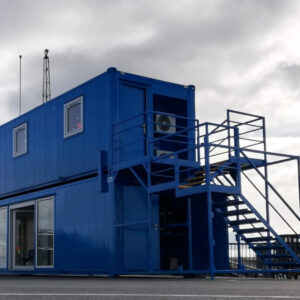 As part of the HIMET (Hydrogen in an Integrated Maritime Energy Transition) scheme, welfare unit supplier Advanté has worked with OakTec on the installation of a zero-emission, portable cruise terminal building at Kirkwall Harbor in Orkney, off the northeast coast of Scotland. The project employs Advanté's hybrid solar technology combined with OakTec's hydrogen engine. Led by the European Marine Energy Centre (EMEC), HIMET is one of 55 projects selected for funding as part of the UK Department for Transport's Clean Maritime Demonstration Competition, in partnership with Innovate UK.
Situated on Hatston Pier, and based on Advanté's Oasis EcoMax welfare units, the two-story building is 10m long. An external staircase connects the two stacked units, which house a reception area on the ground floor – incorporating OakTec's new hydrogen engine as part of the hybrid power system – and an office or cruise passenger waiting area on the top floor. The units are powered by Advanté's hybrid solar hydrogen power system, which also stores and supplies renewable energy to the building throughout the year. The fuel for the hydrogen tank connected to the building is produced offshore by wind and wave farms.
The terminal building is carbon-free and features a low-energy air source heating system and energy-saving LED lighting with PIR sensors; it is well insulated to help with efficiency. It is hoped that the sustainable portable building collaboration will have a positive impact on the environment and also improve local air quality for those who work and live in the area. If the project is successful, similar setups will be considered at other UK ports.
Technology: Rolls-Royce Power Systems hydrogen electrolyzer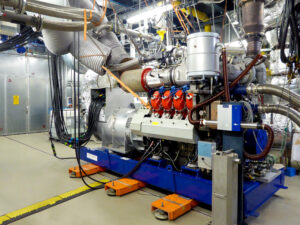 Rolls-Royce Power Systems is entering the hydrogen production market, developing its own hydrogen electrolyzers under its MTU brand. Based on the electrolysis stack produced by Hoeller Electrolyzer – a company in which Rolls-Royce Power Systems has acquired a 54% stake – the first MTU-brand electrolyzer will begin demonstration operation in 2023. Development work on the new unit is already underway, with the first running scheduled to take place at the company's Validation Center in Friedrichshafen, Germany. The aim is to demonstrate how an electrolyzer can fit into the overall architecture of a microgrid. An initial customer application is planned for 2024.
Capable of generating several megawatts of power, the units will use Hoeller Electrolyzer technology, which employs the company's Prometheus-branded, highly efficient polymer electrolyte membrane (PEM) stacks for the cost-effective production of hydrogen. High-performance electrolyzers are key for any hydrogen system, especially those seeking to use 'green' production technology, utilizing electricity from renewable sources such as solar or wind.
The Hoeller PEM electrolysis stacks use unique surface technologies for the bipolar plates – which significantly reduce the need for expensive precious metals such as platinum and iridium as catalysts – and have an increased output pressure. Several electrolyzers can be combined to produce a total output of over 100MW.
Rolls-Royce has also commissioned its first in-house test stand for MTU hydrogen engines at its Augsburg facility. Since 2020, the company has invested around €10m (US$10m) at the Rolls-Royce Solutions site in Augsburg for test bench modernization, hydrogen infrastructure and other measures as part of its Net Zero at Power Systems climate protection program. MAN Energy Solutions is also working on hydrogen-capable marine engines, with a dual-fuel propulsion unit goal of 2030.
A little nearer in terms of time, Duisburg Gateway Terminal (DGT) in Germany, the largest inland container terminal in Europe, will go into service as the continent's largest trimodal (road, rail and water) inland container terminal. As part of the enerPort II research project being funded by the Federal Ministry for Economic Affairs and Climate Action until 2025, most of the electrical energy needed to power the port will be generated on demand and on-site, using hydrogen. Two cogeneration plants based on MTU Series 4,000 hydrogen engines (with a 2MW total installed capacity) and three MTU fuel cell systems (totaling 1.5MW of installed capacity) will act as the generation sources.
For the latest hydrogen news, click here.