E&H Marine speaks to leading industry figures about the advantages and disadvantages of permanent and swappable battery systems, and the subsequent effects these can have on differing vessel applications
As the maritime sector continues to work toward vessel and industry decarbonization targets, an ever-increasing number of ships and boats are being built or retrofitted with permanent or swappable battery systems. Therefore, it is imperative that the chosen system best fits the operational requirements of the vessel and its space constraints.
Vessel owners, operators and shipbuilders often have to consider several important factors, such as the size of the ship and the range over which it operates. For vessels sailing thousands of nautical miles from continent to continent or country to country, smaller, swappable battery packs with a reduced power output and capacity are unsuitable.
"I think the application area for swappable batteries is quite limited actually," says Torsten Büssow, managing director at Wärtsilä. "Most of the hybrid and fully electric vessels we're seeing have fixed battery installations, meaning it's either a new-build and in-built in the vessel, or a retrofit, which is typically containerized."
Büssow believes there are two use cases for the differing battery installations. In applications where there is insufficient time for charging a battery – such as when the turnaround is short – a swappable battery could be suitable. Alternatively, for large, fully electric ferries with longer turnaround times, DC charging may be better suited as the battery can be charged to a sufficient level in a short period of time.
"Why is it a problem and why is it very hard in practice to use swappable batteries? Because you have a second battery," says Büssow. "If you have to pay for a second battery, you have just doubled your costs for installation. Alternatively, the risk is to invest in a DC charger to conduct much faster charging and have only one battery investment."
Büssow does say, however, that he perceives swappable batteries to be suitable for certain vessel applications.
"If you have a network of vessels, such as an inland waterway network or a coastal trade network where you have a lot of vessels sailing, there's no time for charging. Here, of course, the cost for additional batteries doesn't double, because the more vessels you have in the network and the more charging stations you have, the proportionately lower the number of additional batteries becomes.
"This is a very interesting concept for swappable batteries," he adds.
Irrespective of the ship's battery system or requirements, it is also vital for port infrastructure to be taken into account. Many international ports still don't have the required installations or equipment on hand to cater for the power demands of large, electrified cargo vessels, passenger ferries or cruise ships.
"Many ports don't and won't have the infrastructure to satisfy all ships requiring power. It can also be a constraint and very expensive for a shipowner to connect their ship at the port," explains Guillaume Clement, VP of global e-Marine, e-Transport Solutions at Leclanché. "For our technology, we tend to focus on very large systems where it wouldn't be reasonable to remove 100 tons of batteries.
"Removable batteries are an option, but we are also looking at electric barges, which could recharge ships when they are offshore, in addition to green energy generation on board the ship," continues Clement. "There are several fuels that have been considered, such as gas, ammonia and hydrogen, and batteries are the enabler for most, if not all of them."
Room for maneuver
Whether installing battery solutions on new-builds or retrofitting a system to an existing ship, engineers and designers must also factor in the constraints of a vessel's hull in terms of the available space, its shape and the cargo type.
"You can never locate the batteries exactly where you would like them," explains Clement. "You have constraints in where you can put them, in the same way you have constraints when you build a car. In the ship, you're looking mostly at the balance and placing them in a symmetrical manner, as low as possible."
Ernst van Werkhoven, technical proposal engineer at EST-Floattech, comments, "The reason why you might choose a permanent or a swappable system is also to do with weight deviation. A lot of vessels have, or don't have, an operational work deck – such as on ferries. They have space for people to sit but no space for cargo. In this case, you would store the batteries underneath the deck.
"This way, you can use the batteries in a low part of the vessel, which is good for stability. Additionally, if you find you need to use the system for hours, the capacity can grow, unlike with conventional [forms of] propulsion. This can make the decision between installing a containerized solution on deck or installing batteries in the vessel."
Also speaking on suitability in ferry applications, Robert Fedor, chief technical officer at Echandia, adds, "I think swappable batteries will inhibit the purpose of the vessel too much. On passenger ferries, where will you store a swappable battery without affecting the number of passengers you can fit on board? The same goes for car ferries and other applications. In most cases a permanent battery is more suitable."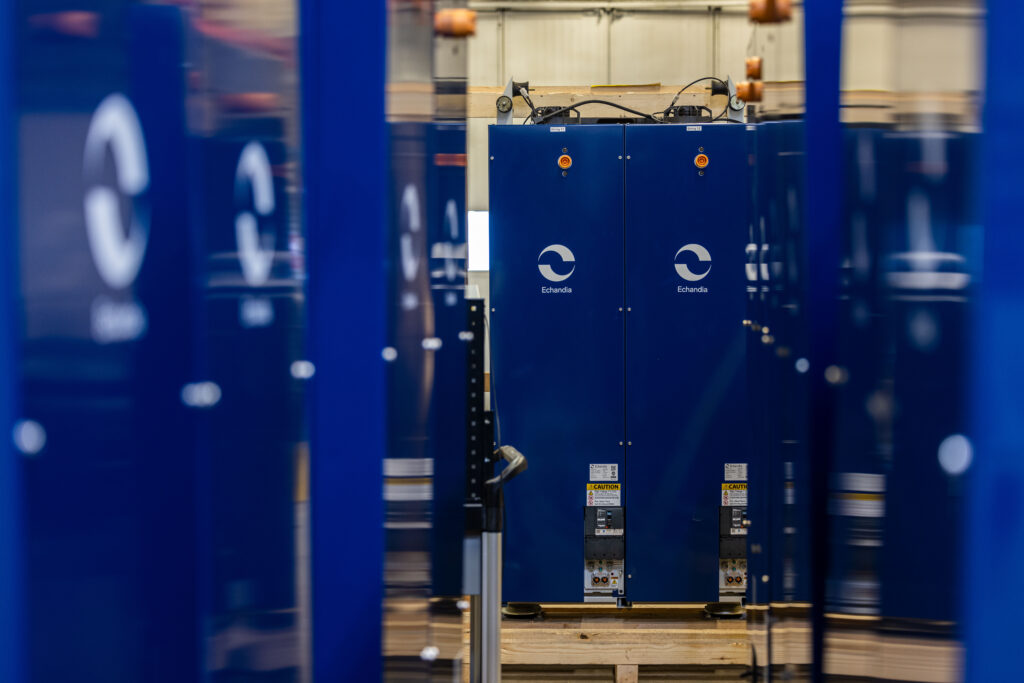 Clever chemistry
Leading manufacturers conduct crucial research and development into different battery chemistries, ensuring the systems and products on offer meet a diverse range of customer requirements.
"Lithium-ion – especially G-NMC – offers the best compromise between high lifecycle and energy density," says Clement. "We see G-NMC and lithium-ion to be the most promising technology, and we see it evolving a lot better than others for two reasons: lifecycle and energy density. We believe that lithium-ion accounts for the vast majority of installations and we think it will become bigger for the reasons I explained."
EST-Floattech's van Werkhoven also agrees that NMC has many desirable properties: "You want a high capacity with an adequate weight. If you look at the most common chemistries, such as NMC, LFP and LTO, then the NMC solution fits best in our philosophy. It is not the lightest solution, but you have a better capacity.
"The characteristics of NMC are that it has a high density, a safe chemistry and it does not have active ions that constantly move," he continues. "It has a long lifespan and is also cost-effective."
For certain maritime applications, Werkhoven explains, other chemistries might be more advantageous and offer alternative benefits.
"If you don't need as much energy and weight isn't a big issue, but lifespan is important, then LFP is a good solution," he says. "You can install a lot of them and then you have a longer lifespan and can spread your investment over several years. There is an optimum, of course."
Safety first
The certification of permanent or swappable battery systems is also an important aspect for system integrators and vessel operators to consider, to ensure a high level of safety for the ship and crew. At present, classification societies are working on the development of new regulations to certify these relatively new-to-market, contrasting and sustainable maritime solutions.
"Today there are no specific rules for containerized solutions that are removable," explains Henrik Helgesen, senior environmental consultant at DNV. "The most critical thing you need to ensure is that no salt water or moisture is able to make its way into the container, and that the containers are sufficiently fastened on the deck."
Many vessel operators choose containerized solutions as these make it easier to deal with fire and explosion risks than when battery solutions are below deck.
"We conduct an evaluation to ensure the location or the container is sufficiently safe, because if the batteries start to burn, they will produce toxic and explosive gas, and a very hot fire that is difficult to extinguish," says Helgesen. "You need to keep this in mind when selecting the location or battery container.
"We have some ongoing swappable battery solution projects and are developing the necessary requirements for components that currently don't have any existing rules or regulations."
With the International Maritime Organization's 2030 and 2050 emissions rules and regulations drawing closer, it is increasingly important for new-builds and retrofits to use not only the correct cell chemistry, but also the most suitable permanent or swappable solution.
By delivering better weight deviation, additional cargo and passenger space, improved propulsion system efficiency and sustainability, these real-world applications continue to prove that in-built or portable battery systems are capable of significantly enhancing a wide variety of performance attributes.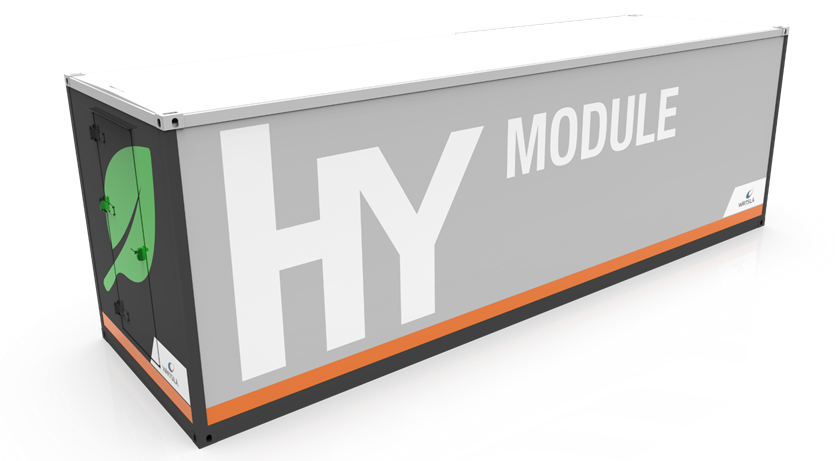 Optimizing electrical systems
Ernst van Werkhoven at EST-Floattech explains how differing types of battery installation can help optimize a ship's electrical system
"It is very important for a shipowner to consider what they want to use the batteries for," he says. "Is it for a temporary solution on the vessel, such as a crane or a gangway that needs temporary power? Originally, you could have put a diesel genset on board but now you can use battery packs, and for this application a removable battery solution could be suitable."
Werkhoven goes on to say that if a vessel already has suitable equipment connections on its switchboard, then the batteries can be used as an add-on in certain situations. This includes being used purely to provide power to the equipment or parts that need it most.
"You could also look into peak shaving, a hybrid solution that uses a diesel generator [and batteries]. This is looking more at the offshore and work vessel market," adds van Werkhoven. "Here you can use the generator set at an ideal RPM for low fuel consumption and you can use the battery pack for peak shaving."