Under increasing pressure from environmental and maritime regulations, the cruise shipping industry is looking to electrification as a way to decarbonize its vessels.
The incoming maritime regulations concerning greenhouse gas emissions and the prohibition of GHG-emitting vessels in areas such as the World Heritage fjords in Norway are driving cruise operators and shipbuilders to think up new emission-free and sustainable-fuel solutions for these large ships. Electrification is already underway, but many believe fully electric cruise vessels are still some way off.
"For most ships, the sector will not be 100% electric for the foreseeable future, but electrification will become increasingly important," says Finn Arne Rognstad, SVP of business development at Corvus Energy, a manufacturer of maritime energy storage systems. "There are vessels with a very high number of onboard batteries but they will all be hybrid in some form.
"On a cruise ship you will never go away from reciprocating engines, whether LNG, biofuel or ammonia," he adds.
Although fully electric operation seems unlikely in the near future, batteries can contribute to a host of functions, from optimizing a ship's engine setup and performance to minimizing use of that engine.
"Hybrid systems are what we are developing today, as a full battery configuration or hydrogen generation plant is not feasible yet [see Dual purpose below]," says Marco Bognolo, vice president of basic design in the merchant ship business unit at shipbuilder Fincantieri. "The energy density of hydrogen is very low. Even if you consider liquid hydrogen, you will need to allocate a huge space to carry the amount of fuel required for a two-week itinerary. That's why current vessels we design are based on a hybrid concept, where batteries are key to overcome the lack of performance and/or power of a pure hydrogen system."
Currently, onboard power is mainly used for port stays, to sustain a zero-emission hotel load, but it does have other uses. "Tender boats can be converted to full-electric power, given the limited service and the restricted range they have to cover," Bognolo says, adding that hybrid, electric and fuel cell tender craft are already available. More tender availability on the same vessel helps their electrified transition, too. "The number of onboard tender boats is such that operators typically use only half of them, providing sufficient time to charge batteries," he says.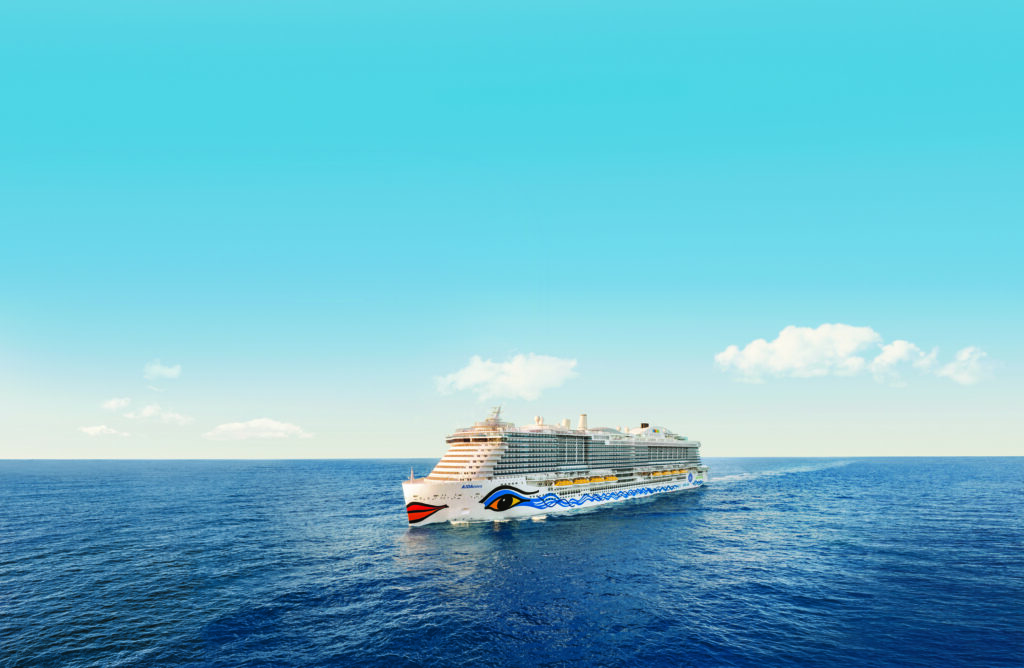 Power on demand
Maneuvering functions and other operations that require a steep load ramp-up may also be aided by electrified power sources. "Maneuvering is a typical example where a high load in a limited amount of time is suddenly experienced, which is not compatible with ICEs," says Bognolo. "When maneuvering, a sudden wind force in port may be experienced, and the vessel must be safely maneuvered without risk of a blackout. Here, ICE and batteries combined are essential to ensure a vessel's safe operability."
In 2022, Aida Cruises installed a 10MWh battery storage system – currently shipping's largest – on board the AIDAprima. "In 2019, an agreement was signed with Corvus Energy to build a system with a total of 1,760 individual modules, and retrofit it on a ship already in service," says Malte Zeretzke, head of R&D and decarbonization at parent company Carnival Maritime.
The battery storage system was installed after one of the unused onboard water tanks was removed, and initial practical tests have shown that it can be switched on during maneuvers at sea, docking and casting off, and also in port, providing energy to various consumers on board.
"It is also possible to power the ship 100% emission-free for a limited period of time," adds Zeretzke. The batteries are recharged during sea operation using the peak-shaving method, whereby the engines operate in a constant optimum power range, consuming less fuel. Surplus energy is then stored in the 125,000-ton vessel's batteries but all Aida ships are also able to use shore power – or are technically prepared for it.
"Some operators request a 'slow-steaming' condition on batteries, where only electric power is used when approaching some destinations (the so-called last mile)," says Bognolo. "This need will open up design to a new series of vessels that will have battery capability to sail for a limited number of miles without the ICE switched on." More sensitive environmental areas such as the heritage fjords in Norway will demand 100% emission-free sailing from 2026.
Havila Voyages' fleet of coastal cruise vessels have 86-ton 6.1MWh battery packs supplied by Corvus Energy, and the company is aiming for emission-free coastal sailings by 2030 with its current ships.
"These batteries allow us to operate up to four hours on battery only," says Marianne Vågen Langeland, chief operations officer at Havila. "In addition to reducing fuel consumption, the batteries allow us to visit the World Heritage fjords emission-free and silently. Hybrid mode is the preferred daily operational mode. Peak shaving contributes to reduced LNG consumption and the batteries can be charged shoreside when extra power is available."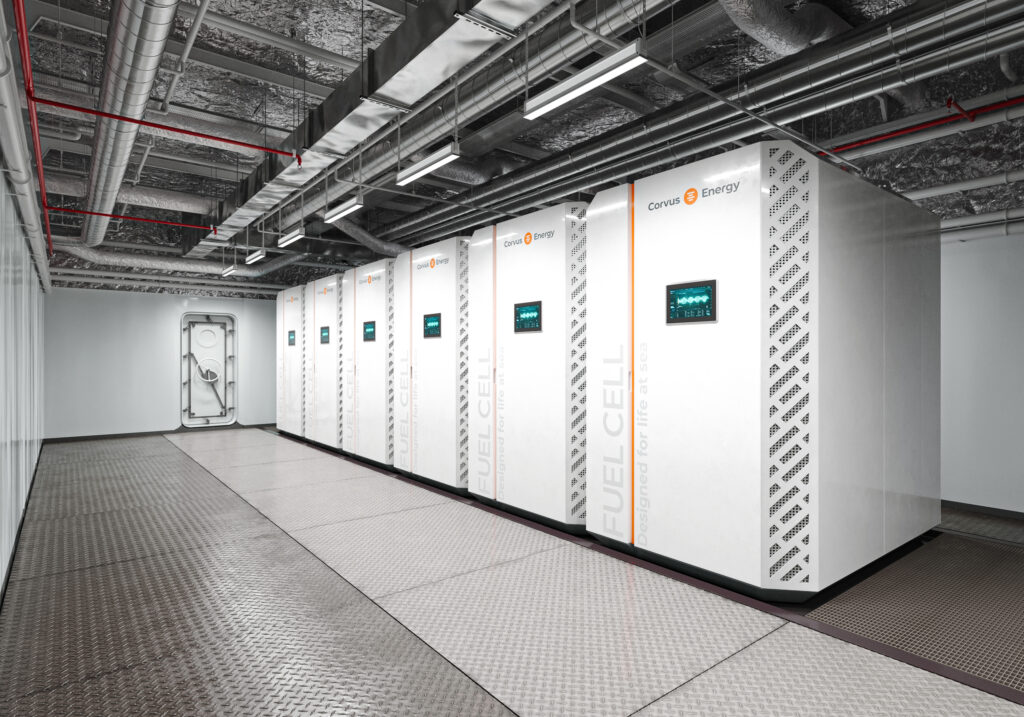 Limited storage power
The main difficulty with any cruise ship electrification system is the space such a system requires.
"Batteries have a limited storage power given the size of vessels we are building and the range, which is usually not less than one week in operation," says Bognolo. To store one month's worth of batteries capable of sustaining a vessel for the full time required in port, a full main vertical (fire) zone would have to be filled only with batteries. "This is one of the major challenges we are facing, which has to do with the energy density of the batteries," he continues.
Bognolo says a typical cruise vessel in Europe will only use 4-10MW of power when in port. When sailing, the propulsion power required would be 20-50MW. Larger vessels, such as those Fincantieri is building for operators such as MSC Cruises, weigh in excess of 150,000 gross tons, with installed power of around 70MW. Rognstad believes that even this power level may increase, which starts to cause issues with in-port charging infrastructure.
"Systems are so big now," he says. "The AIDAprima's 10MWh battery will run that vessel for up to an hour or so. New-build systems can be up to 100MWh. Then you have to factor in how much capacity you need, and how much power can be obtained from a charging station."
At slower vessel speeds, a typical electric range from Havila's 6.1MWh battery is approximately 25 nautical miles according to Rognstad. Vågen Langeland adds, "We visit 34 harbors along the Norwegian coast." A few, such as Ålesund, have the technology to charge the Havila fleet's batteries, but a lack of harbor infrastructure – and the robustness of existing equipment in bad weather due to at-quay ship movements – and sufficient loading capacity is a challenge. "Our hope is that harbors invest in robust and reliable systems with sufficient capacity to charge batteries efficiently," she says.
"At the time of keel laying of many Aida ships, no uniform global standards for the operation of shore power systems were available, so we are gradually equipping these ships," says Zeretzke. Thanks to the opening of further facilities on its European routes, Aida has been able to expand the
use of shoreside electricity with its ships in Southampton (UK), Aarhus (Denmark) and Bergen, Kristiansand and Ålesund (Norway).
This new technology infrastructure needs cross-party coordination and investment support, on the shore and on deck. "Electrification and more available and efficient charging would result in less LNG consumption, further reducing emissions," says Vågen Langeland. "We find the potential contribution to be considerable."
Despite the challenges, she believes that onboard batteries and harbor electrification are great contributors for ships aiming to reduce emissions and fuel consumption in the near and medium-term future. "Our new vessels are built in accordance with the new SOLAS SRTP (safe return to port) requirements applicable to new passenger ships. The batteries provide additional safety due to our ships' dual power supply, empowering our ships to return safely to port in the event of flooding or fire emergency. Crew can stay safely on board as the ship proceeds to port under her own power."
Rognstad suggests that the cruise industry's embrace of electrification has only just begun.
"The key for shipping and cruises today is flexibility – the fuel you can use and fuel usage," he explains. "Electrification is a key part of that. We have a very strong belief in the cruise market going forward, and what we hear from the shipyards and operators is that it's going to be a growing market with much potential."
Dual purpose
Hybrid power looks set to dominate the cruise shipping industry for the next few years, but alternative electrification solutions such as hydrogen-electric powertrains are considered feasible. "In combination with batteries, the use of a fuel cell can be optimized very nicely," says Corvus's Finn Arne Rognstad.

Marco Bognolo says Fincantieri is investing heavily exploring hydrogen powertrains for new-builds. "This is a very promising technology that we are experimenting with. We have already tested a fuel cell with limited power in our laboratory and we are going to install a marinized prototype fuel cell on one vessel we are going to build and deliver shortly."

Fincantieri and MSC Group have signed an agreement for the construction of two hydrogen cruise ships for the latter's luxury cruise division travel brand Explora Journeys. The LNG and hydrogen vessels, due in 2027 and 2028, will each feature a 6MW fuel cell to provide emissions-free power for hotel operation.

The most common maritime fuel cell technology uses PEM fuel cells. "PEM technology can sustain a limited load ramp – in most cases, not comparable to ICEs or batteries," says Bognolo. "Solid oxide fuel cells cannot sustain any kind of load variation, operating at a steady output without the possibility to adapt in relation to operational needs. This means, when considering a combination of fuel and fuel cells, we always suggest the installation of a certain number of batteries to sustain operations where a steep load ramp-up is required." The low energy density of hydrogen also influences the possibility of sailing on longer routes, but Bognolo believes hydrogen-powered ICEs may eventually be adapted for marine.

Hydrogen may even be produced as a by-product of other fuels. "There are potential new ways of extracting the hydrogen," says Rognstad. "With methanol or ammonia, the pure hydrogen needed for a fuel cell will be able to be taken out, which can be beneficial." Corvus's new Pelican fuel cell system has been developed with Toyota as a result of the H2NOR project, and can help power range-extended cruise ships, with smaller expedition luxury cruise vessels also benefiting.

"We believe hydrogen will be the way toward emission-free operations, and will continue to work with leading developers to evaluate future possible solutions," says Havila's Marianne Vågen Langeland. "A concept study on the future use of hydrogen has been approved by DNV through a project with HAV Group called FreeCO2ast."

Carnival Maritime's Malte Zeretzke confirms that Aida is also looking into fuel cell technology: "In summer 2022 we installed the first methanol-powered fuel cell for demonstration purposes on board the AIDAnova as part of the Pa-X-ell2 future project, funded by the German Federal Ministry of Transport and Digital Infrastructure."