In the current issue of E&H Marine, Matt Ross speaks to David Czap, managing partner of Soel Yachts, about the company's ambitious plans for its platform-based portfolio of solar-electric vessels, and explores the latest addition to the luxury portfolio – the Soel Senses 62
With the benefit of hindsight, it seems that David Czap's first electric boat may have been a victim of unfortunate timing. The carbon-fiber speedboat, which was presented at the 2008 Monaco Yacht Show, was way ahead of its time – "It could do 30kts when nobody was even thinking about green design" – but fell foul of the financial market crash that year, which saw new speedboats become less of a priority for the world's richest yachters.
"It was meant to be a tender to a superyacht, and we had great talks," says Czap. "But after three weeks, everyone was bankrupt and the superyachts were all half built in the sheds of bankrupt facilities. It was a crazy time."
Instead of full vessels, Czap focused on propulsion systems with his other company, Naval DC, which has gone on to become a leading developer of electric propulsion systems. But a passion for high-end, zero-emission ship design never left him. During a trip to Moorea, staring down at streaks of dead coral in an otherwise pristine lagoon, Czap felt there was an opportunity to develop a vessel that could operate safely in such locations.
"That's where the idea started to build a vessel specifically for tourism transport within a lagoon," explains the managing partner of Soel Yachts. "The foundation of the SoelCat 12." The 11.8m passenger vessel was introduced at Le Bora Bora Resort By Pearl Resorts in French Polynesia, and has been such a resounding success that the resort will take delivery of two Soel Shuttle 14s by the end of 2021.
Rather than simply representing an incremental improvement on its predecessor, the Soel Shuttle 14 embodies a fundamental part of Soel Yachts' key development strategy. Czap and his team aim to offer a scalable platform approach to zero-emission ship design for commercial and private customers. So, for example, the Soel Shuttle 14 shares a platform with the Soel Senses 48, a private vessel with the same hull and propulsion system design strategy but a different superstructure and layout.
"The Soel Shuttle 14 is the Soel Senses 48 platform," Czap explains. "If you look at the build pictures, you can spot, for example, that the battery compartment is the same. For the shuttle it is half full, to suit short runs to the airport and back. Then, for the private yacht, you double up the battery capacity and it still fits perfectly."
Soel Yachts offers a selection of platform sizes, any of which can be specified for commercial or private use. The SoelCat 12 was a standalone vessel design (albeit one that was demountable and could be packed into two shipping containers), but every subsequent model design – monohull and catamaran – can be scaled and adapted to suit specific application requirements. For example, the Soel Cruiser design is a monohull vessel that can be a private vessel with the interior entirely open to the customer's imagination, a 12-passenger VIP shuttle or water taxi, or a limousine tender to a superyacht – all built on the same monohull concept.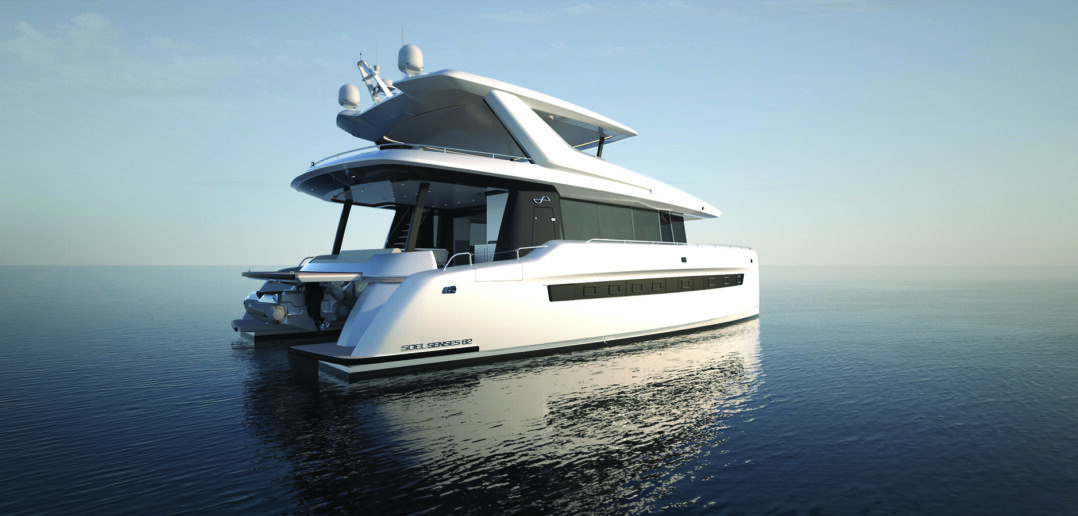 Cruise control
This modular approach gives Soel Yachts a lot of freedom when it comes to ship applications. The next step in that iterative process is the Soel Senses 62. The Covid-19 pandemic caused the market to shift away from commercial vessels and toward private projects – and the versatility of the Soel Yachts platform and design philosophy has yielded the latest addition to the company's portfolio. The 62ft luxury live-on-board electric catamaran is a bigger sibling to the Senses 48, and features the very latest in Soel Yachts' luxury design and sustainable powertrain technology.
The Senses 62 features a 17.6kWp solar array, yielding 40-50kWh of power (weather depending), and is available with a choice of propulsion system variants: Cruise and Power.
Cruise features two 100kW electric motors, 212kWh of lithium battery capacity and a 100kW DC genset. This offers a cruising speed of 8kts and a top speed of 12kts. Power includes two 200kW electric motors, 424kWh of battery capacity and a 150kW DC genset. The propulsion system can cruise at 10kts, with a top speed of 14kts. With both variants, the fuel-efficient genset means longer journeys can be undertaken.
Both versions of the Soel Senses 62 feature DC fast-charging capabilities (in addition to AC single- and three-phase shore charging). The CFD-optimized hull shape was specifically designed for efficient, electric (silent) propulsion, with multiple rounds of analysis spent on specifying the integration of the electric system into the vessel design in a way that would optimize speed, range, ease of handling and maneuverability. And it's this, essentially, that is at the heart of what Soel Yachts, and Czap's team, are trying to achieve: sustainable sailing on a vessel that can be customized to suit owners' exact needs, with superyacht-level luxury.
"We're already discussing system and interior customization details with various customers who – like us – love to go the extra mile," says Czap. "It's not a problem to answer specific customer wishes, such as charter versions with crew cabin and galley down, or owners' versions with galley up or the owners' cabin on the sky deck (fly bridge level). But also from a system perspective, we can work with clients' specific demands and wishes – whether dive compressors are needed, or we need to equip the vessel with an extended-range battery pack."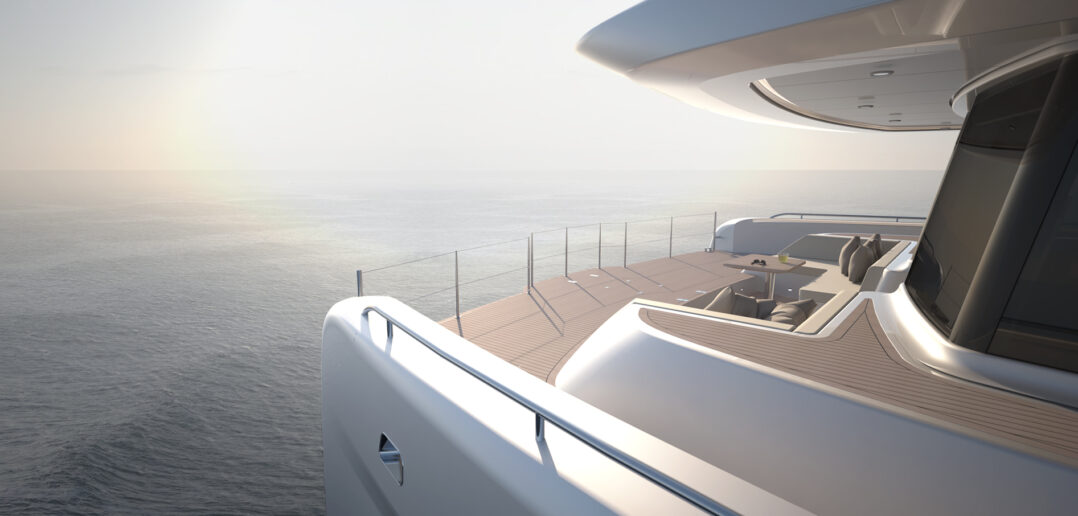 Come together
One of Soel Yachts' major advantages is that, by offering propulsion system and vessel design together, the company can optimize the synergy between the two. Combine this optimization with a scalable design platform, and Czap's team can quickly turn their hands to many applications.
Central to crafting efficient zero-emissions vessels is right-sizing the propulsion system – not just for the Soel Senses 62 but across the portfolio. Here, Soel Yachts benefits from the experience of Naval DC – and Czap is adamant that there is no one-size-fits-all solution to good system design.
"We always look at the project from a naval architecture point of view, that's always our starting point," he says. "We never look at it as a motor vendor, we never just say, 'We have three sizes of motor in stock, that's our portfolio. Your boat looks heavy, let's go for the big one.' That's not how we do it. I'd rather say no to a customer when I know that it's not going to perform like they would like it to perform, [which would mean] they'd then want their outboard gasoline engine back."
Soel Yachts uses an iterative design process once the desired performance and range have both been identified.
"When starting to build that initial shell around the system, we already have a very good idea of what we're building it around," Czap says. "This is the unique selling point of what we do and how we do it. The boat is perfectly matched to the system and the system is perfectly matched to the boat, meaning that we get up to 20-30% better range and performance out of it."
What separates Naval DC – and therefore, by extension, Soel Yachts – from many of its competitors is that approach to tailoring the propulsion system exactly to the vessel.
"I'm not going to sell one project the same motor as another if the boats aren't similar," explains Czap. "It has to be different in terms of the size, winding, torque and any other factors. Ship propulsion has to be matched, it's a no-brainer."
Keeping it in the family
An advantage is that Naval DC does so much in-house. The motors are sourced from a third party, but Naval DC combines and winds the motors specifically for the application. Similarly, Naval DC uses Kokam cells when building its own battery systems, which enables perfect matching (of high-power or high-energy lithium cells) to the performance requirements.
"High power has less energy density but a huge cycle life. This is why we make a very logical differentiation between the two," Czap explains. "In the end, it's the customer's decision, but we tend to use the high-power one for commercial applications such as ferries, shuttles and daily operating boats."
For private vessels, high energy is more suitable. "If you do 50 cycles a season, you are a very enthusiastic boater," says Czap. "It's more like 20-30 cycles, so they'll get more than 15 years [of use]. They also get 20% higher energy density, but the battery only weighs 2kg more per block."
Furthermore, Soel Yachts' modular design strategy extends to the electrical systems.
"We can easily do 120V systems, or 48V systems – though we barely do those now. But going to 350V systems, or to 710V? We are extremely flexible. Yacht projects might get 710V. The shuttles operate on 355V. It's just a case of putting 12 blocks in series instead of six blocks."
Czap and his team build multiple redundancies into the ship design. This can be achieved through system layout – such as separated motor windings that ensure half the power remains available in the event of a failure – but also through judicious use of series and parallel setups in the battery system design. In addition, the multihull ship design means that the vessels automatically have separate propulsion systems.
The company also runs extensive testing and validation programs on propulsion systems before they are signed off. This takes place in the Netherlands before the propulsion system is shipped – to a client in the case of Naval DC projects, or to the assembly yard for the Soel Yacht vessels.
The synergy of Czap's two companies offers the ability to leverage Naval DC's extensive portfolio and expertise in Soel Yacht vessels – resulting in ships that are safe, reliable and exceed performance requirements. And with the Soel Yachts' modular, scalable platform ready to be adapted for a wide range of commercial and private applications, luxury solar-electric vessels could become an increasingly common sight on the water.