In October's issue of E&H Marine, Tony Slinn learned more about Brittany Ferries' work with a Boston-based startup, aiming to breathe new life into a tried-and-tested concept
French company Brittany Ferries has signed a letter of intent to work with US-based startup REGENT (Regional Electric Ground Effect Nautical Transport) to explore the potential for creating a world-first 156kts electric seaglider, capable of traveling six times faster than conventional ferries and crossing the Channel between the UK and France in as little as 40 minutes.
The seaglider uses the well-established wing-in-ground effect (WIG), where a low-altitude aircraft is supported by a cushion of air between the wing and the surface of the water. It uses eight wing-mounted propellers to give the necessary thrust, rising onto foils that insulate passengers from wave discomfort before riding on an air cushion in open water. Electric motors are used to regulate airflow over the wings, with power coming from batteries rather than fossil fuel.
Brittany Ferries, which sails from ports in Ireland and southern England to France and Spain, hopes to have seagliders with 50- to 150-passenger capacity traveling between the UK and France by 2028. REGENT expects the first commercial passengers to travel on smaller electric craft by 2025.
It's a highly efficient mode of transport, capable of moving considerable loads over long distances at high speed. Flight safety comes courtesy of redundant propulsion and flight control systems, with sensor suites detecting, and automatically avoiding, traffic at sea.
"Seagliders combine the convenience of passenger ferries with the comfort of hydrofoils, the aerodynamic efficiency of hovercraft and the speed of aircraft," explains Brittany's maritime and ports operations director, Frédéric Pouget. "They have the potential to connect existing ferry ports, and a battery-powered range of 180 miles [290km]. It is a visionary project. We are particularly pleased to contribute to seaglider's development now because we can bring real-world challenges and potential applications into the company's thinking at an early stage."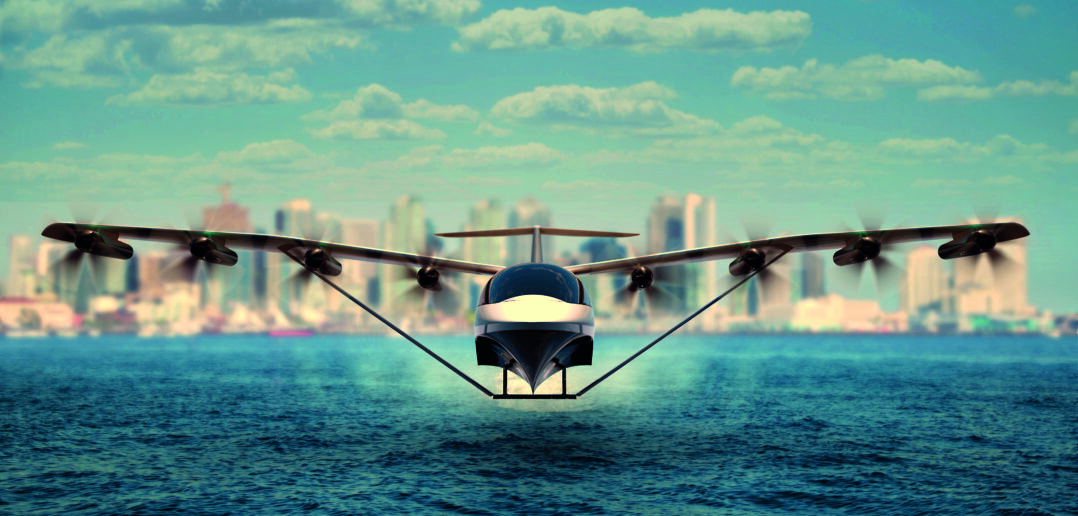 Maritime history
Although the technology aboard the new flying ferries will undoubtedly take advantage of the latest advances, the principle behind the seaglider's movement has been around for many years – and can be seen in, for example, Russia's ekranoplans.
"The aerodynamic efficiencies from wing-in-ground effect vehicles have been well understood for decades," says REGENT's co-founder and CTO, Mike Klinker. "REGENT's fusion of advanced hydrofoil technologies and distributed electric power, combined with the aerodynamic efficiencies of WIG vehicles, creates modern, fast and sustainable modes of maritime transportation. The seaglider will offer unmatched speed, comfort and environmental performance for passengers, while providing low operating and maintenance costs to our customers. It will be as safe as aircraft and have better wave and wind tolerance than existing seaplanes and WIGs."
The company's second seaglider after Viceroy will carry at least 50 passengers. And, as Klinker explains, there are no limitations for WIG sizing.
"We look back at concepts like the Russian ekranoplans of the 1960s and see a precedent for very large vehicles," he says. "Seagliders are unique because they use their hydrofoils for wave-tolerant, maneuverable harbor operations. Again, there is precedent for large foiling ferries. At large sizes, we may see take-off speeds increase from the 40kts baseline of seagliders today, which may impact aspects of operation. We are actively working through these considerations with our customers."
REGENT is also actively engaged in evaluating best-in-class industry partners to support its electric propulsion and manufacturing requirements.
"The vessel will be constructed from carbon fiber and advanced composites, built to the most rigorous of aerospace and maritime standards," says Klinker. "In ports and crowded harbors, while operating as hydrofoil ferries, seagliders will have a 1-2m wave tolerance. Upon transitioning to wing-in-ground effect flight for high-speed, open-ocean transit, seagliders' wave tolerance will only be limited by considerations for landing, as they will be able to fly over the crests of the tallest waves."
Klinker and his team are also evaluating battery and motor manufacturers.
"Like all fully electric vehicles, seagliders will need to be charged by equipment installed in ports," he explains. "We have already seen the maritime industry begin to develop the necessary infrastructure to support electric propulsion. In terms of [handling] the seaglider and embarking/disembarking passengers, seagliders are designed to be compatible with existing dock and ferry infrastructure."
Playing it safe
Safety is a core value at REGENT, and a critical design factor in the seaglider's development.
"The battery packs will be designed to the most rigorous of both maritime and aviation safety standards and will be redundantly controlled to ensure constant power supply to the propulsion system," says Klinker. "They will also feature tolerance for thermal runaways to protect passengers in all conditions."
Given their speed and relatively small capacity compared with typical cross-Channel ferries (which, in some cases, can accommodate more than 1,000 passengers), are seagliders likely to become the more expensive, exclusive alternative to existing vessel designs?
"While REGENT doesn't comment on individual customer operations," Klinker says, "we will note that the operating cost for a seaglider on a seat-by-seat basis is very favorable relative to other modes of transportation. It will give our customers a unique opportunity to provide fast, sustainable maritime mobility at a low operating cost."
"Everyone involved expects seaglider to be a revolution in coastal transportation," adds Billy Thalheimer, co-founder and CEO of REGENT. "The electric propulsion keeps things simple and affordable, the hydrofoil gives our design some advantages in the water, while the wing-in-ground effect offers double the range of a conventional electric aircraft. And while we initially look to serve routes of up to 180 miles with existing battery technology, with next-generation batteries that should increase to 500 miles [800km]."
A number of technological, practical and regulatory milestones lie ahead. But the flying ferry remains a promising concept with a history in military applications and smaller leisure craft operating around the world.