Seattle-based boat builder startup, Zin Boats, has revealed how it intends to disrupt the electric boat market as further details and images emerge of its Z2R model, launched earlier this year.
Founder of the brand, Piotr Zin, told TechCrunch that he likens his company to Tesla and hopes to make as powerful an impact in the water as the auto maker has done on the roads.
The Z2R is constructed largely of carbon fiber and is around half the weight of comparable craft, it is claimed. Owing to the boat's lightweight construction at around 1,750 lb (800kg), it can apparently travel around 100 miles on a single charge. Batteries can be charged using a domestic plug, or by many of the high-speed charging cables increasing in availability in docking locations.
Technical details claim that the Z2R is billed to include BMW-made batteries mated to a custom, Torqeedo-produced engine. The top speed of the Z2R is over 30kts, it is said, with the boat tested at 55kts but limited, with Zin claiming there is no need for such speed. Zin has professional experience working in industrial design for a number of blue-chip automotive brands so has been the driving force behind the Z2R's production.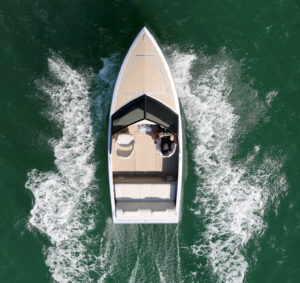 "The boat was designed around the battery," Zin told TechCrunch. "The unique part of using an electric system is that we can put the motor anywhere we want. You look at a lot of traditional boats' builds, they kind of cram everything in the back. Then when you put the hammer down, you can't see anything for five seconds. In this boat, there's no bow rise — it sits flat.
"Boat building is a very traditional business. Most builders aren't about innovation, they're about 'this is how we do it'. But there's a huge advantage in being able to use these tools. The computing power that we have in video cards just in the last few years, mainly because of the gaming industry, has pushed what's possible further and further."
As the Z2R continues to build momentum, Zin Boats is continuing to appraise where it could make most impact in the electric marine market. Zin added, "There are a lot of inquiries from Europe, where the environmental restrictions are stricter than in North America. But we also have a number of pristine lakes that are electric-only for the purpose of keeping them clean. This boat is as clean as it gets — there's zero oil, zero gasoline, zero anything that will get into the water."