The first ZEN 50 solar yacht has been sold, and ZEN Yachts predicts that the vessel will enter service in early 2023. The vessel, which ZEN (Zero Emission Nautic) says is the first production yacht equipped with a wingsail, was designed by naval architect Julien Mélot and is blue-water capable.
"I know from experience that to achieve complete energy self-sufficiency, a true solar boat needs to have low energy consumption and a large solar roof area to harvest solar energy. The ZEN 50 excels in both with her gigantic solar roof and her high-performance, lightweight hulls," said Mélot. "The majority of solar catamarans currently on the market are equipped with a large generator, making them de facto hybrid diesel-solar-electric boats. They offer great speeds in a variety of conditions but are less eco-friendly than true zero-emission vessels. We wanted the ZEN to be a true solar boat. That's why the first unit in construction is not equipped with any generator and will not carry a single drop of fossil fuel onboard –indeed, even the tender is electric and recharged by the mother vessel.
"Our customers are aware that they will be sailing a performance catamaran with zero emissions; they are not looking for a floating hotel, but rather want to enjoy the experience and reconnect with the elements," added Mélot. "The wingsail acts as a range and speed extender, allowing those who dream of sailing the oceans with their families to do so without leaving a carbon footprint."
The OceanWings 32 is a fully automated, semi-rigid wingsail, designed and built by Ayro (a spin-off from yacht designer and naval architect VLPL). It is an iteration of the Oracle wingsail and has been continually developed and automated. The ZEN 50 marks the first series production leisure craft to feature this fully automated wingsail.
The first vessel's hull is under construction in Barcelona, Spain, and construction of a second boat will begin as soon as the first is out of the mold.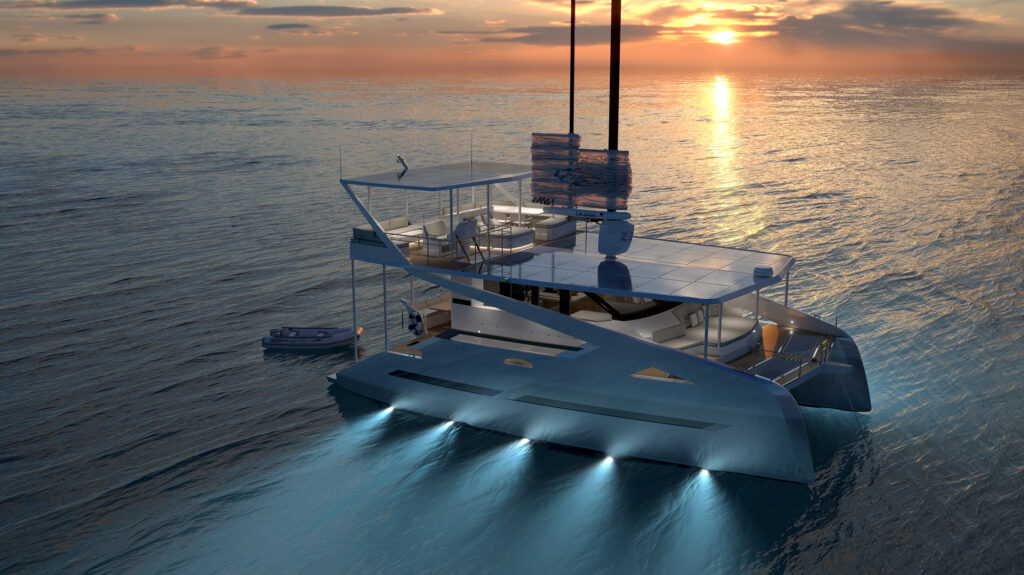 ZEN 50 specifications:
Total length: 15.7m
Beam: 8.4m
Depth molded: 2.7m at midship (excluding keel)
Displacement (light): 16 tons
Draft (design): 1.3m (4.3ft) including keel
Passenger capacity: 12
Berths: 12 (4 x double + 2 x single + saloon)
Building material: carbon fiber – Corecell composite
Propulsion: 2 x 40kW brushless DC motors; saildrives
Main battery pack capacity: 160kWh
Solar roof peak power: 16kWp
Wingsail: OceanWings OWS 3.2 by Ayro
Backup battery pack capacity (nav/com/wing): 10kWh
Main system voltage: 48V
Max speed on e-motor only: 10kts
Max speed on e-motor and wingsail: 14kts
Cruising speed for continuous operation, solar only: 4.5-5kts
Cruising speed for continuous operation, solar and wing: 6-10kts
Cruising speed, daytime: 8-10kts
Range over 24 hours: 180+ nautical miles