Engineering company Saietta Group's marine propulsion division, Propel, is close to completing the testing and development of its first electric outboard motor, the S1. Electric & Hybrid Marine Technology International gets a behind-the-scenes look at the company's Amsterdam facility, as well as a live test of the S1.
The facility
Equipped with a lab and prototype shop, Propel's 500m2 premises has been designed to create electric marine motors that can support decarbonization, while delivering sustainable and clean mobility on waterways. This means that, at the site, the company has all the tools required to build the prototypes of its engines and their auxiliary components – such as power distribution units and throttle controllers.
Propel's Amsterdam facility was established in June 2021 and is now home to 15 staff who work across software, testing and development. The launch of the division coincided with the City of Amsterdam's decision to make its canals emission-free by 2025 – a move intended to support the acceleration of electric marine solutions. In 2022, the company forecasted that 74% of sales within the US$900m European outboard motor market will be electric by 2030.
"Our Amsterdam base is essential to Propel's long-term ambitions," says managing director and chief technology officer Sander van Dijk. "From a legislation and market acceptance point of view, Amsterdam is the center of the universe. We are in close proximity to various types of water (canals, lakes, open water) for testing purposes and we have a good relationship with the Amsterdam city council and marine network (OEMs and marinas). This location ensures the availability of marine-specific expertise such as software development. Another thing that's key about our Amsterdam site is that we have all the technology we require under one roof, as well as access to water for our demo fleet. This, and our showroom, allows customers to try the product out next door and give us feedback. Our engineers are even able to show customers how we engineer and test."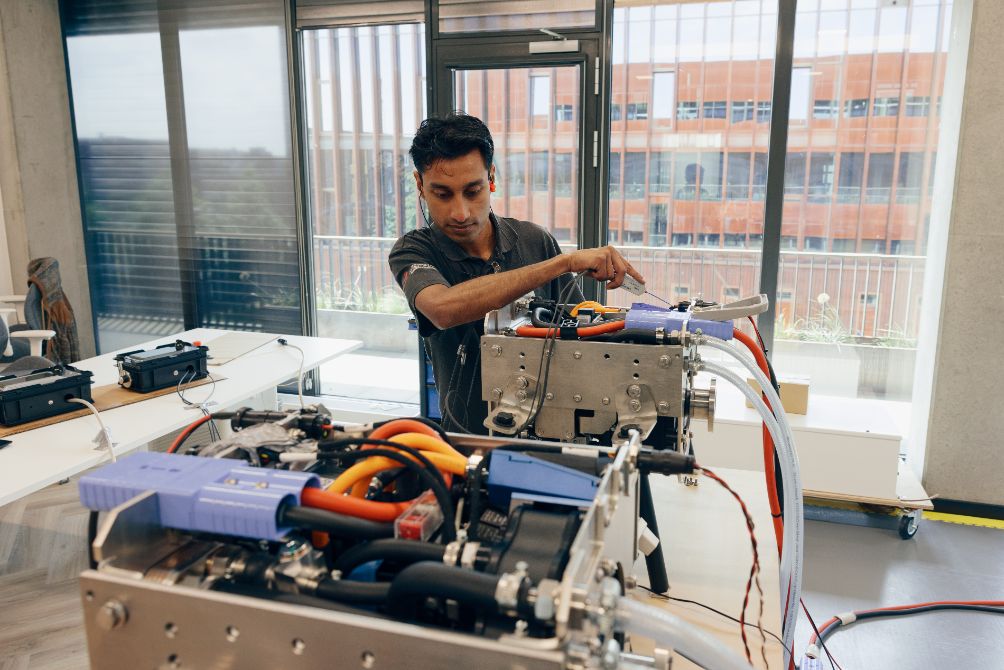 The development process
The development of the S1 saw the Propel Amsterdam team work with engineers at Saietta Group's Light Duty eDrive (LDE) unit at Silverstone Technical Centre in the UK, with colleagues setting up the production line in Apeldoorn in the Netherlands. Wicher Kist, CEO of Saietta Group, says, "Propel's rapid progress has been enabled by Saietta's highly effective and proven axial flux motor technology. It works fantastically in this new S1 outboard application: clean, highly responsive, easy to use and totally silent. I have been testing the advanced prototypes on the water over the summer and this product is in a different league to other electric outboard motors in terms of its refinement, power delivery and user experience."
Much of Propel S1's software and hardware development, further lab testing and prototype builds were undertaken at its facilities in Amsterdam. However, the S1's test program also included the use of a purpose-built rig for outboard motor endurance and load testing at Silverstone. More recently, the testing and validation regime has included benchmark tests against a range of currently available marine outboard e-motors using a dedicated fleet on Amsterdam's waterways. This included endurance testing to validate the durability and reliability of the S1.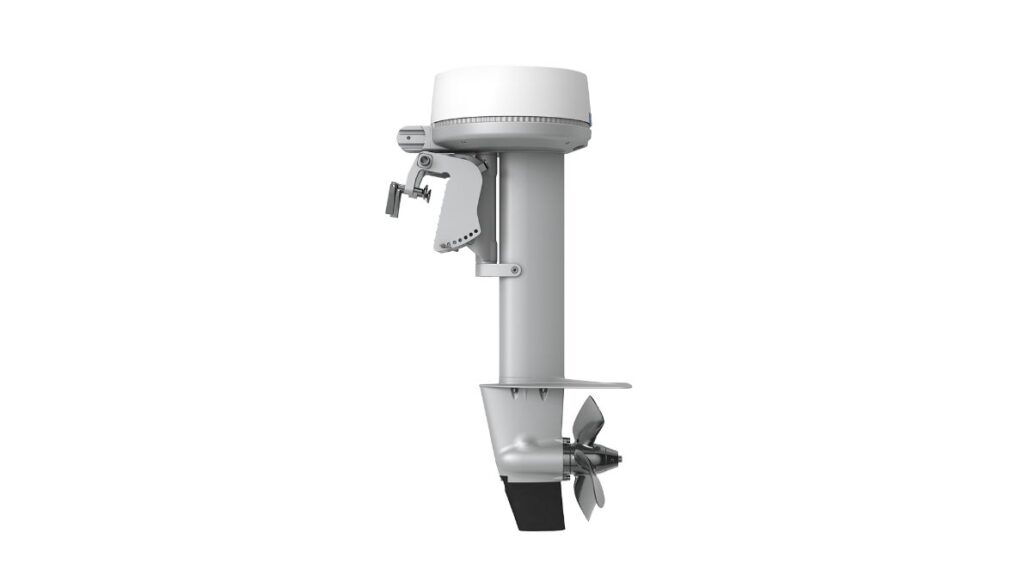 The engine
"Saietta's AFT140i electric motor was the starting point for the S1 electric outboard," recalls van Dijk. The AFT140i is an axial flux e-drive solution with an integrated controller, which was designed and developed over five years to produce reliability and high torque density for automotive applications. Like the 'pancake' shape of the AFT140i electric motor, the S1 also has a round upper casing.
"In the leisure marine market, this shape allows us to keep the motor, controller and electronics of the S1 all above the water line," continues van Dijk. "This reduces drag, as there are no large underwater housings to slow the vessel down. It also provides access to critical components, making servicing easy. Plus, we can optimize repairability, which is vital to the sustainability of new marine technologies."
Moreover, the Propel S1's tiller and remote controller both feature an integrated waterproof and sunlight-readable display, an electronic key and a kill switch. The motor controller is integrated on top of the electric motor; it shares the cooling system and is connected by bus bars. This integration improves packaging and assembly, while also reducing cost and simplifying the overall design. It is also expected to improve reliability and contribute to easier servicing for the dealer network.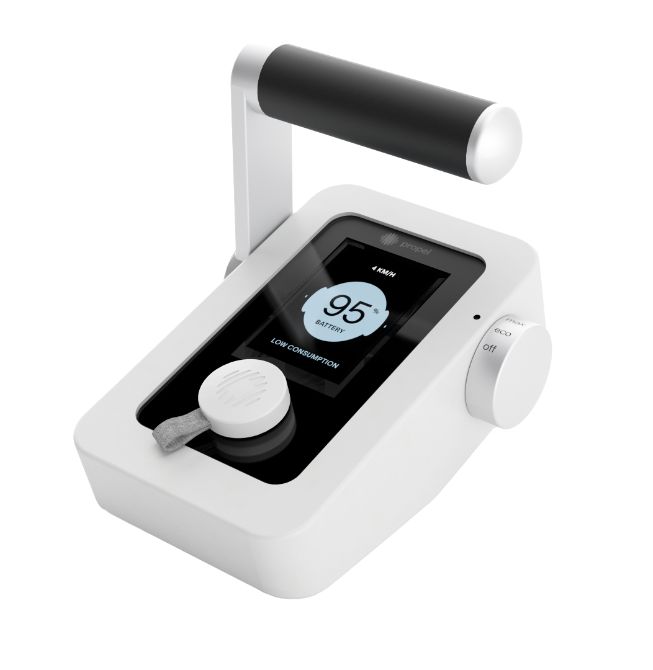 The Propel S1 can generate 10kW continuous output from a 48V battery. When mated to the in-house developed propeller, it can generate 3.75kW of propulsive power, equivalent to a 25bhp internal combustion engine in terms of acceleration and top speed. The motor is started with a flick of a switch. Computational fluid dynamics software was used during development to design a bespoke four-blade propeller with optimal balance between size and motor performance. This 12.8" propeller provides 1,440rpm maximum prop shaft speed. It helps deliver 62.1% conversion of the torque generated by the AFT140i motor to forward drive for the vessel. Additionally, a Propel-developed log-strike mechanism ensures optimum safety and minimized damage to the propeller, motor and the boat's transom in the event of underwater strikes.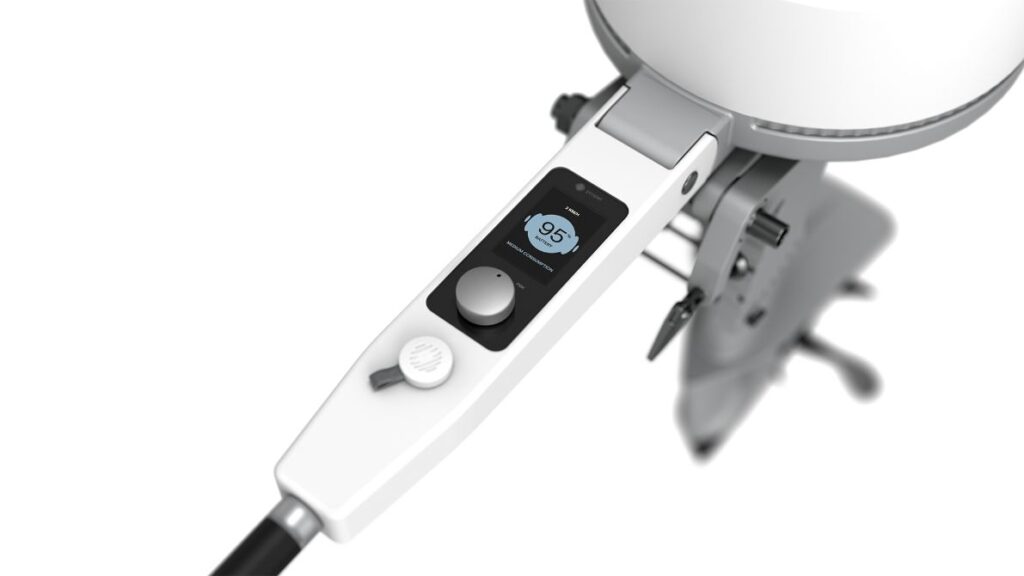 The user experience
The S1 won a Red Dot Design Award in 2022, and Propel credits the win to the engine's simple form and repairability, not its propulsive power. "The market where combustion units have an upper hand is above 50hp. At that point, battery price becomes a key factor because you need bigger/more packs to run the motor for an extended time. For an electric outboard to offer over 50hp, the weight and price of batteries become prohibitive. Our strategy is to make these products far more accessible. That means that Propel technologies have a lower price and are much easier and cheaper to install than traditional combustion motors."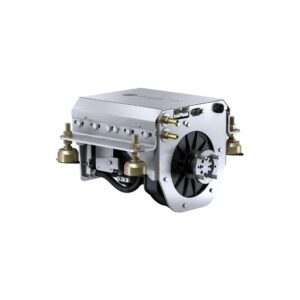 With this accessibility ethos in mind, Propel designed the S1's color display on the tiller so that using the S1 was easy for those with minimal boating experience, making the S1 ideal for rental fleet operators. In particular, the display's animated graphics were crafted to visually communicate the key data required to operate the motor in a simple, intuitive manner. As van Dijk explains, "We tried to incorporate the emotions that you feel when you're going on the water and ensure new users weren't overwhelmed with too much information on the interface.
"However, the electric drivetrain is very quiet, meaning users can't rely on their ears to understand essential information, like speed. As a result, we tried to figure out, What information is essential to present? What do we minimally need? We then came up with some animations to convey this information in a way that supported the brand. The key is that the animation is always in motion. These animations show people how much energy they're consuming, which is calculated with measurements like the length of the boat. The final interface will have a GPS speed reader and speed readout. Commercial applications will, of course, need a different interface, which we're working on."
The future
The Propel S1 outboard range will expand over the next 12 months. Joining the 10kW (equivalent to 20bhp) version will be an entry-level 7kW and higher-power 13kW variant. By the end of 2023, in addition to the 'standard' propeller – which is designed for the torque of the AFT140i motor – Propel will also introduce versions tailored to working vessels and RIBs. Until then, the company will continue to fine-tune, prototype and demonstrate its S1 motor in its tailored Amsterdam facility.
Propel will begin series production of the S1 in early 2023 at a new assembly line in Apeldoorn. Distribution plans are also underway, with 10 dealers in the Netherlands already nominated and going through training and onboarding. Propel has just announced an exclusive distribution deal with Marathon Leisure for the UK and Ireland. According to Propel, discussions with dealers and distribution partners in several other key markets across Europe are at an advanced stage and agreements will be announced in the coming months.