With a team of 21 people including mechanical and electrical engineers, fluid dynamicists and a Formula 1 powerboat driver, Italy-based Sealence is hoping to revolutionize marine propulsion systems with its DeepSpeed system.
To date, the company has raised over €3m (US$3.5m) in funding, from both traditional investors and crowdfunding, while also being awarded a seal of excellence by the European Commission's Horizon 2020 program. Reinforcing its growth credentials, the company has already hired eight extra staff in 2020, despite the global downturn due to Covid-19 measures.
The DeepSpeed system looks more like an aircraft's jet engine than a boat motor, and inside the sleek cowling is a unique impeller system (which the company has patent protected) driven by a permanent magnet, synchronous motor, also developed in-house. Coupled with the refined hydrodynamic form of the housing, both internally and externally, the result it claims is a highly efficient system which minimizes losses throughout its operating range.
In 2019, the company presented its new propulsion technology at the Genoa Boat Show, but the concept has been in development since 2007 when founder William Gobbo first conceived the idea of an outboard-mounted waterjet system. Sealence was created in 2017, following Gobbo's collaboration with Professor Ernesto Benini from the University of Padua, a leading authority on hydrodynamics.
The key advantage of his system, explains Gobbo, is that whereas inboard-mounted waterjets need a conduit to carry the water to the jet, resulting in considerable losses, its system is placed directly in the water. This not only reduces parasitic losses due to boundary flow conditions in the conduit, but also provides a ram effect, as thrust increases with speed. "As speed increases, so does our propulsive efficiency, which is about 80% at the highest speeds," he highlights. "The efficiency of our jet has a totally opposite behavior to that of the propeller, which instead loses efficiency with increasing speed, while that of the inboard hydrojets, having a static inlet, remains constant."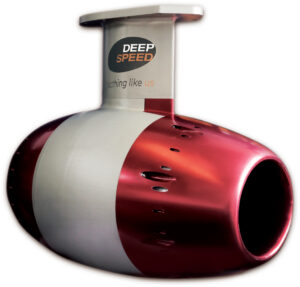 The motor powering the system has been in development for two years and is part of an integrated electronics system, which the company says has been designed to interface with any existing energy storage system. "We have invested in the creation of an intelligent powertrain able to manage any type of battery pack, so that we can always adopt the best technology available on the market at a certain time, without having to modify our electric powertrain," notes Gobbo. "We currently use battery packs from different suppliers, but by 2022 will have our own innovative battery pack created internally and based on a technology born in England, which is currently being tested."
At the heart of the entire concept is efficiency, with the electric power almost an offshoot of this goal; an IC engine would not practically mount within the system and an externally routed drive would come with substantial loses. As Gobo summarizes, "We spend less to arrive sooner, and water is the only trace we leave behind."
In its current startup phase, Sealence plans to develop a series of jets ranging in power from 120-560bhp, designed to propel boats between 12m and 24m in length. However, its ultimate goal is to develop the application for commercial freight and passenger vessels. The company says it will conduct final prototype testing throughout 2021, working in conjunction with a number of shipyards with whom it has signed agreements. Full commercial production is set for 2022.
However, Gobbo is keen that the project does not become the sole preserve of industrial players and wants a range of investors involved. For this reason, the company is in the process of launching a new crowdfunding program. "This is mainly a way to involve and allow everyone to be part of the change we propose, that is, a new and more respectful way of experiencing the sea," he concludes.