In 2018, over 138 million tonnes of CO2 was created from the European maritime transportation industry. Incorporating electric-powered marine transportation can easily reduce greenhouse gases; Leclanché is committed to being at the forefront of marine transportation electrification.
To accomplish this goal, Leclanché has developed expertise in providing state-of-the-art battery systems to support a variety of applications in the maritime sector. Its battery systems are currently being used to power fully electric vessels, for peak shaving, as spinning reserves and to enable zero-emission operation modes on numerous projects worldwide.
Leclanché develops world's most powerful e-ferry
Leclanché's e-Marine business unit's emergence as a true pioneer in the electric and hybrid e-marine industry is underscored by its recently completed battery energy storage system for the world's longest-range, all-electric ferry. The 100% fully battery powered e-ferry Ellen, though not the largest in physical size, is equipped with the world's largest all-electric ferry powertrain. Every aspect of the vessel is powered by battery technology – from the engine to lighting to heating and the bow-loading doors. It was developed and funded under the European Commission's Horizon €80bn (US£90bn) 2020 program, the EU's biggest EU Research and Innovation program.
Ellen initially connects the ports of Søby and Fynshav, on the islands of Aerø and Als, in southern Denmark. This revolutionary groundbreaking vessel, which made its inaugural commercial voyage in August 2019, carries approximately 30 vehicles and 200 passengers.
It is powered by a battery system with an unprecedented capacity of 4.3MWh provided by Leclanché. The high-energy graphite/nickel-manganese cobalt lithium oxide (G-NMC lithium-ion) battery cells with a bi-cell laminate design and ceramic separators maximize safety.
It allows for increased sailing range so it can complete more trips before needing to power up. Ellen's state-of-the-art charging system incorporates a fully automated shore connection. When the e-ferry needs to charge, its energy storage system keeps its time at port brief – as short as one hour for a full charge.
From its first passenger trip on August 15, 2019, through May 2020, e-ferry Ellen has completed 1,000 trips at 40km each with an average uptime of 99%. Compared with a diesel-powered ferry, the vessel is expected to reduce annual emissions by 2,000 tonnes of CO2 , 42 tonnes of NOx, 2.5 tonnes of particulates and 1.4 tonnes of SOx.
Leclanché's innovative marine rack system (MRS), where the storage system resides, is marine-type approved by RINA and DVN-GL and makes the e-ferry remarkable in many ways. It was designed from the ground up with a key focus on safety at all levels. The Leclanché G/NMC cells feature laminated ceramic separators to prevent internal short circuits; the IP65 water-resistant module enclosures prevent water ingress; all modules have water cooling systems to maintain optimum operating temperature; and an advanced foam-based automatic fire suppression system is fitted to each battery rack.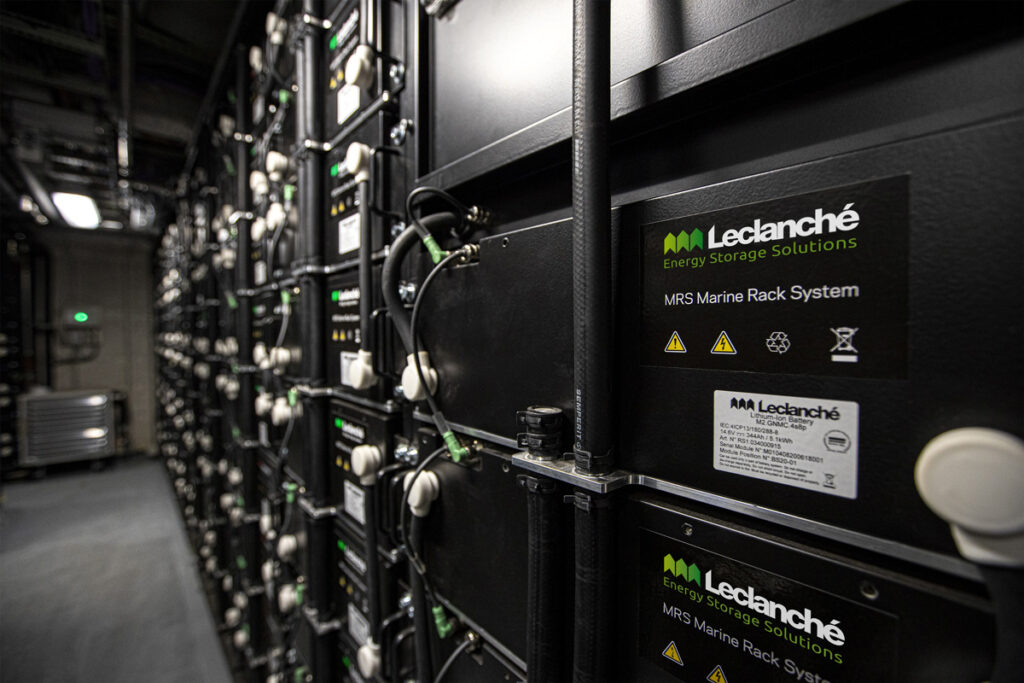 E-ferry development projects underway with Damen and Wasaline
The e-ferry's success — proving more efficient and less expensive to maintain than a traditional diesel ferry (and far kinder to the environment) — is very promising for future e-marine deployments.
Leclanché is partnering with Dutch shipbuilding group Damen to build the battery storage systems for two passenger/car ferries that will be the first in North America with the ability to operate fully electric with propulsion systems powered by batteries of 1.9MWh and 4.6MWh capacity respectively. Operational speed of these 300-passenger/42-car e-ferries will be 12kts (13.8mph or 22.2km/h), which matches conventional propulsion, and with e-ferry's zero emissions, will conservatively remove 7,000 tonnes of CO2  each year.
Leclanché will also be providing the battery energy storage system (BESS) for the on-shore recharging system for the Damen ferries. This turnkey approach offers significant benefits to future shipbuilders, ports and harbor authorities seeking a frictionless way to accommodate these state-of-the-art vessels.
Leclanché's first electric hybrid project is underway for Wasaline, the Nordic-based shipping company and ferry operator, and will be one of the world's first roll-on, roll-off passenger (RoPax) ferries with zero-emission sailing mode upon commissioning. Leclanché's 2.35MWh capacity batteries are configured for the 800-passenger vessel's operation while in port without using main engines. The energy storage system is charged from shore power, which is also used for the vessel's other power needs during its stay in harbor. In total, the Wasaline RoPax ferries are forecast to reduce CO₂ emissions by 50%, NOx by 90% and SOx by 99%.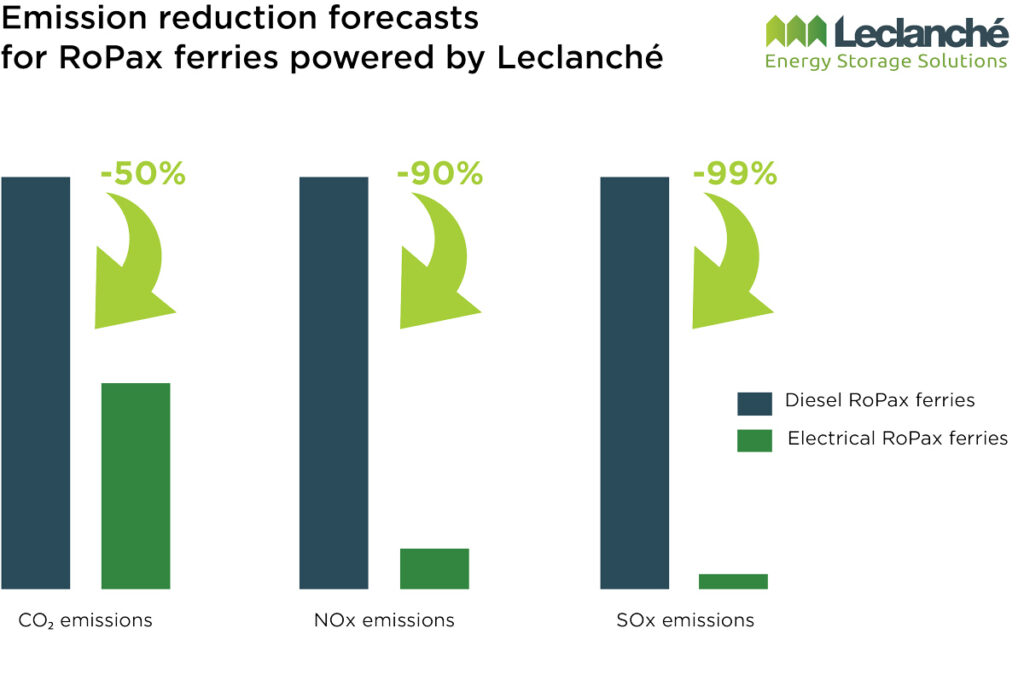 Expanded applications to container vessels and drilling platforms
Leclanché has begun to employ its battery storage expertise in different maritime applications beyond e-ferries. The company has a contract with Kongsberg, an international marine systems provider, to build the Yara Birkeland, the world's first autonomous, all-electric container vessel. Scheduled for commercial operation late in Q4 2020, this revolutionary all electric container ship will be powered by Leclanché batteries with 6.7MWh capacity and will be charged with clean Norwegian hydro-power energy during loading and unloading. Its operation will result in annual emissions savings of 700 tons of CO2 . The container vessel will also slash NOx and SOx emissions to zero and remove up to 40,000 annual truck journeys from Porsgrunn to the hubs of Larvik and Brevik, reducing noise and dust and improving safety.
The company's battery storage technology is also being utilized in other marine applications including semi-submersible drilling platforms. Leclanché is currently designing an MRS hybrid electric-power system for a semi-submersible, hybrid drilling unit that will be used in deep water oil exploration. This will be the first of a new generation of ultra-harsh environment semi-submersibles, specifically designed to meet the challenges of the world's most extreme seas.
When pressed into service, the semi-submersible vessel will reduce the environmental impact of drilling operations with an innovative hybrid power system complete with 1.91MW capacity batteries that will contribute significantly to reducing fuel oil consumption and minimizing CO2  and NOx emissions. The rig has been designed to reduce well construction times, improve safety, minimize costs and reduce the environmental impact of drilling operations.
Commitment to R&D and state-of-the-art battery technology
Into its second century, Leclanché continues to invest heavily in new battery cell technology using high capacity cathode materials. With the introduction of its new 60Ah G/NMC cells, at 196Wh/kg and 460Wh/liter – and more breakthroughs in the pipeline – Leclanché is securing its position among the best in the industry in terms of energy density and cycle lifetime.
This position will be further strengthened by the launch of its M3 Module which will be assembled in an all-new production facility that will increase production capability by a factor of 11. These new M3 Modules will benefit from a similar very high cycle life  as previous generations (up to 8,000 cycles) yet also have an enhanced energy density of between 15% to 20% per module. The M3 Module is expected to go into production in 2021.
Leclanché's recent signing of an industrial partnership agreement with Poland's Eneris Group will result in significant expansion of its battery cell production capacity to meet the growing demands of the e-marine sector.
All of the aforementioned projects are powered by Leclanché's vertically integrated technologies designed, engineered and produced in-house from cells and modules to battery management systems and racks, all the way to containerized solutions in the Company's Swiss and German sites.
With its highly knowledgeable e-marine team, project experience, cutting-edge technology and commitment to customer satisfaction, Leclanché is uniquely positioned to help the maritime industry navigate the planet's waterways in an environmentally friendly manner.