E&H Marine speaks to Hugo de Malherbe, head of business development at BlueNav, about the benefits that electrification is providing to the pleasure and leisure boat industry as well as the company's plans to optimize the onboard experience through the development of electric and hybrid propulsion.
What are the key approaches when designing a motor family intended to cover a wide range of marine applications?
It's necessary to have a complete understanding of current and future boaters' expectations, including environmental aspects, compatibility with all boat specifications, disruptive responses to new boat technologies and, most importantly, to provide a solution which improves the comfort and the pleasure of navigation. Taking these into account, BlueNav provides a range of solutions, from electric motors to innovative software.
By designing an e-hybrid propulsion system, BlueNav has managed to sidestep many of the technical barriers to 100% electrification: a desire for autonomy versus the lack of charging infrastructure; the weight of battery packs versus boat performance; speed requirements versus energy consumption.
BlueNav's solution provides the best of both worlds, combustion and electric, and enables users to switch from one to the other in just a few seconds. You can retain the speed sensations of your combustion engines, and switch to comfortable, silent and zero-emission navigation with the BlueSpin range.
What's more, BlueSpin systems offer a suitable solution to the increasing number of regulated areas forbidden for combustion engines and authorized only for hybrid and electric vessels. There is also increasing implementation of dedicated areas for low-carbon-emission boats in marinas.
So the system is suitable for integration with new-build projects, as well as for propulsion system retrofits?
It can be used for soft hybridization – adding an electric motor to any boat, without removing the combustion engine, requiring no structural modification and removing the worry of reliance on the battery. It's designed to be adapted for all types of boats – open, catamaran, RIB and others – and is available with different power outputs to suit vessel use and specifications.
What elements of the system's design make it so suitable for use in retrofit projects involving existing vessels?
BlueSpin makes it possible to easily retrofit and modernize a boat, and can be quickly integrated. It's far faster than waiting for new boats to be built with electric or hybrid systems. There is a model of BlueSpin suitable for easy integration on all types of boat hulls or transoms – outboard, in-hull and stationary. Integration with the combustion engine doesn't require modification of the boat's structure, nor any major construction work.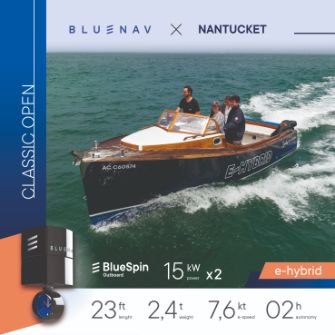 The system is 48V, so has a low, safe voltage suitable for the leisure market. It's simple enough for anyone to use, and adaptable for use with existing setups. It's retractable, so there is no modification of the boat's drag in combustion mode, and comes as a complete package combining the motor, control panel and a user-friendly eco-piloting HMI integrable with all existing multifunction display screen brands. The BlueSpin range represents a fantastic opportunity for boatbuilders to increase their revenue with their existing customer network by expanding into retrofits.
And so suitable for use in new-builds?
It's easily integrated into the production line of each boatbuilder. Thanks to the increased maneuverability from its rotative turbine, the BlueSpin can replace the bow thruster in boat design, which represents a cost saving. It's also possible to opt for a customized integration to optimize turbine efficiency (tailoring BlueSpin type, height, location, number of batteries and other factors).
How does the central tech concept work across the three formats – outboard, stationary and in-hull?
For the purposes of homogeneity and the industrialization of quality, the central technology of all models is similar. The three versions consist of a turbine that has better efficiency than a traditional propeller. There is no difference in efficiency from one format to another, only various integration possibilities.
The turbine is designed to be efficient, is water-lubricated (no oil) and requires little maintenance. It can be integrated in various formats to adapt to all types of boats, maintaining performance regardless of the integration case.
BlueSpin was designed for boatbuilders – with integrators in mind, to consider integration constraints. BlueNav's sister company E-Nautic specializes in engine integration and provides industry-specific knowledge for product design. What's more, the BlueNav engineering department can tailor projects with shipyards, naval architects and product and services solution providers.
This article originally formed part of the leisure feature in the September 2023 issue of Electric and Hybrid Marine Technology. To view the magazine in full, click here.