Comfort, luxury and premium features have long been the traditional hallmarks of the superyacht experience. Electrification can elevate that refinement even further
When drafted from the outset with the latest zero-emission propulsion technology, the use of an electrified powertrain can greatly influence the design of a modern superyacht. "Lightweight construction is one focal point in the construction of solar-electric yachts, both in terms of the hull structure and the furniture," says Mathias May, chief technical officer at Alva Yachts. "Our goal from the beginning was to plan the most efficient hull and exclusive interior design possible, but without compromising on quality and finish," he adds. "We also had to design as large a roof area as possible for the use of solar panels, and it is important to plan the yacht as a solar-electric vessel from the start – a conversion of existing diesel-powered yachts is always a compromise."
Much like Alva's ships, Silent Yachts' vessels use a catamaran design for efficiency. "An electric powertrain needs the most efficient hull possible to work, and this is even more important for a solar-electric catamaran, as the amount of energy received from the sun is limited," confirms Dr Stephan Kress, chief innovation officer at Silent Yachts. "For us, the best vessel design is a catamaran, as it combines a low hull resistance with a large solar surface area." Other factors come into play during the design and build of a hybrid vessel, too, says Jim Mair, technical director at Arksen.
"Key considerations are the operational profile (how, where, who, how long, how far), hotel loads, battery capacity, efficient hull design and safety." Arksen boats are designed for customers who wish to travel longer distances to more remote locations – ranges can go up to 7,000 nautical miles – so the engineering focus is on range and efficiency. The development of a low displacement-to-length (LDL) ratio hull was aided by Humphreys Yacht Design (HYD), which was responsible for the naval architecture and exterior design. The hull, coupled with a well-considered approach to trim optimization, has resulted in a lower resistance and power requirement at long-distance cruising speeds, Mair explains.
"This delivers optimum efficiency while also providing excellent sea-keeping to maintain ease of handling and comfort on board. A key consideration in yacht design is the balance of space and weight for systems versus interior space. This is particularly pertinent for vessels with an electrified powertrain, due to the typical requirement for large battery banks and other enhanced electrical systems."
A pair of the 27.3m Arksen 85 Explorer vessels – Project Ocean and Project Pelagos – are currently in build at Wight Shipyard in Cowes in the UK.
Wider Yachts was the first to introduce the technology in the leisure superyacht segment. The company's craft employ a serial hybrid powertrain, and head of engineering and R&D, Luciano Cardini, believes use of an electrified powertrain is advantageous for vessel designers, especially for the interior layout.
"The mechanical components and batteries are unrelated to each other and free from constraints," he says, "therefore they can be positioned in the 'less noble' points of the hull, leaving the larger areas for the pleasure of the owners and their guests."
Efficiency challenges
When designing any electrified superyacht, weight is one of many efficiency challenges. "Weight is key to creating an efficient long-range vessel," says Mair. "Aluminum was always going to be our choice of material as it has a good strength-to-weight ratio while being easy to maintain with a high recycled content. We chose Njordal by Speira, to benefit from its higher mechanical properties and higher recycled content."
Redundancy in systems design is another important consideration that is paramount for a long-range vessel that will be traveling to remote locations. "We have removed single points of failure from the hybrid systems – we have two sets of batteries, three generators, two separate power systems and also two separate control systems," Mair explains.
Powertrain choice is largely dependent on onboard specifications but can vary from craft to craft. Wider Yachts' serial hybrid system is designed so it can be adapted to a superyacht as well as a catamaran.
"We don't make 100% electric yachts, only hybrid ones," says company president Marcello Maggi. "This is because we are convinced that, to date, they're the best balance between available technology and owner needs. But we monitor the market and available technologies for possible future implementation."
A DC bus and BMS are at the heart of Wider's serial hybrid powertrain, controlling and managing batteries, generators, electric propulsion systems, hotel utilities, thrusters and solar panels. Cardini explains that a serial hybrid setup helps efficiency.
"Firstly, it optimizes consumptions, as the onboard software always adjusts the generator revs on the curve of the best consumption with respect to the required power," he says. "Then, if the power required for navigation and onboard utilities is lower than that available, the system automatically switches off the generators." This brings multiple benefits – the generators will accumulate fewer hours of operation, lengthening the maintenance intervals and reducing costs.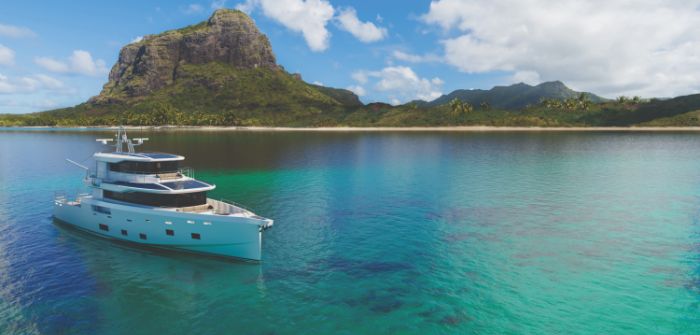 Future scalability
As with other zero-emission-capable craft, a modular system enables future scalability and the option to replace batteries as tech improves. "The modular technology is scalable and plug-and-play," says Maggi. "There is no doubt, in two years battery technology will have made enormous leaps forward. The owner can therefore decide to equip his vessel with a new type of battery."
Wider currently favors LiFePo battery technology because of its much higher thermal runaway ignition point of around 320°C compared with NMC (nickel manganese cobalt) batteries. Up to 360kWh battery capacity is available on the 28m WiderCat 92, coupled with twin 420kW motors and a twin 300kW diesel genset. The Moonflower 72, a new 72m steel and aluminum superyacht joint project designed in conjunction with Nauta Design, uses Wider's hybrid propulsion system with two 1,860kW variable-speed generators and a 1MW sodium nickel battery bank. May confirms Alva's preference is also for serial hybrid designs.
"For us, the serial hybrid design is the best, safest and most efficient way to power a yacht. If we can replace the diesel generator with a fuel cell, we will be at the maximum of what is currently technically reasonable to use," he says. The specification of the Ocean Eco 90 marries two 500kW electric drives with two 100kVA DC hydrogen fuel cell generators for full electric propulsion.
The Arksen 85 also uses a serial hybrid (diesel-electric) system. Supplied by Praxis Automation, the fully integrated platform has three 200kW variable-speed generators that provide power to two 250kW electric motors and two 80kW lithium battery banks, connected to a twin-screw, fixed-pitch propulsion setup. Serial-hybrid technology also powers Silent Yachts' craft, but with a solar-electric element.
"Energy is generated from solar and stored in the batteries," explains Kress. "The household and drivetrain are powered from stored energy, with a diesel generator fitted to generate backup power when needed." No special design requirements were needed to harness the full use of the electrified powertrain, as overall optimization of the yacht to have an efficient drivetrain and household was considered from the outset of the project.
Charging is a critical aspect of an electrified superyacht specification, and with more high-power harbor stations springing up, onboard technology is evolving to take advantage.
"We designed the drivetrain as a highly effective 800V system," confirms May. "This gives us the opportunity to use the growing number of fast-charging stations, which are becoming increasingly widespread, especially in the Mediterranean."
The Alva Ocean Eco 90's 240–360kWh batteries can be recharged using onboard generators or fuel cells in two to three hours, depending on the installed capacity. Kress says this is the same for Silent's craft, although power from solar panels gives a continuous recharging option. Aside from the obvious environmental advantages, electrified superyachts are being chosen for their enhanced refinement. "For many, the biggest benefit of the hybrid system is the reduced noise and vibration at source, due to the lack of gearboxes and the use of generator sound shields," says Mair.
"With a complete lack of noise, fumes and vibrations, the electric drivetrain provides a more luxurious experience for owners and guests," says Kress. "The main reason Silent Yachts went all-in on an electric powertrain is because it enables us, as a shipyard, to create a superior yacht. Being more environmentally friendly was the icing on the cake."
This article was originally publishing in the April 2023 issue of Electric and Hybrid Marine Technology. To view the magazine in full, click here.